One Day at a Time
People frequently ask me "How do you sail around the world on a small boat?". My answer is always the same: "We do it one day at a time." I'm the first mate, cook, and navigator on Exit Only.
Welcome to my journal...
Journal 1 - Gibraltar to Canary Islands
Journal 2 - Across the Atlantic
Journal 3 - Barbados to Canouan
Journal 4 - Tobago Cays to Trinidad
Journal 5 - Trinidad to Martinique


31 December 2005/Saturday/Bridgetown, Barbados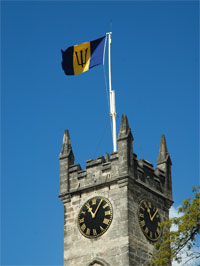 Today is called Old Year's Day in Barbados. Normally, the shops are open only until noon on Saturday. People have told us that will happen today and as usual, everything will be closed tomorrow because it is Sunday...and New Year's Day. Because New Year's Day falls on Sunday, the government has declared Monday a holiday to make up for that.

Dito and I went into town about 1030 in the morning to go to the outdoor fruit and vegetable market. We chained the dinghy to a ladder in the Careenage and walked down the street about five minutes toward the cruise ship terminal. We walked by the Cloister Bookshop and popped in to have a quick look. They had an amazing variety of books for a small shop. We headed on down the street another five minutes and discovered that the market called Cheapside Market is open everyday of the week, but Friday and Saturday are the "big" days. There were vendors inside the market building and more vendors outside with portable tables and umbrellas for shade. The vendors are very polite and if you say, "No, thank you", they don't hassle you. We bought beautiful imported apples from Chile, broccoli from a Rasta man with the biggest crocheted hat on his head, locally grown ripe tomatoes, and small-leaf basil. I am trying to root the basil in water. I carried my own basil plant (and used the leaves for salad and sandwiches) from Turkey
to Gibraltar, but the pot got salt water in it on the wild ride south of Gibraltar, so the plants died. Dito and I agreed Sarah would enjoy coming to the market next Friday. I want to get some pictures of the colorful people and the colorful fruits and vegetables. We wished everyone a happy new year and they wished us the same.

Next, we walked into the shopping area of downtown, maybe a ten minute walk. David wanted to go check out a couple of internet places and see if we could make a "deal" with any of them to do a few hours at a lower cost. Internet is so expensive here, we haven't done any yet. Dave and Dito want to upload some more pages onto the web site, but it will take time. I went into Cave Shepherd Department Store to have a good look around. We agreed to meet in a half hour upstairs at the Pages Bookshop. This is the quite an extensive book ship right in the department store.

Back at the boat, we had a quick lunch, then Dave took Dito in to catch the airport bus that leaves every hour on the hour from downtown. Dito left at 1400 to meet Sarah's plane at 1515. Several people told Dito there is one two-lane road going to the airport and it can get very congested with traffic. Everything went well, so Dito was at the airport in plenty of time to meet Sarah's plane. Sarah had quite a stressful experience in Atlanta because her plane from Cinci to Atlanta was late getting in. She had 20 minutes to get from the far end of A terminal to the far end of E terminal. She will be staying in Barbados for one week.

I spent the afternoon making cookies. Dave loves his cut-out, decorated sugar cookies at Christmas and as challenging as it is to roll out cookie dough and cut out cookies in the limited space I have on the boat, somehow we manage to work them in every year. We seem to enjoy making them...and eating them...sometime in the week around New Year's. I especially miss Wendy's help, because she is so patient with rolling out the dough and cutting out the cookies. I also made some peanut butter cookies and brownies to serve on Sunday when AQUABI and KITTIWAKE are coming over in the evening.

Dave and I didn't stay up to see Old Year's Day end and New Year's Day begin, but the hullabaloo on the beach at the Boat Yard and Harbour Lights (restaurant/bar type places near us on the beach) made sure everybody in Bridgetown knew when the magic moment happened. Dave stayed up because he knew there would be a lot of noise. I actually was asleep, but the fireworks woke me up and everyone we have talked to on other boats all saw and heard the fireworks that heralded 2006.

30 December 2005/Friday/Bridgetown, Barbados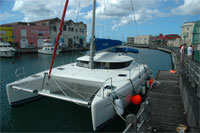 Another sunny morning in Barbados with clouds gathering over the island to drop brief showers in the afternoon. The Christmas winds were certainly blowing again all day today, but the water in the harbor is pretty smooth until the sport fishing boats come by. We are anchored near the mouth of the Careenage (I was pronouncing it the French way..."car-ee-naj", then I heard a local say it "cah-reen-age"). The Careenage is a narrow river that goes into the town. We take our dinghy in there and chain it to one of the
stainless ladders provided to climb up onto the boardwalk along the side of the water.

Dave dropped me off at one of the ladders and I walked to Trimart Supermarket by the bridge that crosses the Careenage. Trimart isn't the best or worst supermarket I have shopped in. It is clean and tidy, so it is easy to see what is available. There is a small amount of fresh fruit and vegetables, but I didn't buy much of those, because I will check out the outdoor market tomorrow. Most of the meats are frozen but there are packets of chicken and beef in the fresh meat case. I didn't find anything there that looked like something I wanted to cook. Dave says he thinks being vegetarian here will be easy...chicken feet, frozen pigs ears, etc. are available, but not what we had in mind. We don't eat much meat anyway, so we are going to enjoy
treats like imported apples and iceberg lettuce in our salads. I did buy Tang, Bisquick, Jif peanut butter, Hellman's mayonnaise, New Zealand cheeses and butter, and tinned Contadina pizza sauce. These are all brands we are familiar with and haven't seen for a long time. I bought local jams...guava seems very popular here and is locally made. Quite a few of the basic cooking, baking, and household products are imported from Trinidad. They sell vegetable oil, corn oil, and soya oil for cooking. Olive oil is available, but cost prohibitive to buy. There is one small shelf area dedicated to soy products...UHT soy milk and soy granules that are supposed to taste like meat after you soak them in boiling water (I didn't buy them, but they didn't look appetizing at all). Coca Cola and Pepsi both have bottling plants on the island. Almost all of the pop is sold in plastic bottles, not tins. We prefer Diet Coke, but only Regular Coke was on the shelves. There was plenty of Regular Pepsi and Diet Pepsi, so we bought that.

We decided to have some folks over on New Year's Day, Sunday, to have a little party since we "missed" Christmas because we were on passage and to celebrate crossing the Atlantic Ocean successfully. Also, Sarah is coming in tomorrow, so it will be a chance for her to meet some of the other cruisers anchored here, too. This will give me the motivation to make some holiday cookies.

29 December 2005/Thursday/Bridgetown, Barbados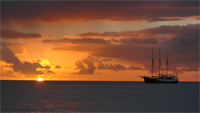 We got up this morning thinking Sarah would be arriving today. Instead, Dito received an e-mail from Sarah in Kentucky saying her plans had changed and she would be arriving 31 December.

Dave started the engine in the morning to make power so he and Dito could run computers, cameras, and the water maker at the same time. The water is clean enough here in the anchorage to make water, so that is a bonus. Dave and Dito are working on updates for the maxingout.com website. We have heard a rumor that wireless internet will be available here in the anchorage on Friday (tomorrow--because the internet technician will be back from holiday), so they are trying to have pages ready to upload , if and when internet becomes available. The source of the wireless internet is the Grand Bahama Hotel. The manager at the hotel told another yachtie that they do not mind people using their wireless internet and the connection is open (meaning no code is needed to access the line). This sounds almost too good to be true when internet places in Bridgetown are charging $7.00 USD/hour to use their machines. At the cruise ship terminal, it costs $12.00 USD/hour to use the machines. Dave said no one was using any of the machines they have seen at the terminal or in town. Who pays that kind of money for internet? I am sure the cruise ships must have internet on board. We won't be paying those prices, even if it means waiting until we move on to another island/country to upload the new web site pages.

My mission today was to find some groceries. Our cruising guide book and general guide book both mention a Super Center grocery store at Holetown in the West Coast Mall. I decided to go to the Barbados Information Center at the cruise ship terminal and find out more about this mall. Dave took me in to the town quay and dropped me off with my passport, local money, and a VHF mobile radio. I walked north from the quay and happened to discover the Cloisters Book Shop. I had read about this shop, so stopped in to have a look. The book shops in this town are numerous and the three book shops I have been in were full of locals perusing and buying books. I bought some postcards, then continued north to the cruise ship terminal. There were five cruise ships in port today, so all along the road I passed tourists coming from the ships walking into town. Most of the tourists get off the ships and immediately board tour buses that carry them around town and the island. It took 20 minutes to walk to the terminal and the area I walked through
was not awful, but not really good either. I think a lot of people who haven't spent time in Third World countries would feel uncomfortable there. There were plenty of people and shops, but everything was run down.

When I got to the security gate at the terminal, I was given a visitor's pass and told to wear it at all times. Locals cannot go inside the gate unless they are a taxi driver or with a tour company. I went immediately to the information desk. There, I found a lovely brochure about West Coast Mall and I asked at the desk how to find the right bus to get to this mall. I was told to go to the bus station 10 minutes south of the terminal and ask there. I went there and started showing people the brochure for the mall. When I said, "West Coast Mall", everyone said, "What?" When I showed them the brochure, they told me to get on one of the yellow coaster-size buses. I paid $1.50 BD/ 75 cents USD on the bus to ride. There is one two-lane road going north along the coast. It was full of traffic, so we moved slowly through Bridgetown and out into the countryside listening to blaring reggae rap music. The clean, shiny looking buildings in downtown Bridgetown quickly give way to smaller wooden buildings as we left town. There were security bars on every window of every building. The wooden houses have solid shutters on every window.

The people on the bus told me when I should get off the bus as we approached Holetown. There is Sunset Crest Mall, then West Coast Mall. Both are a single story made up of many shops hooked together. Nice, but nothing special. I found Super Center grocery store easily. Most of the foods are imported. I won't be buying a lot of groceries here because things are very expensive and I can wait until we get to Trinidad. I will admit it was good to see Jif Peanut Butter and Bisquick. I bought carrots from Canada and iceberg lettuce from the USA. All of the cheese was from New Zealand, both Anchor and Mainland brands. Most of the meat products were frozen. I bought a few things that I could easily carry and headed out to find the return bus stop. Catching a bus to Bridgetown was easy. Back at the quay, I called EXIT ONLY on the VHF mobile and Dave came and picked me up.

I enjoyed my adventure today, but I think I will do the rest of my grocery shopping at the the medium-size grocery store in downtown Bridgetown while we are here. After Sarah returns to Kentucky, we will be moving on from this island to Bequia in the Grenadines.

28 December 2005/Wednesday/Bridgetown, Barbados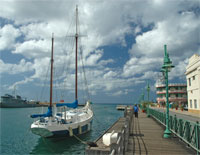 Another busy morning of boatwork today...Dave worked on the cockpit, cleaning it up, washing it with salt water, then rinsing it with fresh water. Dito was helping Dave, then he cleaned the head, too. I continued to work on the provisions, this time the ones in the starboard hull. I finally finished going through the food that is on board, so I know what we have and what we need once again.

We decided to eat off the boat again today, so we went into town at lunch time. This time we chose to go to Kentucky Fried Chicken. It is quite expensive compared to other KFC restaurants we have eaten at in many other countries, but the quality of the food was good and we enjoyed the meal. The restaurant was really crowded with well-dressed people eating lunch. We assumed a lot of these folks were on their lunch hour from work in town.

Town was full of people today! The streets looked very different with open shops and crowded sidewalks. There are shops selling the usual souvenir odds and ends next to shops selling Colombian emeralds, cut glass from Switzerland, expensive perfumes from around the world, etc. We were reminded of Charlotte Amalie in St. Thomas. The biggest department store in town is called Cave Sheppard's. We went in there to look at the huge bookshop upstairs and to ask a couple of questions at the tourist information desk. Unfortunately, the information lady told us there is no coin laundromat in Bridgetown, so we are going to have to do our own laundry by hand on the boat.

We kept walking around town to check it out and we looked for a supermarket. We found two or three small supermarkets, but I didn't want to buy anything in them. We saw packages of "chicken steppers" sold by the gram. These were chicken feet. We did find a larger supermarket near the walking bridge that crosses the carenage, the narrow area where small boats can come into the heart of town. We can take our dinghy to this bridge and it will be easy carry groceries from the larger supermarket to the dinghy. We will go back to this supermarket to do some shopping another time. Outside the supermarket on the sidewalk, several people were selling fruits and vegetables. I told one man I wanted four bananas. He said that would be $3 BD/$1.50 USD. I said, "No, thank you" and walked away. I think we can do better than that. I find myself
wanting to wear a sign saying, "I am not traveling on a cruise ship."

On the way back to the dinghy, we stopped in a bakery to buy bread. There was nothing for sale in the bakery...the cupboard was bare. Obviously, we are going to have to go in early to buy bread, because it is sold out by noon. I bought a couple of baguettes at the large grocery store, so we will get by until tomorrow.

Dave and Dito dropped me off at the boat, then went down the beach to the petrol station where they bought fuel for the dinghy motor. They made it back before the afternoon showers passed by with just a sprinkle today. The people to the north of us got the real downpour today.

Sarah is going to fly in to Barbados from Kentucky tomorrow, so Dito is really looking forward to her arrival. She will be on the boat for a week or so and we will be staying in Barbados while she is visiting.

27 December 2005/Tuesday/Bridgetown, Barbados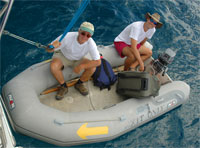 Things look pretty quiet in town again today because this is another holiday. Since Christmas fell on Sunday and they got "cheated" out of a holiday, the government gave everyone Tuesday off as a holiday, too. The cruise ship dock is certainly busy, because the Queen Mary II, the largest cruise ship in the world (we were told this fact by the Customs officer) came in today.

We spent the morning doing more clean-up on the boat. Dave, David, and Morgan folded up the extra foresail, and cleaned up the foredeck. I worked more in the galley going through the pantry. Things get a little jumbled up in there when we bounce along for 16 days. I took everything out, checked that the tins and bottles were intact, and made a shopping list for new supplies. We used quite a lot of our provisions traveling from the Canary Islands to the Cape Verde Islands to Barbados.

Morgan finished packing up his stuff. His plane leaves the airport for Toronto at 1605 local time today and he is supposed to be at the airport by 1400. Since most of the town was closed today, there wasn't much traffic except the tour buses and taxis carrying tourists here and there. The airport is 8 miles from town on the southeastern side of the island.

We all went in to shore around lunch time. Some cruisers had told us there was a local fast food restaurant called Chefette that was sort of like Burger King. They said the ice cream there was really good. We thought that sounded interesting and wanted to check it out. We ran into some cruisers at the quay who told us about a place they found that serves marlin burgers (fish sandwiches using blue marlin). We walked to this little local bar and grill where they asked the lady cooking fish to give us a taste of marlin. We all tasted the marlin...not bad. We decided we would go for the Chefette today and went back there. We ordered hamburgers and chicken sandwiches. Let's just say they are a Burger King "wannabe", but have a long way to go. We had ice cream for dessert and it was delicious. We will definitely go back, skip the sandwiches, and order the ice cream.

We walked around town, but few businesses were open. We saw a burst of activity on one short street where the book makers take bets on the horse races. Horse racing is really big here. They talk on the radio about flying special horses in for special races. I haven't seen a newspaper yet, but I imagine a few pages are about horse racing.

Back at the boat, Dave and Dito took Morgan and his gear into the quay so he could catch a taxi to take him to the airport. We were amazed that the taxi drivers wanted $30 Barbados Dollars ($15 USD) to go 8 miles to the airport. Later, we discovered petrol costs about $4.50 USD per gallon. Driving a car here is expensive.

We are looking forward to seeing the "real" Barbados when the holiday is over tomorrow.

26 December 2005/Monday/Bridgetown, Barbados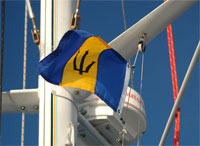 It certainly was good to get a full night's sleep last night. There was quite a lot of loud music on the beach late at night, but all of us were already asleep before the music started. There are lots of tourists here in the hotels plus the cruise ships bring 1,000-2,000+ each day during the daytime hours.

Basically, we were all still tired today, so we didn't plan anything too challenging. First thing this morning, Dave, David, and Morgan took the dinghy and went over to the cruise ship dock to see Customs and Immigration. They said the officials were very polite and professional. Dave had to check all of us in, then check Morgan off the crew list as he will be flying to Canada tomorrow afternoon. It cost us $25 USD to check the boat in and out of Barbados. The guys had a look around the shops in the cruise ship terminal building and found sunglasses for $500 USD and Rolex watches for $5,000 USD. They didn't buy anything.

I was back on the boat cleaning the galley. I took everything off the counters and washed the walls, woodwork, stove top, behind the sinks, etc. We kept the galley tidy and neat on the passage, but the galley didn't get cleaned properly because it is too hard to stand down there any longer than I needed to be there to fix meals and wash up afterwards. I took everything out of the frig and wiped it down, then inspected each item for freshness. We had a few cracked eggs (from bouncing around day after day) and I disposed of those. The rest of the food was in good shape. Some of the containers needed to be refilled, so I did that...catsup, mayo, Dijon, jam, olives, etc.

We didn't go into town today because it is another official holiday (Boxing Day) and other yachties told us not much was open in town. A cruise ship was here yesterday and two cruise ships are in town today. It looked like most of the people got on buses and went on island tours, so the shops being closed wasn't a problem. If they wanted shopping, I supposed the can shop in the cruise ship terminal.

Dito and Morgan jumped in the warm, fairly clear water and scrubbed the bottom of the boat. We had goose wing barnacles all over the hulls. These are small barnacles, maybe 1/2 to 1 inch long, with white shells that look like "goose wings". Whatever kind of glue they have in their bodies to cling to surfaces should be bottled and sold. These little guys road all the way across the Atlantic just hanging on to our hull. Dito kept saying it would take "20 minutes" to clean the hull. It did...20 minutes plus 100 more minutes! All in all, the guys worked for about 2 hours! The hulls are really looking good now!

I fixed lunch so it was ready when the hull was finished. Dito and Morgan were so tired, they could hardly eat. The boat sure is looking better and those barnacles will have to find something else to cling to.

The weather pattern here seems to be no wind in the morning, sunny skies. Late morning the light winds come up and by afternoon, the clouds gather and scatter showers here and there. We are still enjoying and appreciating the showers because the decks and rigging are getting a free rinse off without us doing any work.

25 December 2005/Sunday/Bridgetown, Barbados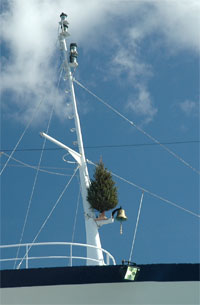 We had a rollicking ride last night and into Barbados this morning. The winds were blowing 22-30 knots steadily, so we had only one headsail up and we were still zooming down the fronts of the swells. We spotted Barbados from about 4 hours out, maybe 20-22 miles out. As islands go, Barbados is not a tall mountainous island. That is why it was one of the last islands in the Caribbean that was "discovered" in the 1500's and 1600's. Many of the explorers went right by Barbados, either to the north or south. The Portuguese say one of their explorers passed by in the 1580's and named the island Los Barbudos, or the "bearded ones" (referring to the banyan trees that grew near the coast with their air roots up in the air looking like beards). England claimed Barbados in 1625. Since1966, the island has been independent, but remains a part of the British Commonwealth. Barbados is 21 miles by 14 miles and is about 100 miles east of the rest of the Eastern Caribbean islands. It is a coral island...not volcanic.

On our way into Carlisle Bay, off the city of Bridgetown, we were hailed by two women frantically waving us over to where they were drifting along on a jet ski that was not running. We went over by them, prepared to tow them in to the shallow water. It turned out that they had plenty of fuel and everything was running fine, but they did not know how to run the jet ski. They are lucky we came along, as they were heading quickly out to sea. With help from Morgan and David on the stern scoops of our boat, they got the jet ski started...and almost ran it under our boat between the hulls! They were glad to be saved and on their way. We were happy they weren't underneath our boat.

Soon after we put down our anchor among the other 13 cruising yachts anchored here, Bruce and Pam from AQUABI stopped by. We had been talking to them and hearing them on the radio since the Canary Islands, but had not met them face-to-face. They were very helpful, answering some immediate questions about checking in, etc. They left us to settle in and get lunch on the table. It was so wild out there this morning, we decided to eat our lunch, Mexican Dinner, when we were anchored. Just as we were about to start eating, here came Bruce with a map of Barbados and some of Pam's homemade Christmas cookies. What a treat! We were all very grateful for this kindness.

The guys did some clearing up of the downwind rig on the foredeck. They brought in the whisker poles, took off the blocks and soaked the salt off in fresh water, folded the extra sail, etc. I cleaned up from lunch. That was about all the energy any of us had left.

We listened to the local radio stations between 1700 and 1800 local time. They played lots of Christmas music. Some of it was traditional and some of it we had never heard before. One DJ had a contest, trying to get folks to call in the answer. The question was: In the song "Twelve Days of Christmas", what was the first gift...a partridge in a pear tree or a in a pigeon in a pine tree? It took awhile, but finally someone called in and put us all out of our misery having to listen to him go over and over it until someone called. We had a good laugh over this, so maybe that was his point in the first place...entertainment.

Everyone on EXIT ONLY was in bed and asleep by 1900. We had a good trip and we were very grateful for that. Now, it is time to catch up on missed sleep and relax and enjoy the warm weather and warm water. We are really happy to be done with the Atlantic! Merry Christmas from Barbados!

23 December 2005/Friday/Sailing, Day #15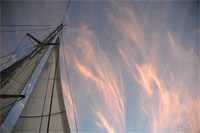 We continued to rock and roll all night and all day today. The Trade Winds have been very steady with 18-25 knots blowing constantly. The sky cleared last night and the stars filled the sky. There were so many twinkling stars that it was hard to pick out the basic constellations. The night was inky black until at least 2300, then the glowing half moon came up looking like a huge smile. Believe me, I was smiling when the moonlight lit up the sky and water and pushed the darkness away.

We are getting close enough to Barbados that Dave is able to predict we will arrive in Bridgetown in the late afternoon of 25 December. We are all disappointed to be on passage on Christmas Day, but it sure is a good present to get to anchor and stop moving. We were able to speak to AQUABI today on the radio. They arrived in Bridgetown yesterday. We wanted to know if Customs and Immigration would be open on Christmas and Boxing Day (26 Dec.). They told us cruise ships arrive in Bridgetown everyday of the week, so the officials will be on duty. We will be in too late on Sunday to check in, but maybe we will be able to check in on Monday. We will have to wait and see what happens when we actually arrive. Morgan is going to be flying out, so he has to check into Barbados as part of our crew, then Dave has to remove him from the crew list officially.

We had a bright sunny day all day today with no signs of rain showers. We slowed the boat down to eat lunch again today, then picked up the pace after I finished at washing dishes. I used the last of the fish and made poisson cru (means "raw fish" in French, but I always cook my fish when I make this). This recipe is sort of similar to the ceviche I made a few days ago. The ceviche is from Spanish islands and has lemon juice and hot peppers for flavor. Poisson cru is from French islands and uses lemon juice and coconut milk for flavor. Two very different results. We eat both on small crackers. After we all ate the poisson cru, no one was very hungry for the spaghetti carbonera I had made, too.

22 December 2005/Thursday/Sailing, Day #14

We are rocking and rolling at a steady 6-8 knots, even 9-10 knots when we are surfing down the front of a wave. It has been a long time since the boat moved like this, but obviously, this catamaran was made to go downwind. I can feel the motion down in the hulls when I am down there working in the galley, particularly when I am doing dishes. We are using the foot pump to bring water out of the tank to the sink right now, so I have to lean against the cabinet, brace myself, then while standing on one foot, I work the pump with the other foot. If I am using my hands to wash dishes, this stance can be precarious. If the boat is slewing a lot, I ask Dave to slow it down until I finish washing dishes.

We had the fourth lunch of mahi mahi today. I cut the fish in cubes, tossed the cubes in seasoned flour, then sauteed the fish. I made sweet and sour sauce to put over the fish and rice. We slowed the boat down a little so we could eat lunch sitting comfortably at the table in the cockpit. This is the last meal of mahi mahi, so I wonder if anyone will want to go fishing for more fish tomorrow. I saved enough of the fish back to make some poisson cru tomorrow. This is the absolute last of the fish.

The lack of sleep caught up with me today and I slept a total of 5 hours during the day after sleeping from 0130 to 0730 last night. I go to sleep immediately after going off watch, but the radio net in the morning wakes me up. I don't mind waking up, because I enjoy hearing where everyone is and what they have to say.

Most of the boats we know that were in Mindelo, left this morning. The Trade Winds are good across the Atlantic, so almost everyone is under sail and moving well. Today we had rain showers off and on almost all afternoon and evening. The morning was clear and it cleared up again in the late evening after the sun went down. I think some people on the net are calling these showers "squalls", but I am not sure. We think of squalls as having wind in them, so when the rain hits, so does the wind. The rain showers we had today didn't last long at any time, the clouds were light (not dark), and there was no increase or decrease in wind when it rained. We got just enough rain to rinse the salt off the decks.

21 December 2005/Wednesday/Sailing, Day #13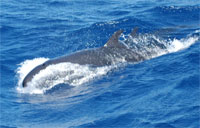 Just when we thought this was another regular day sailing the savage sea, flying along up and over the swells in front of the Trade Winds, something special showed up. Around 1100 in the morning, Dave and I were out in the cockpit and I was standing on the back on the starboard side listening to music and watching the 3-4 meter-high waves. Suddenly, I spotted a long, dark object that appeared to be riding the waves. I let out a holler and everyone came over to the starboard side to see what it was. There was another one, and another one riding the succession of waves marching across the ocean. We were surrounded by a pod of whales. We think they were pilot whales. They were roughly 15-20 feet long...half the size of the boat. Their heads and "noses" were blunt and rounded like a whale. Their long compact bodies were shaped like a dolphin, even including a dolphin-like fin on their backs. Their color was khaki brown. They swam in groups of 2-4, but their breaking through the surface for air seemed to be uncoordinated. Dolphins seems to swim together and come up for air together.The whales obviously saw the boat and heard us talking about them, because many of them swam right by the starboard side of the boat just under the surface of the water. Dave got digital photos and David got video footage...up close and personal. It was so much fun to watch the whales body surfing in the huge crashing waves. We saw two whales actually jump completely out of the water. That was amazing!

We continued to run downwind in 15-25 knots of Trade Winds all day and night. At night when I was on watch, I asked Dave to slow the boat down when I saw we were surfing down the front of swells at 9 and 10 knots sometimes. He rolled in a little sail and slowed us down to 7-8 knots! We were rocking and rolling out here! We are starting to see a few ships here and there as we get closer to the Caribbean islands. We are north of South America now, too.

Time stood still on board again today as I turned the clocks back one more time zone (-3 UTC). We still have one more time zone adjustment to make for Barbados (-4 UTC). The crew gives me such a hard time when I "turn back the clock", because they complain about having to readjust to meal times and radio times. Well, now they really have something to talk about. I didn't pay much attention to the clock when I went down into the galley to fix lunch after the whale show. It turned out that we ended up eating lunch at 1330 "new time", which was 1430 "old time" and just as we finished eating, it was already time "new time" for the afternoon radio net! When we started out from the Cape Verdes, the afternoon net was in the early evening and I would make supper immediately after the net. Today, with the time changes, the afternoon noon is now mid-afternoon. Today, no one wanted supper two hours after they ate lunch! Dito is making a lot of jokes about "what time is it?".

I was able to make lunch and bake a cake today down in the galley, but afterwards, when I sat down in a chair in the cockpit and could relax, I realized how tight my muscles were feeling. I had been tensing my muscles trying to steady myself down in the galley for so long, that the muscles were complaining. The boat is in constant motion dancing from wave to wave, but we aren't too uncomfortable because the wind is behind us. We had baked mahi mahi for lunch. We have enough fish for one more meal tomorrow, then the guys will start have to fishing again.

20 December 2005/Tuesday/Sailing, Day #12

We are moving west today, rocking and rolling our way to the Caribbean. We did something over 160 miles on Day #11 and it looks like we will do as well on Day #12. The swells are 3-4 meters high, but the 15-25 knot winds are coming from the east and northeast, so we continue to move right along heading directly for Barbados. The Autohelm is able to handle the seas, even when the occasional cross-swell from the north sneaks in and thumps us.

The boat was in constant motion, so I found it quite a challenge to make lunch today. I asked Dave to turn the boat straight downwind so the motion would ease and I could feel safe sautéing the fish for lunch. Going downwind, I managed to prepare lunch, but my stomach said, "No, thanks!" when it was time to eat. The guys ate lunch and I laid down in the bunk and went to sleep. Woke up feeling fine an hour later.

About half of the boats on the morning radio net were reporting a rough, squally night last night. Once again, we were happy to report we were riding the Trades under a sunny blue sky. There are about 25 boats that report into the net. We are the only boat out here right now that hasn't been encountering squalls with high winds and showers. We are on a more southerly latitude than most of the other boats. Some of the boats behind us are changing their headings to move farther south while heading west so maybe they will miss some of the squalls. We are keeping our fingers crossed that our good weather continues for a few more days.

We didn't do any fishing today as I cooked fish for lunch and there is still two more meals in the frig, so that means fish for the next two days' lunches. We don't have room for more fish in the frig. Speaking of fish, we were noticing that the higher the winds and swells, the more the flying fish seem to fly...farther and faster. I was at the back of the cockpit this morning on watch and it seemed like every 10-15 minutes several flying fish would erupt out of a wave and go flying across the surface of the water. It seems like they need the height and speed of the waves to catapult them up and over the water. Every so often one flying fish would come out of a wave and immediately go "plop" right back into the water, instead of gliding effortlessly across the water before diving into another wave.

19 December 2005/Monday/Sailing, Day #11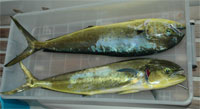 This day will be remembered as the day we caught five mahi mahis at the same time. The guys managed to bring in three of them...26", 27", and 32" long. The other two got away. The lures were all still there after all the fish were removed, but one squid lure lost all of its legs. Now, it looks more like a mouse than a squid. One of the fish they brought into the cockpit opened its mouth and a whole 10" flying fish came out. No one minded that two of the fish got away, because we can keep the meat in the frig long enough to eat the three fish...more meat in the frig would be too much. All of this activity happened about 0945 our time (UTC -2), just before the morning radio net came on. Morgan cleaned and filleted two of the fish and Dito did the third one with supervision. That was the first time David cleaned a fish by himself. I tossed today's portion of fish in a bag with seasoned flour and sauteed it in a little olive oil. Yummy!

In the afternoon, Dave and I were out in the cockpit watching the waves roll by when I spotted some floating debris off our starboard. I had just said, "Look! What is that?" when two mahi mahi hit the two lures we were trailing just to see what would happen. We know mahi mahi are known to live under debris, so I guess we should not have been surprised to see them. They shook off the lures and got away. Dave had another strike later in the day and that time the fish took his lure. I told him the message was to take the lures in until we have room in the frig for more fish.

At least 18 boats reported in to the morning radio net this morning. We were literally the only boat reporting no squalls and that we could see blue sky in the distance. It was still overcast early this morning, but we could see we were going to get out of it soon. The other boats were reporting squalls with winds gusting up to 30-40 knots. Several of the boats had a long night with little sleep because of the squalls and rain. Everyone is worried about getting caught in gusting winds with too much sail up and tearing a sail. This is such a long passage, everyone seems to be making conservative choices with reefing down sails, not using fuel, etc.

We continued to sail in the Trade Winds all last night and all day today. The boat is moving very well at 6-7 knots in 15-22 knots of wind from the north-north-east. We didn't even have to adjust the sails today. We are running with two headsails, wing and wing. The grib files and weather forecasts for the next few days are all saying we are going to have these same winds, so we are very happy about that. Even the boat seems "happy" as it moves so easily along in these conditions.

18 December 2005/Sunday/Sailing, Day #10

We passed the mid-way mark for us between the Cape Verde Islnds and Barbados around midnight tonight. Now, I am going to allow my brain to pay more attention to the "distance to go to Barbados". When we had 2.000 miles to go, that was too much to think about...too much ocean with too much weather to deal with and too many unknowns. From 1.000 miles down to 500 miles, the miles seem to tick off very slowly, but surely. The last 500 miles of such a long trip goes pretty quickly if the weather is good.

The whole sky was overcast all day and into the night. Most of the boats on the radio net, whether in front or behind us, were reporting going through squalls with winds gusting up to 30-40+ knots. We moved steadily at 5-6+ knots all day and night because the Trade Winds were blowing us downwind at 12-18 knots. Dave says we have finally found the Trade Winds...the real thing. We did not see the sun today, but we did not have any rain fall on us.

We almost caught one fish this morning, but it got off the hook before anyone could pull it in. I waited to start lunch until 1230, waiting to see if they caught a fish. No fish, so I made up dough to make a stromboli. Since I had the oven on, I mixed up some oatmeal maple bar cookies, too. We are sailing so smoothly downwind that everyone is feeling good, and that means everyone is hungry for meals.

When I was on watch last night, I had ear phones on and I was listening to music when I heard a big thump. Dave was laying down on the bunk in the salon and I thought he had knocked something off the shelf and it had fallen down into the galley. He heard the thump, too. I asked him what he knocked over and he said he did not knock anything over. Dave got up and we both went outside. I watched from the cockpit while Dave went forward to check the foredeck. A flying fish about 13" long had flown out of the water right onto our deck. I think the fish was actually stunned. It laid very still on the deck for a minute, then started trying to flip itself back into the water. The fish made its way to the toe rail, then Dave used the boat hook to help it up and over the rail back into the water.

The sky was so overcast that the full moon was completely covered by thick clouds when the moon first came up. It was so dark, you literally could not see anything around the boat. We haven't seen a ship or other boat for at least a week. The moon finally broke through a thin piece of cloud about 2130, but the clouds kept moving and covering the face of the moon, shutting off the moonlight.

17 December 2005/Saturday/Sailing, Day #9

It was overcast all day again today, but we managed to dodge the squalls and rain. The truth is, we wouldn't mind a quick rinse of fresh rainwater to wash the salt off the topsides of the boat.

The good news is we seemed to have "found" the Trade Winds...or what is passing for Trade Winds given the pressure systems in the Atlantic that are influencing the weather. We got down as far south as latitude 13 degrees before we started to head back toward 14 degrees. We had to go on a beam reach because the winds were 12-18 knots today from the northeast. We have been moving along at 5-6+ knots all day. This tack isn't quite as comfortable as straight downwind, but we are all grateful to be moving.

Most of the other boats farther west than us that we hear on the radio net have had some thunderstorms and rain squalls. A couple of the boats have torn at least one sail because they could not reduce sail quickly enough when a squall hit them.

We did not catch any fish again today. It certainly isn't because the guys aren't trying hard. They had 6 or 8 lures out! Someone on the radio suggested maybe there is too much to choose from and the fish are confused, so don't go after any lure. I waited until 1300 to start fixing lunch again today, just in case they caught a fish and we could eat it for lunch.

16 December 2005/Friday/Sailing, Day #8

We continued to move slowly, but surely south of west today. The winds have been low all day, blowing under ten knots from the northeast. The sun was shining brightly all morning, but the cloud cover moved in mid-day. We could see several rain squalls in the distance, but so far we have not had real rain fall on us.

Still no luck with the fishing. I waited to start fixing lunch until 1300 today, thinking we might catch a fish and have that for lunch. It was not to be. They have decided we are moving too slow through the water...maybe. Too fast, too slow, overcast sky, sunny day...who knows what these fish prefer?

We are still able to check in with the morning radio net even though the net controller is back in the Cape Verde Islands and we are steadily moving away from them. The last group of 5-6 boats that signs into the radio net from Mindlo says they are going to leave Monday or Tuesday because the wind is looking good.

15 December 2005/Thursday/Sailing, Day #7

We sailed all night last night and all day today. Dave is running the engine for an hour after dark (after the solar panels don't get sun any longer) to keep the batteries topped up. We keep at least one computer running almost all of the time with C-map on it or someone is typing e-mails and sending requests/receiving weather information.

We ate the last mahi mahi for lunch today and I used the very ripe bananas we brought from the Cape Verde Islands to bake banana cake. I had the hand of six bananas laying in one spot, getting riper and riper everyday. I planned to use three bananas for banana cake, and the other three for something else. Dave didn't know this and tried to pick the bananas up. All six of them fell off the stem and the peels opened. That meant I had to use all of them now.

Most of the yachts that were with us in Mindelo, Cape Verde Islands have left. All of the yachts are out here motor-sailing and looking for the elusive Trade Winds. There are two lows showing up on the weather print outs. These mid-Atlantic lows are taking the wind out of the normal Trade Winds, so basically, the Trades aren't there right now. There is a huge high being prevented from coming south by the two lows. PEACE AND ALOHA, ZEPHYRUS, QUARTERDECK, MAGNUM, ICENE, and INTERLUDE are in Mindelo waiting for better wind (or, "any" wind). They are hoping that the huge high will push south and bring them winds. Right now, no one is having much wind until they get west of 40 degrees W longitude. The boats we hear on the radio net are between 13 degrees and 19 degrees latitude. The ones that do have wind seem to be getting it off clouds and squalls (convection), so the wind speeds are highly variable. We are continuing to sail when we can to conserve fuel.

At 2200 tonight, we were located at 14.25 N, 36.37 W. Light winds of 8-10 knots, but fortunately they are pushing us downwind from the northeast. We didn't catch any fish today, so tomorrow morning, there will be some really serious fishing going on if the crew wants mahi mahi for lunch tomorrow. AQUABI reported catching mahi mahi and a wahoo/Spanish mackerel. We would like one of those, too!

14 December 2005/Wednesday/Sailing, Day #6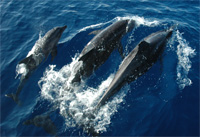 The highlight of this day was a visit from a small pod of dolphins. About 1030 in the morning, someone spotted a dolphin off to the side of our boat. We were sailing along on gentle seas at about 4-5 knots and making a small bow wake. When all of us went up to the bow to have a better look, we could see at least ten dolphins. It was like the three bears...the larger (male?) dolphins were 8-10 feet long, the medium-size dolphins (females?) were 7-8 feet long, and there were three smaller (4-5 feet) baby dolphins swimming next to their mothers. Two of the medium-size dolphins seemed to be pregnant, because they were exceptionally round. These dolphins obviously welcomed the distraction of a sailboat in their waters as much as we welcomed the sighting of dolphins. The pod swam around the bows, in between the bows, and under the hulls for more than a half hour. The water was very clear, so Dave got wonderful digital photos and Dito got good video footage of the dolphins. This species was gray on its back with white on the chest and throat and the lower mouth was outlined in white. We definitely need to find a book for identifying dolphins.

I moved the clock one time zone today. I made a big announcement so everyone would know about it. This is never a welcome announcement. The crew doesn't want the clock changed because they get used to the local time for the radio nets and it is hard to remember the changes. We have a reminder note near the radio with the times and frequencies of the morning and evening net posted in UTC times. Since the nets are a highlight of our day, we haven't forgotten to come up and sign in. Since we do our watch when it is our turn and we sleep when we are sleepy, day and night don't mean so much out here anyway. The difference between the Canary Islands and Barbados is 4 hours, because the Canary Islands are on the same time as Greenwich, England. The Cape Verde Islands are -1 hour UTC. We are now operating on -2 hours UTC here on the boat, and have to "lose" two more hours before we arrive in Barbados (-4 UTC). Kentucky and Florida are -5 UTC right now.

We ate mahi mahi for lunch today. There is enough fish left for one more meal tomorrow. The guys have put out between 6-8 lures. One very small mahi mahi hit one lure. The guys brought it in, but after having his picture taken on board, they released the fish back into the water.

At 2200 tonight we were located at 14.42 N, 34.35 W. The winds are light and variable, but we have managed to keep sailing at least at four knots most of the time. Dave is being very conservative and trying not to use fuel. He wants to have fuel for the second half of the passage if we need it. Some of the boats have used so much fuel on the first part of the passage that they know they do not have enough fuel to finish the trip and will have to use the wind, whatever velocity it is blowing. All is going well.

13 December 2005/Tuesday/Sailing, Day #5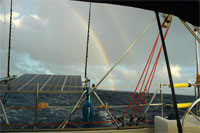 We are rocking and rolling today! The winds were steady all day and into the night today, so we sailed along at 6+ knots most of the day. The swells and wind pushing us downwind made the boat motion quite comfortable. It was warm enough in the daytime to wear swim suits and shorts and be barefoot. The warm weather feels good plus we are not having to wear the many layers of clothing that result in huge piles of laundry to be done once we arrive in the Caribbean. For myself, I can easily rinse out swim suits and pareos on the boat as we go along.

The guys caught another mahi mahi today. Two struck at the same time, but one got away. Today, I made enchilada casserole for lunch, then baked a pan of brownies since I had already heated up the oven. I had just handed Dito the plates and utensils and asked him to set the table when the fish were caught. Lunch was put "on hold" while they took care of the fish. We will have the mahi mahi for lunch tomorrow. Sarah is helping with our effort to get creative when I cook the fish. She sent Dito a recipe for Asian fish cakes that uses "left-over" cooked fish. I told Dito that we have one problem about trying that recipe. So far, there has not been any "left over" fish...whatever I have cooked, has gotten eaten. I will have to plan ahead and cook extra fish, then put it away immediately.

The amazing Bimbo bread I bought in the Canary Islands is still good. We eat a hot meal at lunch time every day, then I fix sandwiches and popcorn in the evening. We still have fresh onions, tomatoes, apples, and a few bananas on board. I check them everyday and use the ones that look like they won't make it another day. The folks on AQUABI shared a recipe for cooking fish on the radio net this morning. They wrapped mahi mahi, onions, dry cilantro, and sliced banana in foil and grill or bake it. We looked at our small hand of six bananas and decided we would have a hard time right now choosing between putting bananas with the fish or mashing the bananas for banana bread. I think we will wait to try that recipe until we are close to a renewable source of bananas. These bananas are destined for banana bread.

QUARTERDECK told the radio net that they heard tonight there was going to be a meteor shower. We watched the sky carefully, but the moon is so bright right now that it is hard to see any but the brightest stars and planets. We see some falling stars every night, so we are always looking to see if we can spot them.

12 December 2005/Monday/Sailing, Day #5

Good news today! We found the Trade Winds...or maybe, they found us! All day we kept moving west, while angling a little south. On the 14.49 latitude we met the winds. We motored until 1700 today, then Dave turned the engine off and put out the two foresails, wing and wing. We were moving slowly through the water, but moving as the wind started to push us along over quiet seas. Around 1900 the wind came up and suddenly we were really scooting over the water. This continued all night. The boat was moving well as the winds were coming from straight behind us and eventually the boat was moving steadily at 5.5-6.5 knots. It was a relief to not have to listen to the engine and it was a relief to be conserving fuel. We still have a long way to go, so we may need that fuel a little farther along the way.

No luck fishing today. A couple of fish took a look at the lures, maybe a small nip, but they shook the hook right out. We saw some flying fish flying and that usually means a bigger fish is chasing them. We ate yesterday's mahi mahi for lunch today. This time I baked the lightly crumbed fish in the oven. I am trying different ways to fix the fish. Everyone liked today's effort, but sauteing fillets with Mrs. Dash, onion, and garlic in olive oil is still the favorite.

Everyone we traveled from the Canary Islands to the Cape Verde Islands with is still in the Cape Verdes. They are waiting for the Trade Winds to come closer to them and to be stronger. It just isn't happening. On the radio net, most of the boats said they are going to leave Tuesday or Wednesday, even if the Trades are still farther away. Dave was happy to give them the news that, indeed, the Trades are alive and well out here.

Our friend, Neil, who has been following our progress from England and California (he was on a business trip to the States) and advising us on weather, has also been keeping us updated on the ARC (Atlantic Rally for Cruisers) boats that left Las Palmas, Canary Islands for St. Lucia in the Caribbean. You may remember me describing watching their grand departure. Most of those boats got caught up in weather from both Tropical Storm Delta and Epsilon. He told us one of the boats has now been out 19 days and still has 800 miles to go to St. Lucia. I feel so sorry for those people. Quite a few of the ARC folks we met in Las Palmas had bought their boats in the Med, so this was their first big ocean crossing. These folks paid a lot of money to join the ARC for the social life and parties, but they also wanted the safety and security they thought they would have, as well as the services of weather routers who work for the ARC. We have suggested to Morgan that he could probably go to St. Lucia and pick up a well-outfitted cruising sailboat for a good price right now.

This is one happy boat today. The boat is almost leaping through the water and Dave is happy sitting there watching the sails fill and pull us along. The crew is happy because we are moving without running the engine. At 2100 tonight we were located at 14.49 N, 30.44 W. We are going to 14.30 N and Dave plans to ride that latitude as long as the winds keep us moving. The grib files showed that the best winds in our area were located there.

11 December 2005/Sunday/Sailing, Day #3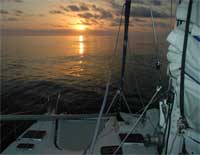 We are still motoring. There is absolutely no wind where we were today. The seas are absolutely flat and clear almost like a mirror. There are some swells rolling past us from the north-north-east, but they are not very big. We have come a little farther south because the grib files show there isn't much wind out here, but what wind there is, is located farther south of our position.

We caught a mahi mahi this morning, but the guys decided it was too small to keep, so threw it back. About 1300, after I had already started making pizza and apple cake for lunch, they caught another mahi mahi. We came to a long area of brown algae floating like a length of ribbon on the water's surface. One side of this area was smooth, while the other side the water was ruffled. We have seen this before and think it is a surface current moving through the blue water. David was explaining this situation to Morgan, when suddenly, a blue flash came from under the brown algae and it headed straight for our lures. It was a mahi mahi, not big, but bigger than the first one. They decided to keep this one, so brought it in and cleaned it. Looks like just enough to one meal...lunch tomorrow.

In the late afternoon just as the sun was setting, the clear blue sky disappeared, filling with fast-moving puffy clouds. Dave was hoping these clouds would have some wind in them, but we did not get any wind off them. I wondered if the clouds carried rain, because they were dark at the bottom. If there was rain, they carried it on and we didn't get wet. When we saw the grib files about two hours later, we could see that a cold front had moved through the area. We were on the very tail end of it, literally, so all we saw was the tail of the clouds as they scooted by us. A little wind would be nice, but we are not looking for gusts or squalls. The almost-full moon was playing peek-a-boo with the clouds until almost midnight, but then the clouds were gone, the "nightlight" was lighting up the whole area, and we continued to motor on flat seas like nothing had happened.

We heard the folks on the radio net this morning who are still back in the Cape Verde Islands. No one else has left behind us because they do not want to leave without wind. We reckon it is going to be hard to come up with a forecast of wind that will last for 2,000 miles. Having said that, we, too, are hoping to find the wind so we can turn the engine off and quit burning fuel.

10 December 2005/Saturday/Sailing...Day #2

We sailed for six hours when we left Mindelo, but around 2100 last night we turned on the engine and we have been motoring ever since. The wind has dropped to nothing, the seas are smooth like glass, and the motor is pushing us along. We knew this was going to happen, so no surprises today. The "up" side is we are moving smoothly through the water, so life aboard is quite comfortable while we make progress. The down side is using up expensive fuel so early in the trip. The theory is we will have to motor 1-3 days, but once we find the Trade Winds, or the Trade Winds "kick in", we will be able to sail and can turn off the engine (we run one engine at a time to conserve fuel). We have enough fuel to motor roughly 2/3 of the way across the Atlantic, but we will have to sail the other 1/3 of the way.

Epsilon has pretty much dissolved and disappeared off the weather map after causing so much worry. Some of the boats on the radio net are reporting encountering a high ridge, but that is up at 20 degrees latitude and we have come south of 16 degrees to miss that ridge...and hopefully find the Trade Winds.

The guys put out 4 or 5 fishing lines today. Some lines had commercial lures on them and some lines had homemade lures. Dave is using Diet Coke cans, bits of old colorful ropes, etc. to make lures since he lost a couple of his best store-bought lures. About 1100 a small mahimahi took one of the baits. They brought him into the scoop on the stern, but decided it was a very small fish and , would not have much meat on it. Morgan took him off the hook and put the fish back in the water. Ten seconds after returning to the sea, that fish was gone, swimming far away from this boat.

We were all awake after lunch and each busy doing their own thing today when we heard a very clear, "Hello, sailboat" over the VHF. We passed all the other sailboats in the night last night, and we had not spotted anyone else out here since then. We went out in the cockpit to look around, and way out on the horizon we could see a ship. Actually, we could see the bow of a ship coming toward us, still many miles away. The person on the radio said we should stay on our course and he was going to alter course so he would pass behind us. How nice! We thanked him for changing his course to keep his distance. Usually the ships do not speak to us and they hardly ever change their course. I think he was surprised to see us out here. Wonder what he would think if he came across one of the rowing boats!

At 2100 tonight we were located at 15.44 N, 26.59 W. The moon is shining like a street light, so I am very happy on night watch. The air temperature was finally warm enough to make us feel "hot" during the day when there was very little wind. I haven't worn my sweater for 24 hours now.

9 December 2005/Friday/Sailing, Day #1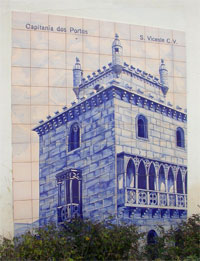 We just left Mindelo, Ilha Sao Vicente, in the Cape Verde Islands at 1545 in the afternoon. There are four other boats out here that left 30 minutes to one hour before we did. We aren't sure who those boats are, but we will probably figure it out as we listen to the morning and evening radio nets and hear the position reports.

This morning David, Morgan, and I caught a ride with Diana and Harold from ZEPHYRUS into the beach at the town. Dave and I stayed up last night to help ZEPHYRUS come in to the anchorage at 2330. We could look out into the dark outside the anchorage and see their navigation lights. On the other hand, they were looking at the anchorage with the lights of town in the background and they could not distinguish anything. Many of the small ships and cruising yachts did not bother to put an anchor light on their boat in the anchorage, so they were hard to see. It was hard for ZEPHYRUS to spot those of us who did have anchor lights on, because our lights blended into the town lights. Dave plugged in our big spotlight and moved it around while I talked to Diana on the VHF. They used a spotlight on their bow, too.

There was a cruise ship in town today, so the whole atmosphere in Mindelo was completely different from what we saw yesterday when a few yachties were the only tourists we saw. We walked on some different streets today and found a couple of small supermarkets we missed yesterday. We followed a wonderful smell in the air and discovered the bakery. We bought some fresh buns for lunch. We found a couple of internet places. We went to one with six machines and a good connection. I paid in Euros and received odds and ends of escudos in change. Yesterday, I saw some plastic colanders that I liked in one of the Chinese shops. I asked how much a colander cost and the young lady said " That is 80 centimes (Euro cents)." I only had Euros and they would not let me pay in Euros, so I left. Today, I went back to the shop and picked up four colanders. I asked the lady "How much?" and she indicated one Euro each. I am sure she thought I was off the cruise ship. I reminded her that I was in the shop yesterday and she told me 80 centimes each. Suddenly, she remembered me and the fact that I only had Euros yesterday. I told her today I had escudos and paid 80 centimes per colander...not one Euro each. I use the colanders for draining the fresh fruits and vegetables we wash off after coming back from the market.

I didn't know that I spoke Portuguese (I don't!), but my basic Spanish has been understood whenever I was speaking to someone who didn't speak English. A lot of the basic words seem to be very similar, so when we wanted to know what hours the store is open or ask if they have something, we have been using Spanish and getting along fine. Most of the people have been speaking French to us...or German or Dutch because of my light color hair. Not many English -speaking tourists must come here, because no one has spoken first to us in English.

We have around 2,000 miles to go to Barbados. That number of miles and length of time is too large for me think about right now. I prefer to take it one day at a time. We reckon we will be out here for 16-18 days. While I am sounding like I think I have a long way to go, I should mention we heard some of the rowers talking to their net control the other night. There is a group of people attempting to row several boats across the Atlantic from the Canary Islands to the Caribbean right now. When I think I have it tough, I try to imagine what it must be like out here rowing a boat. My mind can't even imagine it! Sure puts things in perspective. Here I am on a safe boat, warm and dry, eating good food everyday, doing my share of the watch, reading, watching movies, and eating popcorn.

8 December 2005/Thursday/Mindelo, Ilha Sao Vicente, Cabo Verde/16.52 N, 24.59 W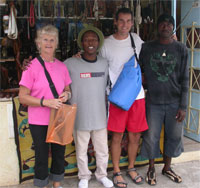 You will never guess what happened this morning about 0830 as we approached the island of Sao Vicente. We were in the pass between Ilha Sao Vicente and the next island with four fishing lines trailing behind us. Boats already at anchor off Mindelo recommended fishing all the way to the island because several boats caught mahimahi there. Dave put out the fishing lines as soon as the sun rose. Suddenly, wham! The strongest fishing line with the lure on it Dave calls the "shark slayer" (because it is so large) was gone! We looked back about 30 feet behind the boat and a huge blue marlin jumped clear of the water. We could see the "shark slayer" was hooked outside his mouth, possibly in the gill area. Technically, I guess you can say we caught a blue marlin, but it was only caught for a matter of seconds. It all happened so fast, but all of us saw that magnificent fish jump out of the water three times before it disappeared from sight. Now, Dave has a real big fish story to tell.

Over recent days, we have heard all kinds of stories on the radio net about how bothersome the boat boys in Mindelo could be. When we arrived here, we were prepared to be accosted by the boat boys and Dave had already decided exactly what he was going to say to the boat boys that approached our boat. We came in here with the idea of a quick turn around, and decided we would ask the boat boys who came up to us to help us purchase water and diesel. We arrived early this morning. After a brief break once we were anchored, Dave, David, and Morgan emptied the jerry jugs of water and diesel into the appropriate tanks, so the empty jerry jugs would be ready to give to the boat boys that we heard would be coming. No one came.

I fixed the last of the fish today for lunch by quickly sauteing cubes of fish. These cubes were served with a vegetable curry sauce and rice. After lunch, Dave tied three of the bright orange jerry jugs up on the wind generator pole, thinking maybe one of the boat boys would see the jerry jugs and figure out we wanted them filled. Nothing happened. About 1330, Dave got on the VHF and mentioned to Blake on RAKILI that we couldn't believe after all the stories we had heard about boat boys, because none of them had come out to our boat yet. About 15 minutes later, a boat boy named Joseph showed up! One of the boats closer to shore who was "reading the mail" (listening to the radio conversation Dave and Blake had on VHF), told Joseph we were looking for some help out here when he stopped by their boat. Within minutes, our diesel jugs were in Joseph's dinghy, Dave gave them money for the fuel, and they were gone...then, quickly returned with full jerry jugs. Next, we gave them the empty water jugs, money for water, and they took
those into the shore.

We asked the guys to come back and pick three of us up and take us into shore around 1500. Dave stayed on the boat. We have also heard it is a good idea not to leave the boat unattended here. David, Morgan, and I road into the shore with one of the boat boys. We told him we were going to walk around town, then would like a ride back to the boat in 1-1/2 hours or so. We discovered a nice small grocery store and several small shops that reminded us of shops we saw in Sudan and Eritrea. The bank was closed, so I only had Euros to spend. The local currency is called Escudos. One Euro equals 110 Escudos. We also found the central market, but I could not buy anything there because they would not accept Euros. I was trying to buy onions. We don't really need much food on the boat, but I wanted to pick up a little more cereal and UHT milk, plus onions since we stopped here.

The small town of Mindelo is pretty clean and there were people standing around everywhere. This was a Portuguese territory until July 1975 when the Cape Verde Islands became independent. We have read that today they receive a lot of financial support from North America and Europe. The local economy is based on small gardening and fishing. Quite a few of the kids came up and asked us for money. They gave up easily when we said, "No". We looked around a small suq area where red, green, and yellow Rasta-type clothing was for sale as well as some handmade wooden souvenirs. We talked at one booth with Valentine and Abu. They both speak Portuguese, plus some English, Spanish, French, German, Dutch, etc. It is a humbling experience to hear them speaking so many languages. We went back to the first street we walked down and went into the supermarket to pick up the items I was looking for.

Back at the beach, the boat boys who brought us in to shore took our bags, loaded the dinghy, and off we went back to EXIT ONLY. Dave was busy at the computer trying to pull down another grib file. The weather forecast is not looking good for leaving tomorrow. We can leave, but the winds are going down and the forecast shows we would have to motor for four to five days. We don't want to start off a 2,000 mile trip doing that. We have decided we will not leave here tomorrow. We are also listening to the news about Epsilon. As you all know, that storm has been going every direction over the past few days. The Cape Verde Islands are directly in the Trade Winds 80% of the year, but right now, Epsilon is playing havoc with the Trade Winds...they are not where they are supposed to be at this time of year. Day by day we will check the weather sources, but we won't be leaving until Epsilon is no longer affecting our weather and the Trades have kicked in.

6 December 2005/Tuesday/Sailing, Day #6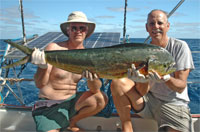 We have big news today...we caught a mahimahi! At 1100 this morning, Dave had four lines out at different lengths behind the boat. Morgan spotted a crate floating in the water off our port side. Dave and David said that mahimahi like to hang out under floating debris. No sooner had they talked about this, with everyone watching the crate floating in the water, one of the two mahimahis under the crate struck the big lure Dave
calls the "shark slayer". I really don't know much about the lures, but I think this is the giant lure with a huge eye and long tentacles trailing behind it. Dave bought this giant lure at a fishing store in Isla Lanzarote. The three guys got organized. Morgan pulled the large mahimahi into the starboard stern and Dave gaffed it. Morgan poured alcohol on its gills to kill it. David was taking a video of the occasion. Once the fish was no threat to anyone, they brought it into the cockpit and measured it. It was 106 cm or 42 inches long from nose to tail. They covered the table with newspaper and Morgan cut up the fish while Dave took photos and David took video shots. We have caught fish before, but mostly Spanish mackerel or tuna. We have heard everyone talk about what good eating mahimahi are, but had never caught one until today.

The meat was divided into three portions for three meals. David challenged me to fix the fish three completely different ways. Since it was lunch time soon after catching the fish, today, I fixed the fish with onion and a sauce. Tomorrow I am going to shallow fry the fish with a seasoned flour coating, and the third day, I am planning to shallow fry the fish (cut up in cubes), then put the fish into a curry sauce served on rice. The meat is white and has a mild taste. We all liked it a lot. There was a little fish left over at lunch, so I used it to make ceviche for supper. Morgan had not eaten ceviche before. He got a sample and liked it. The rest of us love it.

We are continuing to head south toward the Cape Verde Islands. We had very light winds this morning and we even turned on the engine for a couple of hours. The wind came up in the afternoon and by the time the sun was going down, the winds and seas were both higher and suddenly, we were almost flying downwind at 6-7 knots and sometimes 8+ knots as we surfed down the front of the swells. The weather info on the net this morning still made "Epsilon" topic #1. Herb, the well-known weather router in Canada, is doing weather for 4-5 boats that report in to the radio net each morning. They have been sharing the advice Herb has been giving them. We have heard from our friend Neil. His recommendations were the same as Herb's advice...keep going south. A couple of the boats we heard on the net this morning are "cutting the corner" (not going so far south as the Cape Verde Islands before turning west), but the rest of us are heeding the weather advice we have been given and are still going south.

We have been talking regularly to an Australian boat named RIKILI and our basic plan was to be "buddy boats", going with them across the Atlantic. We both have temporary crew on board that wants to get across the Atlantic as soon as possible because of the upcoming holidays. We are trying to make it happen within the weather parameters we have to deal with. Dave and Blake talk to each other twice everyday, after the morning and evening nets are over. We have been sharing grib file weather reports with Blake as he does not have that capability on his boat. The radio nets do not go over grib file weather because so many boats have it on board. We are both continuing to head south and a decision will be made tomorrow evening about whether we are going to stop in the Cape Verde Islands or not. We are far enough south that we don't think Epsilon is going to be a problem for us, but there is a line of squalls and confused winds and seas between the Cape Verde Islands and the southern Caribbean islands. Also, the grib files are showing the wind is going to go very light for a couple of days soon and that means motoring and using fuel if we are out there. We still have 2,100 miles to go from the Cape Verde Islands, so we have to be careful and use our fuel judiciously. We are carrying enough fuel to go 1,400 miles, but the weight of that fuel is already more than we usually carry and is definitely affecting the boat's performance. We do not have room to carry any more fuel. Both of our boats would like to keep going and not stop at the Cape Verde Islands, but that decision will be made tomorrow evening.

5 December 2005/Monday/Sailing, Day #5

We were able to sail almost all day today. Dave ran the engine for a couple of hours to charge up the batteries. We wanted to watch a movie ("Secondhand Lions") in the evening and eat popcorn. The movies and listening to music make the pitch black dark hours go by more quickly. The sliver of a moon is getting larger every night, so by the time we make the right turn to actually cross the Atlantic (we are in the Atlantic now, but heading more south than west to find the Trade Winds), we should be having a large friendly light shining on us most of the night. I will appreciate that since I have been doing the watch that ends at midnight.

The air temperature is warm enough now that we are wearing shorts and t-shirts during the day. I am still wearing a sweater at night on watch, but don't need the jacket and scarf. One of the boats reported on the net that that water temperature is 74-76 F degrees. We are still sleeping under sleeping bag/duvet covers. Every minute of latitude south takes us toward warmer weather. Right now we are on the same latitude as the southern coast of Cuba and the north coast of Haiti/Dominican Republic.

We are all watching Tropical Storm/Hurricane Epsilon and it is priority discussion #1 every morning and afternoon on the radio nets. Weather is the first topic addressed on the net everyday and right now, Epsilon is the first topic of weather to be discussed. There also is a band of squalls in the Atlantic, but the weather routers have given us advice about that, too. They have told all of us to keep moving south, even though it is very tempting to "cut the corner" and start heading west across the Atlantic. We are heeding this advice and moving farther south, but we are far enough now, that we don't foresee encountering direct problems with either weather system. There are many boats behind us, closer to the Canary Islands, that may be more directly affected by the storm.

Dave put out three fishing lines today. Some of the other boats are reporting catching mahimahi (dorado, dolphin (fish, not mammal)). I held off starting to fix lunch just in case we caught something and I could cook it for lunch. No luck. Morgan is ready and willing to clean any fish we catch, so we need to take advantage of this opportunity.

4 December 2005/Sunday/Sailing, Day #4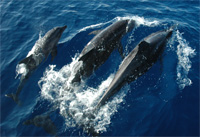 The winds are still light, but steady. We were able to sail all night with the two headsails "wing and wing". The boat was very quiet, rolling gently, pushed by the small swells and the wind. We all got good sleep last night. The boat was not rocking and rolling.

The gentle motion of the boat means everyone is feeling well and feeling hungry. I have been making a hot lunch everyday and sandwiches for supper. After supper, David has been making a big bowl of popcorn and we watch a movie. There are a lot of good things to be said for downwind sailing. Today, I mashed the last three bananas from Las Palmas. They were getting quite ripe and soft...just right for banana bread. There was no problem.

I had just started making lunch today around 1130 when Dave spotted dolphins behind the boat. We all went out and couldn't believe our eyes. There were dolphins behind, along both sides, and in front of the boat. There must have been over one hundred dolphins frolicking in the small swells all around us. We all went forward on the bows so we could watch the ones that were swimming so close to the bows and across the space between the hulls. We could hear them making a "shrieking" noise, talking to each other. These dolphins were slim, about four feet long, with gray backs and white tummies. Some of them were jumping completely out of the water and diving back in the waves with a huge splash after carving a perfect arc in the air. In our whole trip, this is the largest group of dolphins we have ever had around the boat at one time. We told Morgan we were going to charge him extra for this extra-special dolphin extravaganza. David got video shots of the dolphins and Dave took digital photos.

Our position at 1730 tonight was 23.09 N, 20.23 W. The big round orange sun just went down, and we went out to watch for a green flash. Not tonight... we didn't see a green flash this time. The sliver of a moon was already up, so it won't be many days before we will have the "night light" on when we are moving through the dark.

3 December 2005/Saturday/Sailing, Day #3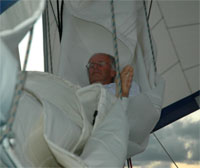 The good news for the day was I took off my furry-lined slippers at noon today. It was warm enough to take off the sweaters and long pants, too. Morgan described it best : "It isn't very warm, but at last it isn't cold".

We have been sailing along under two headsails, spread out on both side of the forestay. That is called "wing on wing" for obvious reasons. It looks like we are flying. Downwind is our best point of sail, so we have been moving along quite well.

Around 1600 we were visited by a few dolphins playing in the wake off our scoops at the stern. We have often had dolphins come and play in the bow wake, but we have never seen them playing around the sterns. These were short, stubby dolphins.

Our position at 2100 tonight was 24.09 N, 18.51 W. There are at least 20 boats checking in to the morning and evening radio nets these days. After we heard and compared their positions to ours, we found that we were pretty much right in the middle of the mob. There are still a couple of days to go before we have to make the decision to either make the right turn to the Caribbean or continue south to the Cape Verde Islands. About one third of the boats out here are definitely going to stay over a few days at the Cape Verde Islands and buy more fuel there for the Atlantic crossing. Two thirds of the boats are heading south and keeping the option open to make the right turn and keep right on going to the Caribbean without an intermediate stop. Dave wants to keep on going if the weather allows us to do that. He is trying to sail as much as possible, so he can conserve fuel for later in the trip.

2 December 2005/Friday/Sailing, Day #2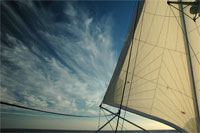 We were able to sail almost all day today. The wind was coming from the NE, the ENE or East. We were either zooming along as we rode the swells downwind under headsail only, or scooting along under headsail and main when the wind was on the beam. Either way, Dave was very happy that he didn't have to use precious diesel. On the other hand, the weight of the diesel is slowing us down a little because we are carrying much more than we have ever carried before.

The weather information has been full of "Epsilon" and how it is a hurricane now. We have a sailing friend, Neil, in England, who is watching the weather and sending us e-mails about the present Atlantic weather patterns. Neil and Fiona just finished their circumnavigation on KEESHOND in the UK earlier this year. We sailed with them from Darwin, Australia, all the way to the Maldives. They left and went ahead of us through the Red Sea and Med, then headed north. We also hear updated weather given out on the radio net every morning. Dave is pulling down weather information on ham radio frequencies here on the boat around the clock. We are located quite far from Epsilon and heading south as it heads north. We won't be anywhere near that storm if it continues on its present path. The only effect we may see or feel from the storm could be some swells, as the swells can and do travel hundreds of miles.

The morning radio net lasted for an hour yesterday morning, because there were so many boats checking in. Over twenty boats checked in to the net, all but five of them somewhere on passage between the Canary Islands and the Cape Verde Islands. At least four boats are leaving to head south tomorrow. They were all in Las Palmas having work done on their boats, so couldn't leave with the larger group.

I made pizza for lunch today. Way back in Cyprus I bought long-life pizza crusts to use while we were crossing the Atlantic. Today was the first day. The resulting product isn't like a pizza from Domino's or Little Caesar's, but it tasted pretty good out here in the Atlantic Ocean. The long-life pizza crusts we are using going across the Atlantic are made by Parmalat out of Italy. We bought this same brand of pizza crusts in the Galapagos Islands and used them when we did a long passage in the Pacific to the Marquesas Islands. Small world.

1 December 2005/Thursday/sailing

We left the anchorage at Las Palmas, Isla Gran Canaria, Islas Canarias, Espana this morning at 0900 local time (which is the same as UTC or Greenwich Mean Time. We went ahead and put the clocks back one hour because the Cape Verde Islands are one hour behind. We have to "lose" four hours by the time we get to Barbados. Since we are up and down at all hours of the day and night while on passage, we reckon we might as well go ahead and start dropping hours one by one.

We had to take care of the dinghy before we could leave this morning. Dave, David, and Morgan dropped the dinghy into the water from the davits so they could remove the engine and store it under the table in the cockpit Next, Dave stood on the scoop at the stern and they turned the empty dinghy upside-down so the bottom and sides could be scrubbed. We had two "attacks" of oil while we were anchored in Las Palmas. Dave didn't want to bring oil into the cockpit when we stow the rolled up dinghy there. They scrubbed the dinghy, then went to flip it back over. The pull of the heavy dinghy on the painter in Morgan's hands was great and he couldn't hold on to the rope. The dinghy started floating away from the boat. Dave went down into his cabin to change into his swim suit, but managed to take just enough time, that when he returned to the cockpit, David had already jumped in the water and was swimming after dinghy. Since David was
already in the water, he went under the boat to check the props and found there was quite a lot of growth on the blades. He cleaned off the blades, so now we can even go faster! We heated some water to add to the cold water in the solar shower, so David did get a nice hot shower when he came out of the water.

Once the dinghy was rolled and stowed, we took up the anchor and headed out. We know ZEPHYRUS, MAGNUM, PEACE AND ALOHA, HARMONY, and RANGANUI also left from Las Palmas within an hour of us leaving. We have talked to a couple of these boats today and we heard most of them on the evening radio net. We could still see the sails of some of the other boats as the sun was setting this evening.

The bad news on the radio net this morning was Eddie, the single-hander on SALEH, lost his boat on a beach at Isla Tenerife. This boat was anchored behind us in Las Palmas for several days and it dragged there, but there was no damage to that boat or any other boat that I know of. Evidently, he tried to anchor off a beach over there in Tenerife and the boat dragged up onto some rocks and was destroyed. We had heard there are no good anchorages at Tenerife, but I haven't studied it because we weren't going there.

At 1800 tonight, we were located at 27.26 N, 15.44 W. The winds are light, so we have one sail poled out and one motor running pushing us downwind. We were able to sail without running the motor about half of the day. We are hoping to conserve our fuel this early in the trip, because we have so far to go. It is cold and the northest wind is bringing cold temperatures with it. We are all wearing long pants, long sleeves, sweaters, jackets, etc. I am wearing my fuzzy lined slippers from New Zealand and a scarf around my neck when I am outside on watch. We are grateful it is not raining and we don't have huge swells like we had coming from Gibraltar.