Journal 1 - Gibraltar to Canary Islands
Journal 2 - Across the Atlantic
Journal 3 - Barbados to Canouan
Journal 4 - Tobago Cays to Trinidad
Journal 5 - Trinidad to Martinique
28 February 2006/Tuesday/Coral Cove Marina, Chaguaramas, Trinidad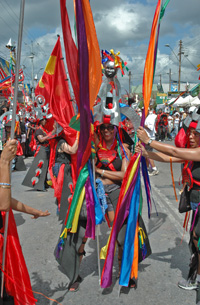 Jesse James' Members Only maxi taxis and coaster buses were here to pick us up at 0730 this morning. One group had already been picked up at 0700 and delivered to the Queens Park Savanna venue. They sat in seats in a shaded area. We chose to go with the "street group". Sharon and Jesse said they thought we would be able to get better candid photos there. The buses dropped us off and we walked two blocks to Aripita Avenue, Adam Smith Square. This was the site of one of five judging points for the parade. Today, all the bands/groups of people were to be in their formation wearing their entire costume. Each group has to pass by all five judging points, so they started 3-4 bands at each judging point. In effect, there was a huge route that ended for everyone at the Queens Park Savanna.
We were literally on the sidewalk near a judging point. This was a safe area to be in because each judging point was staffed by many policemen and policewomen. Dave, David, Sarah, and I picked a spot where we would meet if we got separated. There were thousands of people lining the street. I spent most of the day standing on the sidewalk, "limin'" (hanging out) with Diana from ZEPHYRUS. Dave, David, and Sarah were off in the crowd and in the street taking photos and video.
Each band/group would stop in front of the judges and do a presentation or portrayal (the word the locals use). The big trucks with huge speakers would be blaring out music. The band/group members "jump up" (jumping and dancing to the music) and do basic routines led by someone at the head of their section. Some of the people were "winin' ",(rolling their hips from side to side with the beat of the music). The judges noted which of the five competing songs was being played. The winning song was the one we heard played most often. We were wearing ear plugs. The music was so loud that when the truck went by us,we could feel the bass notes vibrating in our chests. We couldn't understand all the words, but there was a lot of rhyming of "Carnival", "bacchanal", and "festival". We heard the five songs so much during the day that we are still humming the tunes! Our favorite song of the bunch won. Each band/group had music trucks and booze trucks with people dispensing alcoholic drinks, non-alcoholic drinks, juices, and water. Security men walked around the bands/groups.
Once past the judges, the bands/groups were passing where we were standing. The participants didn't always keep jumpin' up or winin' with quite so much enthusiasm as they showed in front of the judges, but the crowd was "jumpin' up" and clapping their hands, so the different sections of the bands/groups still were doing a lot of moving. There were anywhere from a few hundred people to several thousand people in a band/group. Different sections had different costumes that all hinged on a main theme. "The Might Of The Roman Empire" was the theme for the band/group that won. One of the guards here at Coral Cove, Winston, was in that band and he is very proud of the portrayal of Roman times and people they gave. He told us how hard they worked studying ancient Rome so they could make their costumes as authentic as possible. The people who pulled huge masquerade/costume structures were allowed to have help moving down the street. In competition on the stage, they had to move the structure by themself.
Speaking of guards at Coral Cove, their presence is why we wanted to be in a marina during Carnival. The marina has round-the-clock security guards on duty. We wanted EXIT ONLY in a place where we knew she would be safe. There seems to be a lot of robbery during Carnival time on the island, because so many tourists are out enjoying the activities and their lodgings are left empty. As far as we know, there were no problems in marinas at Chaguaramas.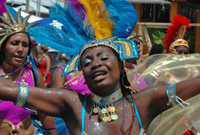 We stayed downtown until 1600. We were able to buy cool drinks from vendors on the sidewalk and from local restaurants on that street. I took some food from home, so we could eat when we got hungry. They did have bleachers you could pay to sit down on, but we were having so much fun on the street, we didn't want to go sit down. Toward the late afternoon, people on the street were allowed to blend in with the costumed bands/groups as they "chipped" (walked with a dance step to the beat of the music) down the street. Dave, Sarah, and I "chipped" along with a couple of bands/groups so David could get us in the video shot of the parade.
What fun! We had a great time, but when 1600 came, we were ready to go home. It was a long day out in the hot sun, but we would do it again in a minute. My favorite things about Carnival are: 1) This is the real thing, not a "tourist event". You are welcome to come and watch or participate, but they would be having Carnival whether tourists came or not. This is their "thing" and Port of Spain, Trinidad is very proud of having the best Carnival in the Caribbean. 2) All ages are included. You can be 8 or 80 and walk in a band/group, play a pan/steel drum, dress up in a costume, etc. It is for everyone. The man who pulled the winning King of Carnival masquarade/costume, "The Might of the Roman Empire" is 67-years-old. Quite a big deal was made of his age whenever this man was mentioned.
David is getting ready to put up photo galleries of Carnival on the website. He will be doing a big upload before we leave Trinidad to head north. We think these are some of the best photos we have taken on the trip. We will let you know when he does the upload, so you can see the colors, the people, and the spectacle that is Carnival!

27 February 2006/Monday/Coral Cove Marina, Chaguaramas, Trinidad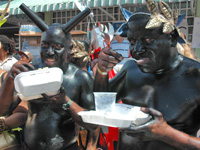 After getting in late last night (really, early this morning) and talking to David and Sarah a short while, it was early morning when we finally got to bed. While we were going to sleep, many of the cruisers were donning costumes and gathering at the gazebo on the shore at the end of our dock. These folks had paid money to "play Jouvet". The word "Jouvet" means "daybreak" or "day opening". It is the official beginning of Carnival at 0400 on Carnival Monday. Some of the participants will be dressed as creatures of the night...bats and devils. Jesse James' Members Only picked up people at 0200 to go into Port of Spain to join Trevor Wallaces' band (group of marching, walking people). The participants paid a fee that included a sailor costume...shorts, t-shirt, hat, and scarf. At the band camp (each group has their own gathering area), they were served a big breakfast of hot dogs, rotis, doubles (a local bread and filling like a fried sandwich), and rum punch. They were given a clay-mud mixture to use to decorate their face, arms, and legs. The Jouvet parade began at 0400 and lasted until 0800. Each band provided security men to protect their "players" and to make sure no one got too carried away with celebrating. The groups wended their way through Port of Spain and tried to put some paint, oil, or clay-mud mix on anyone they saw in the street or watching from the side of the street who was not already "decorated".
We opted to skip "playing Jouvet". It sounded pretty wild and the idea of being out until 0100 to see the Dimanche Gras, then leaving at 0200 to "play Jouvert" didn't sound like something we would enjoy. The people who did go told us afterwards they had a great time. The police turned out along the parade route in big numbers and there were security men walking on the perimeter of each band/group. We read in the newspaper today that several incidents occurred at some of the Jouvet activities in other parts of the island. The newspaper reported that if the police saw a troublemaker in the parade, that person was removed from the scene. There is a lot of gang violence and there are many kidnappings on this island. Most of the killings and attacks seem to be people seeking revenge for past killings and attacks. We did not hear of any cruisers having any problems "playing Jouvet".
Things were pretty quiet around the marinas today. Those who slept part of the night were ready for a quiet day and a little rest and relaxation felt good. Those who "played Jouvert" came home around 0900 and went to sleep. The maxi-taxi and coaster drivers would not let the people covered with mud, clay, and oil get in their taxis until they covered themselves with large garbage bags. They were told to bring the garbage bags with them or they would not be allowed in the vehicles. The marinas told everyone they had to hose off outside. They were not to get in the showers and try to wash the mud, clay, and oil off.
Most of the shops and restaurants were closed today. This is sort of a national holiday in Trinidad and Tobago. Even if shop owners wanted to stay open, there was so much traffic that it would take extra time to get from one place to another. The recommendation from Jesse James' Members Only was this was a good day to stay home. We did just that and had a leisurely lunch on the boat. Tomorrow is the big, final Carnival Parade of Bands and we are all looking forward to going downtown to see that.

26 February 2006/Sunday/Coral Cove Marina, Chaguaramas, Trinidad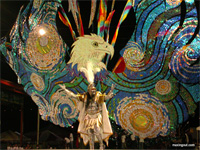 We got a late start on this day after coming in late last night. We had another late night tonight. Dave and I went to Dimanche Gras. This is the final competition to choose the King and Queen of Carnival 2006.
David went out to the airport at 1900 to meet Sarah's plane at 2030. Sarah works 4 days, then is off 4 days, so she managed to work in a quick trip to Trinidad to see David and see a little of the Carnival activities.
Around 1730 this afternoon, Jesse James' Members Only Tours picked everyone up at the marina where they are staying or where they leave their dinghy if they are anchored out. Dave and I were picked up with the group at Coral Cove Marina where we are staying in a slip. Off we went in a large coaster bus to the Queen's Park Savanna. This is the same location where we watched other events. Jesse James and his wife, Sharon Rose, have a trips and tours company that basically deals with the cruisers who come and go in Chaguaramas. They have a small office located in the Tropical Marina office building and they tell about their trips and tours on the cruisers net at 0800 daily on VHF 68. This is handy for us, because it is located next to Coral Cove. First of all, Jesse and Sharon Rose are just plain nice people, but after that, the cruisers really like to go places with Jesse because he takes care of us. He tells us if something is dangerous or not a good idea. He takes us to places that serve good local food that we can eat without getting sick. He takes us to places that are safe, he watches over the group to make sure it stays safe, and he doesn't leave unless everyone who came with him and his drivers is accounted for. There is no way we would have been out half the night in Port of Spain, Trinidad, if we weren't with Jesse and his drivers. The drivers who work with/for Jesse are also nice guys.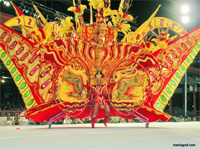 Dimanche Gras is the Grand Finale of all the seasons's competitive shows. There have already been semi-final rounds for the King and Queen of the Bands (meaning the large, elaborate King and Queen costumes that lead the band of people or group of costumed people in the parade next Tuesday). Tonight, the 10 finalists for King and Queen competed for the last time. The single winner that was chosen tonight is the official King of the Bands and Queen of the Bands for Carnival 2006. There were other final round contests tonight including the Calypso Monarch Contest. Calypso is a type of music that is near and dear to Trinidad and Tobago hearts. They say this art form defines who they are because the words that are written to each song are a social or political commentary about the world as they see it today. Some of the popular topics were subjects like "fighting crime", "raising kids right", and "the government--what it should be doing", etc. New, appropriate lyrics are carefully crafted for each round of the competition. Verses to the songs are changed or amended to draw the attention and praise of the crowd and the judges. Most of the songs are sung in the local English patois, so I must admit I understood about 50% of the words that were sung. It was obvious when the crowd approved of the words, because there would be a big shout and clapping from everyone around us.
We also hear the winners of the Panorama competition that we attended last night play again tonight. We heard big bands, medium bands, and small bands play. The size designation is based on how many drums and people are in the pan band. The "pans" or "steel pans" are the steel drums that are organized into "pan bands". A Pan band plays music on steel pans/drums and is a musical band. Another kind of band is the one that dresses alike to portray a theme. This is a group of people marching in the street in the Parade of Bands next Tuesday. This will be the big street parade of Carnival 2006. The Ex-Tempo champions sang tonight. These singers are given a subject, then within seconds must sing an impromptu song about the subject. The songs and their delivery are judged. The Junior Calypso Monarch was 15-year-old. He sang his winning calypso song.
We left before the show ended because it was 0030 and our buses were there to pick us up. We had seen and heard the most important events of the evening and we were ready to go home. David and Sarah were at the boat when we arrived at Coral Cove. David had gone to the airport at 1900 with a driver to meet Sarah's plane at 2030. Sarah brought a copy of the 26 February 2006 Lexington Herald Newspaper with her. Karla Ward, a reporter for the Herald, had written a large article about us and our trip. There were photos and text on at least three pages of the Lifestyle section. It was a very nice article and the photos brought back many memories.

25 February 2006/Saturday/Coral Cove Marina, Chaguaramas, Trinidad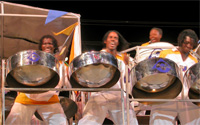 We haven't been going to Carnival activities for a few days now, but tonight we went to the Panorama Finals. With several Carnival activities coming up in the next few days, today was a busy day doing boat jobs.
Coral Cove Marina has a laundry room with three washers and three dryers, so I was able to get a couple of loads of laundry done mid-day. There are a lot of people here using the laundry, but it was easy to find a time when the washers and dryers were available. The office sells tokens that fit in the machines.
Pick-up time for the Panorama Finals was at 1730. We were taken down to Queen's Park Savannah to the shaded, open-air stage where we saw the Kiddie Carnival. Steel drums are called "pans" and a group of steel drums playing music is called a "steel band". The final competition between steel bands playing music is called "Panorama". The winner of Panorama will be the "Best Steel Band of 2006 Carnival". There have already been many preliminary competitions among the steel bands in the past months. The preliminary winners went to the semi-finals, and now the best of the best competed on stage competed on stage tonight in the finals.
We learned a lot about steel pans and bands today. We learned there are small, medium, and large bands depending on how many people play in the steel band and how many steel pans are used. We learned that there are "single pan bands". "Single pan" means each person in the band only plays one pan/steel drum. Many of the bands have some people playing one pan, and others playing 2-6 pans, depending on what section (tenor, bass, etc.) of the band they are in. We also quickly learned to wear ear plugs when the bands are playing. We like the music, but the bands play very loudly. We are still wondering how the people in the band keep from losing their hearing.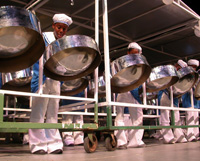 Most of the steel pans are mounted on rolling platforms with welded holders for the steel pans/drums. These platforms are probably ten feet wide and 15 feet long with a trailer hitch at one end. These rolling platforms holding pans/drums are put on big trucks to move them through the streets from one place to another. Once at the destination, the platforms are taken off the truck and rolled up a huge ramp to the stage. A few of the single pans/drums are carried onto the stage along with a small welded holder. These pans/drums are set on the holders while the platforms are being rolled into position. It took some time for one steel band to roll off the stage on one end and the next competing band to roll onto the stage from the other end.
We actually could hear a difference in how some of the bands sounded. We could also see by the looks on their faces that some of the bands were more relaxed than others. We noted which bands we liked the best and it will be interesting to see if we picked some winners. Jesse James' maxi taxis were there to pick us up and take us back to the boat at 0030. Our ears were still ringing as we went to sleep.

24 February 2006/Friday/Coral Cove Marina, Chaguaramas, Trinidad

I went on the 0900 Hi Lo Supermarket Members Only trip this morning. This trip brought back so many memories of riding the shopping buses at KKESH in Riyadh, although the preparations here are a little more involved. The yachties arrive at the bus with "grocery gear". They have folded-up woven plastic bags for carrying things, canvas bags with sturdy handles for carrying things, and thermal bags for putting cold products inside. Three maxi taxis with 22 passengers headed for the big Hi Lo next to West Mall.
After shopping and filling all those shopping bags, each person wrote the name of their boat and the name of the marina where they want to their groceries to be delivered on every bag. There are lots of marinas in Chaguaramas: Trinidad Tobago Yacht Club, Trinidad Tobago Sailing Association, Crews Inn, Tropical Marine, Coral Cove, Tardieu, Hummingbird, Calypso, Skinners, , Power Boats (which mostly caters to sail boats now), William Marine, Peakes Marine, Mariners Haven, and I.M.S. There are hundreds of boats in the water and out of the water on the hard. Some boats are hauled out doing work and some are in long-term storage. The boats that are anchored out in the bay have their groceries dropped off at the marina where they tied up their dinghy.
Trinidad is a good place to buy groceries. The prices are the cheapest we have seen in a long time. The variety of available goods is excellent. They produce a lot of food products here in Trinidad, plus they import products from the States and Canada. There are a lot of fresh fruits and vegetables grown here on the island and they also import good quality fruits and vegetables that are not grown here from South America, Central America, the States, and Canada. Food is very easy to find, purchase, and transport to the boat. I am trying hard to buy food as we use it instead of filling all the nooks and crannies with supplies again. This is a hard habit to break. I see an empty space on the shelf and think I should fill it. That is what we did for so long in many places.
Dave has been making his way around the marine chandleries and shops seeing what is available. There are many boat parts and pieces available here, but the taxes and VAT added to the cost make some things quite pricey. We won't be buying any big ticket items here. Dave has also talked to several sail makers about re-cutting our mainsail and replacing the protective strip on our foresail. A couple of the lofts are so busy, they don't want to take any small jobs right now. Soca Sails, at Crews Inn, showed interest in doing the job. They came by in the afternoon and took the mainsail with them to their loft. Dave is having the roach on the sail reduced (the fullness) and wants batten pockets put on so we can use the battens from the old mainsail. We have been running without battens since Mallorca and the sail doesn't hold its shape in the wind nearly as well as when the battens are in place. Soca Sails is going to try to continue working through Carnival, but they said if they need any supplies, the Carnival traffic almost will make it impossible to move around. Then, if they are able to drive somewhere, the supplier may not be open, because so many people take a holiday and close-up for several days through the Carnival.

23 February 2006/Thursday/Coral Cove Marina, Chaguaramas, Trinidad

First thing this morning before it got hot, Dave and David cleaned out the cockpit and washed everything down. The boat is looking better everyday. We are located in the second slip from the shore, so we could easily see people setting up the book swap at 0930 on the tables under the shade cover. The marina calls this "the gazebo". It is a small shaded area with tables and chairs next to a small swimming pool. Lots of people from all the marinas in the area brought books to swap. Diana and Harold from ZEPHYRUS were there, so we got to talk to them and catch up.
After a lazy morning for me, I pitched in and did something for the good of the boat. I got tokens from the marina office and did two loads of laundry. There are three washers and three dryers in the laundry room. It is just a few steps from the boat to the laundry room, so it is handy and of course, so much easier to use the machines than do the laundry by hand.
We ordered pizza for lunch again today. It is really good pizza and eaten with a fresh salad makes one of our favorite meals. Sitting in the cockpit, we can see the marina pool and gazebo, plus the Coral Cove boat yard on one side of us, and look across the water to see Crew's Inn Marina. Behind our boat is the local fishing pier where the medium-size fishing boats come in between runs. We have seen boats from Trinidad, Martinique, Venezuela, and Korea.
Dave walked down the road checking out the many chandleries located in the area. There are quite a few marine stores here to choose from.
From 1700 to 1900, Coral Cove Marina sponsored a Carnival Soiree (their word) around the pool for all the marina workers and guests. They had cold drinks and finger food. East Indian-type rotis and Chinese steamed buns are very popular here, so that is what they served. We are starting to see the same people around the marina and on the maxi-taxi trips, so we are getting acquainted. There are a lot of USA boats here, but there are more European boats. We had no idea so many people from the Med came across the Atlantic, spent time in the Caribbean, then will go back across the Atlantic.

22 February 2006/Wednesday/Coral Cove Marina, Chaguaramas, Trinidad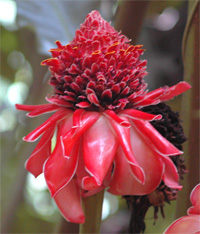 We hooked up the hose to the fresh water on the dock this morning and gave EXIT ONLY a good wash. There are so many pretty, shiny boats here. Many of them are fresh from the boat yard and have new paint and varnish on them. Someone told me these pretty boats are called "marina queens". Here we come from across the sea looking rough and tough, and not particularly pretty. We are very pleased with EXIT ONLY's performance as she took us across many seas, but we owe it to her to clean her up a tad, so that is a high priority for us while we are in the marina. Dave has a "to do" list for us to do and a "to do list" for some of the marine shops in the area.
We ordered pizza from Joe's Pizza, conveniently located at Coral Cove Marina. We heard the pizza was good and we heartily agree. I made a salad while Dave went to Joe's and ordered a pizza to go. Twenty minutes later, he walked for three minutes from the boat to pick up the pizza. What can I say? A marina with good pizza is about as good as it gets!
David and I decided to go in to Port of Spain after lunch. I suppose everyone does this...once. Now, we know that it is a much better idea to go into town in the morning and return to Chaguaramas in the early afternoon before the school kids get out of school and the office workers get off at 1600. Since we didn't know all of this when we went to town, we did our errands, then showed up at the maxi taxi stand to go back to the boat. We were shocked to see hundreds of people there milling around waiting for maxi taxis. We could see there was no line to stand in. Everyone sort of grouped around the place where the maxi taxis usually stop to fill up before leaving to head northwest. We watched many people start moving quickly to th end of the short pavement where the maxi taxis were arriving and letting passengers out. These folks were jumping in the maxi taxi right there, so they came by us already full. We stood where the maxi taxis stop if they keep moving. After four came through, the fifth one stopped right in front of me. I was the first person in, David the second. It is everyone for themself! We vowed then and there we would never come to Port of Spain in the afternoon again.
On the way back to Chaguaramas, we passed two sites where huge stages are being built in preparation for big shows connected with Carnival. The speakers were stacked so high, we knew the volume level is going to be unbelievably loud. We will probably be able to hear the music at the marina, far away.

21 February 2006/Tuesday/Chaguaramas, Trinidad

We woke up to an overcast day today. It rained off and on. The wind was blowing lightly, but it kept coming from one direction, then another. Chaguaramas Bay anchorage is one of the most difficult anchorages we have ever been in. There are two high tides and two low tides every day. The currents are very strong, so when the wind is blowing one way and the current is going another way, the boats all react differently. In most anchorages, all the boats swing together in basically the same direction at the same time. Here, when they don't swing together, this can mean boats that haven't anchored with enough space around them to swing, may (and DO!) hit each other. There are too many dramas like this out here. We had a boat come out by us this morning and anchor too close to us. When we ask them to move farther away, the man refused to leave, even though their boat was moving closer to us as we talked. Unfortunately, this meant we had to have someone on board our boat to watch the boats, because the two people on that boat both got in their dinghy and went to shore. Fortunately,this unpleasant interaction was limited, because we went into Coral Cove Marina in the afternoon today.
Dave stayed on the boat while David took me to shore to go to the pick-up point at Coral Cove Marina. On Tuesdays, Jesse James' Members Only Maxi Taxi takes people to Long Circular Mall on a shopping run. I thought I would go along and check it out. It was pouring rain by the time we arrived at the mall. There were two maxi taxis full of cruisers. I saw Diana from ZEPHYRUS in the other bus. They are on a mooring at Trinidad Tobago Sailing Association. We knew each other was here, but hadn't seen each other yet. We last saw each other in Barbados, so it was good to connect again.
I didn't really go on the trip to shop. I wanted to look at the Long Circular Mall, which is actually a four-story high square building. Go figure! Chris, from England on REVERIE, was also just looking, so we walked around and checked things out. We found a Rituals Coffee Shop and had Vanilla Frappes. After that, we went into True Value, the grocery store attached to the mall. It, also, was square. I didn't buy anything, but the store was well-stocked. It was still pouring rain when we all loaded up into the maxi taxis to go to the Malabar Meat Shop, the next stop. This shopping trip is free to cruisers, because the grocery store and meat store pay the drivers to bring us to their stores. If you buy more groceries than you can carry, you pay the driver $5 TT ($.90 US) to deliver your groceries to the dock at the marina you write on your grocery bags. Everyone carries a permanent marker to mark their grocery bags.
We ate lunch on the boat, then at 1400, we moved into a slip at the marina. At 1430 I was taking a hot shower! We really do not mind anchoring out, but we decided being in a marina for Carnival would be a good idea. The marina has round-the-clock security guards. The Carnival activities sometimes will go late into the night and we would rather not be running around in the dinghy in the middle of the night. We won't have to deal with boats anchoring too close to us. Sarah will be coming to visit and it will be convenient for four people to come and go from the boat if we don't have to use the dinghy. We have to have some repairs made to our mainsail and foresail, so it will be easier to get someone to come take the sails off the boat if we are at a dock. There are lots of good reasons to be in the marina right now, so we are going to enjoy it while we are here!

20 February 2006/Monday/Chaguaramas, Trinidad

First thing this morning David and I went to the Members' Only (trips and tours) to finalize the arrangements we made for tours in the coming week. David gave them the details for the airport runs to pick up and deliver Sarah to the airport when she comes next week.
Dave dropped us off at Coral Cove Marina dinghy dock. David and I went out to the main road and caught a maxi taxi to town. It is easy to catch a ride because so many maxi taxis run along the road all day long. We rode all the way to the maxi taxi stand downtown. From there we walked about two blocks to get to the main downtown area. Port of Spain did not have many tourists in it when we were there. Cruise ships do come here occasionally, but this town certainly does not look or feel like a big tourist stop.
We looked around and easily found the three main streets...Frederick, Henry, and Charlotte. The cruising guides and tourist guides advise visitors to stay on these three streets and not to move farther east. That was fine with us. We walked through several "malls". That meant we walked inside large store areas that were divided into small suq-like shops with wide aisles between them. They have a Starbuck's copy cat shop called Rituals. The vanilla frappe tastes the same at Rituals and costs half as much! We ate panini sandwiches at Rituals for lunch, then headed back to the maxi-taxi stand to find a ride to Chaguaramas. All of the maxi-taxis going north are white with a wide yellow stripe going around them. The drivers and people waiting for a ride were very helpful when we wanted to make sure we were getting on the right taxi. It costs us $5 TT or $.90 US to ride all the way, maybe 10 miles that usually takes about 40 minutes.
We called Dave on the radio to come pick us up at the dinghy dock. Before going out to the boat in the anchorage, we stopped by the HiLo Grocery that is located right on the water by Crew's Inn Marina. There is a dock right by the store, so it is a few steps from buying groceries to having them in the dinghy. This store sells mostly to cruisers, so they have items that aren't usually found in the grocery stores where mostly locals shop. As I said, things are really handy here in Chaguaramas.
Dave talked to Coral Cove Marina office today and they said we could move into a slip in the marina tomorrow. That is one day earlier than we expected to move in. This will be our first marina slip since Marmaris, Turkey. We are looking forward to hooking up to fresh water so we can give everything a good rinse off.

19 February 2006/Sunday/Chaguaramas, Trinidad

After getting back to the boat after midnight last night, the morning seemed to come very early this morning. Today we signed up to go to Viey La Cou. "Viey La Cou" is patois for "Old Yard". Everyone kept saying this is the old style Carnival, like it used to be. The brochure describes this event as a street fair that was started up by theater folk so the finest theatrical practices would be kept alive.
The tour bus picked us up at 1200 and carried us to the Boy Scout Campgrounds. A large grassy area was lined by wooden board bleachers on one side and small booths with striped tarps on the other side. The booths were selling souvenirs, handcrafts, and local food and cold drinks. The organizers were still nailing the board seats in place when our buses arrived. We got seats in the front row of the bleachers right next to the covered area set up for the Prime Minister and his entourage to view the activities. After the Prime Minister came and left, we moved into those chairs in the shade.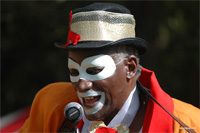 The parade of characters made its way one group at a time from one end of the grass area to the other, then returned the same way.
1) We heard the Minstrels, based on the American minstrel shows, singing popular songs of the day as well as songs written to comment on what was going on in the country at that time.
2) There was an exaggerated lady named Dame Lorraine. This character is based on the French planters who lived here in the early 19th century. The costumes and dances were done to portray daily life of the French.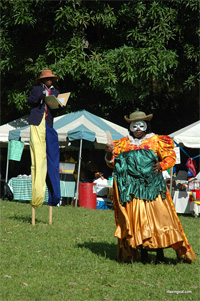 3) We saw the Jab Jab. These characters were dressed in satin knickers and shirt and decorated with bells. Each Jab Jab, or Devil, carried a whip of plaited hemp. The grown-up Jab Jabs put on quite a display of cracking whips. A couple of the younger Jab Jabs also did whip cracking, but it was a little frightening as we weren't sure how well trained they really were. There were no problems, but those of us in the front row seats were glad when the ship cracking was over.
4) The Moko Jumbie, the stilt walker, is a character out of African tradition. "Moko" is a god in Africa and "Jumbie" means "ghost". The Moko traditionally would collect money from people watching the parade from upper story balconies.
5) The Fancy Indians were based on the Native American Indians. The headpieces were made of feathers covering wire frames and decorated with mirrors, beads, feather work, papier-mache masks, totem poles, canoes, and ribbons. They used languages adapted from the Black Indians (African Indians) from the New Orleans Mardi Gras, the Red Indians (Warhoons), and the Blue Indians which have links to Venezuelan indigenous people.
6) The Jab Molassie is the Molasses Devil. This character wears knee length pants with a mask and horns. He carries chains, locks and keys, and a pitch fork. His body is smeared with grease, tar, mud, or colored clay. He has imps with him trying to hold him back.
7) Pierrot Grenade represents a scholar who is descended from Pierrot, the famous elegant masquerader who dresses beautifully and recites passages from Shakespeare. He entertains the audience with recitations and tells stories to amuse them.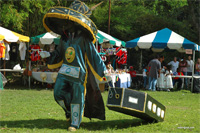 8) The Bats dress in black costumes with bat wings. The detailed mask completely covers the head and the wearer looks out through the mouth. There is a precise dance done by this character to imitate the movement of bats flying through the air.
9) The Midnight Robber was one of the most colorful of all the characters. This character comes from African tradition and tells stories. He blows a loud whistle to emphasize his tales. His costume is influenced by American cowboys and wears a large broad-brimmed hat. He carries a dagger, gun, and sword...and demands money.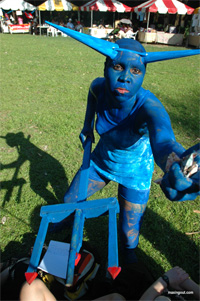 10) The Blue Devils were the only group we really did not enjoy seeing. The rest of the characters had been quite entertaining. The Blue Devils came out and immediately started "working" the crowd. These people were painted with a blue paint all over their bodies. Several had something in their mouth that made them look like they were frothing. One man carried a huge cane toad, while a younger child carried a crab. They stuck these in children's faces and made them cry. They stuck them in adults faces and wouldn't take them away until you gave them money. This part of the presentation went on and on. We didn't like it at all. It was one thing to participate and give some small change once or twice. They just kept coming back for more. I finally told the kid with the crab to leave me alone or I was going to take the crab away. He left.
We got back to the boat about 1800. It was a long day, but we all enjoyed everything but the Blue Devils. The Prime Minister came with his group and stayed about 30 minutes. He was sitting less than 10 feet away from us. As soon as this special group left, we moved into the shade and sat in chairs to enjoy the rest of the show.

18 February 2006/Saturday/Chaguaramas Bay, Trinidad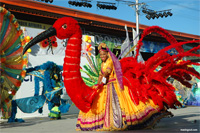 The crew of EXIT ONLY slept well last night. We are catching up on the sleep we lost on the overnight trip down here, plus staying out to the early morning hours last night. I am feeling good again, so the late night wasn't a problem. Pick up for today's tour was at 0945 this morning.
We went in a coaster to the area of town called Queen's Park Savannah. This is an exhibition venue. Today's feature at this site was the Kiddie Carnival Parade. We got there about 1030 and were able to get in the third row from the stage under a large cover for shade. It was open seating and not many people arrived "early". When Jesse told us a bus would pick people up at TGIF Restaurant, a 10-minute walk away, at 1700 and 1800, we all looked at each other and wondered how in the world we would stay there until late afternoon watching a children's parade. Believe me, we did and it was fascinating.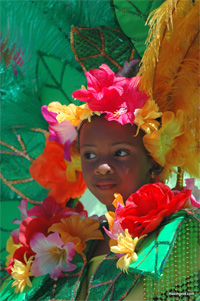 The parade started at 1130 with children under 6-years old. Some of these children were too young to walk alone and were carried by their parents or in decorated walkers. Some parents were pushing decorated strollers and prams. These were mini-Carnival outfits, just like the adults wear. Watching these parents try to get their kids to make an important stop in front of the judges' table, then another stop in front of the press cameras was quite amusing. To make a short summary, the day continued with different age groups, 6-11 years boys, then girls, 12-16 years, boys, then girls. There were also small, medium, and large "bands" (the groups of marchers following steel pan (drum) groups). Mostly, these were school groups dressed to match a chosen theme. As a teacher, I could appreciate how hard it was to get all those kids to stand where they were supposed to stand, let along get them to march together, stand still to have their make-up and costume put on, etc. What an amazing behind-the-scenes group effort! Stiff competition and the winners were extraordinary! Dave and David took turns taking digital photos. We had to pay for a camera permit, but then, they were allowed to go right to the edge of the stage with the regular press cameras. The photos of the kids and costumes are really professional level. We are going to put a photo gallery up on the web site of just kids at Carnival. We all got into the spirit of the day and clapped hard for our favorites along with the local crowd. The locals around us were happy to answer questions we relating to what we were seeing around us.
The costumes were individually designed, but many of them used themes like Rome, Egypt, American Indians, animals, the sea, outer space, Arabian Nights, the Orient, sailboats and sailors, fruits, flowers, Africa, and India. One band (a school group) represented the local natural gas and oil industry. Another group represented the ethnic background of the country...French Creole, Spanish, Asian Indian, Dougla, Chinese, and Syrian-Lebanese.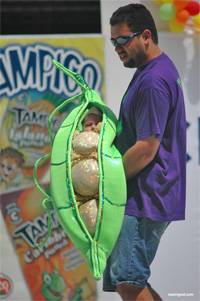 Again, we were impressed that this is not something done for anyone but themselves. You are welcome to come along, but they are going to do this anyway. Carnival is a cultural thing that ties families and neighborhoods, schools and groups, the whole island together focusing on teamwork and doing your best to win a prize. Within two weeks of this Carnival ending, the work for next year's Carnival will begin. Carnival is a part of Trinidad life from the beginning to the end. One of the prize winners today was a very small baby wrapped in a papoose-type bag that was shiny green with stuffed glittering peas inside. The baby had a hat on that made it look like one of the peas. The name of this costume was "Peas In A Pod". A very proud dad carried the baby around and made sure the judges and press cameras got a good look. We have photos of the baby that will be put up on the web site.
The last category ended at 1720, so we headed to the meeting point to catch the shuttle back to Coral Cove. What a fun day! Everyone was tired, but happy. We were all amazed how entertaining all of those children were. If the Kiddie Carnival is this good, we must be in for a really special treat when we see the adults and the huge costumes they wear. We bought a pizza and calzone at Joe's (Coral Cove), took them back to the boat, and looked at the photos while we ate supper Dave and David got pictures of the individual costumes as well as the bands where many were dressed alike. Best of all they got some close-ups of beautifully costumed children's faces...smiling, pensive, mostly happy. What fun!

17 February 2006/Friday/Chaguaramas Bay, Trinidad

Every morning at 0800, there is a Trinidad Cruisers' Net on VHF 68. It is very organized and gives everyone a chance to ask for information, report problems, find out what is going on today and in the upcoming week, etc. We listened to this net this morning and quickly figured out there is a lot going on here with the Carnival, but we needed to go to Members Only and sign up for tours. Immediately after the net, David and I got in the dinghy and went to Tropical Marine where the Members Only office is located. Jesse James and his wife, Sharon Rose, basically are famous among members of the Caribbean cruising community. They run tours too malls, museums, carry people to the airport, do Carnival tours, etc. They help people do whatever they want or need to do in Trinidad. Of course, right now the main focus of their tours all have to do with the build up to the big Carnival parades on 27 and 28 February. We are a little confused by the Carnival vocabulary...pan, band, soca, etc. Everyone we have talked to says going on tours with Members Only is the only safe way to go participate in Carnival activities. Sounded good to us.
Good thing David and I went straight to Tropical Marina to the Members Only office at 0830. There is a dinghy dock next door at Coral Cove Marina (where we have a reservation starting 22 February). It is a good, safe place to lock up the dinghy while we are out and about. We were second in line to talk to Sharon Rose. Within minutes of arriving at the office, there were four more groups in line behind us waiting to talk to her. Sharon Rose patiently went over the "Carnival basics" with us and we chose to sign up for six activities. She told us what venues required camera attachments (permits) and how much each permit would be. They get our entry tickets and pick us up to go to the venue and bring us back after the activity is over. We left to go across the canal in the dinghy to get money from the ATM to pay for the tours and camera permits. Back to Member Only and more waiting now that we were at the end of the line again. We paid our money and received our tickets for the different activities at exactly 1200. It took a long time, but now we are set for the upcoming week.
David and I went out to the main road and waved down a maxi-taxi. These are mini-buses that run from Chagauramas to Port of Spain all day long. They cost $5TT ($6 TT= $1.00 )US. David and I rode to the West Mall, about half way to Port of Spain, because that is the location of the nearest pharmacy. The outside of the mall looked like a construction site. Then, we realized, it IS a construction site. They are renovating the outside of the mall. Inside, the mall was modern and David says it is "just like Miami". It was very nice inside. We ate lunch at Blimpie and had TCBY for dessert to celebrate our landfall. The food court also had Pizza Hut, Burger King, KFC, Chinese food, Indian food, and bagels. It has been a long time since we have seen most of these places. We looked around at a few of the mall shops and went in the outer buildings to check out the huge HiLo Supermarket and Super Pharm. We didn't buy much more than fresh bread, but it was fun to look around.
Back at the main road, we hailed a maxi-taxi returning to Chagauramas. We dinghied out to the boat. Dave stayed on the boat today to make sure we were anchored well where we are. He doesn't like for all three of us to leave the boat until he is confident the anchor is stuck in well.
At 1830 all three of us joined a coaster bus from Members Only that was full of other cruisers. This tour went to mas camps and pan yards. We learned that "mas camp" stands for "masquerade factory". This is a location where hundreds of costumes for Carnival are designed and manufactured. "Pan yards" are outdoor places where people playing steel drums practice playing for the Carnival competitions. A "band" is not a musical group here. Instead, a "band" is the group of marchers that marches in front of the steel drum group they are associated with. When this all comes together for the big activities, the people in the "band" will be dressed alike using some theme decided on for this year. There are prizes for small, medium, and large "bands"...how they look, how they "jump up" (move to the music), how their costumes look, etc. There are prizes for the steel drum group...how they play, how they sound, how they look. The bus drivers, Jesse and Ronald, took us to see two mas camps and four steel drum groups practicing. In between, we stopped for a snack or meal at at a local food restaurant. We ate French fries, thinking of our friends on DUETTO who "when in doubt, order 'chips' " (they are from New Zealand). The "chips" were so good, we ordered a second plate!
I cannot tell you how loud those steel drums are when everyone is playing. It is deafening. I put in ear plugs. It was evident even to us "novices" that some bands are better than others, some are less stressed and having more fun when they play, and not all steel drum music sounds alike. It was fun to see the groups and camps are made up of everyone from young kids to people older than me. Everyone pulls together in a big team effort to win the various competitions. It was also neat to see something that is going to happen whether the tourists are here or not. This is first and foremost a local event. If others come, that is OK, but this is not something staged to entertain outsiders. We were out and about until midnight, so we immediately could see that travelling with Members Only is the best way for us to participate safely in Carnival. We were back at the boat by 0030.
Already, we are liking Trinidad. It was fun to "jump right in" to the Carnival activities and we are meeting lots of other cruisers. Chagauramas is the main place cruisers go into marinas or anchor in this area. There are a multitude of yachting services including parts and repair personnel. All of this is within easy walking distance of all facilities, so this becomes a small ever-changing community of boats. Right now, the population is high because so many people, like us, have come for Carnival.

16 February 2006/Thursday/Chaguaramas, Trinidad

Welcome to Trinidad, Mon! We are certainly glad to be in Trinidad! That overnight trip was one long overnight. The squalls came and went every other hour all night. The winds were in the 30's during the squalls and in the 20's when the sky was clear. The sea swell was from the northeast, hitting us on the port stern, then on the port side, then a big splash as the bow rode up on a wave and came crashing down. Dave was outside in the cockpit all but three hours of the night. During those three hours, David was outside on watch while Dave caught a little sleep. I was no help with the watch. The movement of the boat was like being in a tumble dryer and my head was spinning. The constant movement made my head hurt so much, I felt ill if I sat or stood up. I did both of those things as little as possible and stayed laying on the salon seat all night. It was a rough ride, a rough night, and one we are already dreading repeating as we head north after Carnival. Once again, EXIT ONLY proved herself a very sea-worthy vessel. She took it all in stride and never faltered.
It is funny, now that we are at the end of our circum-navigation. We have had such rough times in the Red Sea and coming from Gibraltar, etc., that rough wind squalls for a limited time don't phase us like they once would have. We say, "This is bad, but remember outside Safaga (Egypt)...etc.". We have been through some really rough weather, so our perspective has changed. My stomach felt queasy in the night, but as long as I stayed laying flat, I was OK. About 0600 I woke up with such a head and jaw ache that I knew I had to take some Tylenol and an anti-biotic pill. I got up and went down to the galley for the pills and a glass of water. Mistake. Ten minutes later, it all came up again. At least I wasn't thinking about my sore jaw for awhile! I haven't been sea sick in so long, I don't remember the last time it happened.
We arrived at the northwest point of the island around 0800. I am sure there was no one to officially report that arrival, because rain squalls were all around us as we went through the narrow passage between the island of Trinidad and Monos Island. The water was dark green, very deep, and there was a strong current making standing waves. The guide book says you are supposed to take your boat immediately to the Custom's dock to sign in. Since this is Carnival month, there are many more boats than usual here, so the anchorage is quite full. We decided not to take EXIT ONLY into an unknown area with all of these boats here. We would anchor out and go in by dinghy to check out the situation.
Slowly, Dave went behind AQUAVITE, a Canadian boat, and asked the man in the cockpit if he thought it would be alright to anchor out and take our dinghy in to check in. He said he thought that would be fine. He called out a VHF channel and came up to give us some general advice about anchoring in this bay. The bottom is mud and rock, but the tides and currents are strong and change twice each day. The boats swing differently, so it is important to give yourself plenty of room to swing. We thanked him on the radio for his help. Then, we proceeded to put down our anchor. It dragged, which is very unusual. We brought our anchor up...and with it, we brought up the anchor of the Canadian boat! This is a one in a million shot that this would happen, but it did. Now, he had to re-anchor. We felt terrible. Once we got anchored and got our paperwork together to go sign in, we put some of the banana bread I made for our trip on a plate to take to them as a peace offering. They were extremely nice to us when we stopped by their boat on our way to check in. We exchanged boat cards...our "Abbott" for their "Allott"
. I was still not feeling "right", but everyone on board has to show up to sign the boat in. The officials were very pleasant and checking in went well. Some people who were checking out gave us some local advice while we were standing there in the office. The cruisers all have the same advice..."Talk to Jesse James". Jesse James and his wife, Sharyn, run Members Only, a business that arranges trips, tours, airport runs, doctor visits, etc. Whatever you need, they make it happen. This company organizes groups for Carnival activities, so we are going to check with them tomorrow about what is available.
After we were checked in, we stopped by the small grocery store at Crew's Inn Marina Village to get some fresh bread and a cold drink. We sat on the dock and ate some ice cream. It was good to be here and good to stop bouncing. Right across the way was Coral Cove Marina, the one where we have the reservation next week. We decided to stop by there and tell them in person that we are here. We also mentioned we would like to come to the Marina earlier if anything opens up. Dave is not happy with the anchoring where we are now. The tides are very strong and the wash from the work boats going in and out to the oil rigs is a force to reckon with several times a day.
Back at the boat, I went to bed and slept for four hours. That is why I am up typing while Dave and David are fast asleep making up for the sleep they lost last night. While I was sleeping, David went in to see if he could find Jesse James. He didn't find him, but met some cruisers from Annapolis. He ended up having a cold drink with them and getting lots of local information. He said they were very helpful. Here at the boat, one of our neighbors at anchor in a 64-foot boat, came over. The guy told Dave his wife had seen us pick up the Canadian boat's anchor and basically the guy was trying to find out if we knew what we were doing and he needed to worry that we might hit him...or something. Dave could see relief on the guy's face when he told him we were finishing a circum-navigation, etc., etc. The guy invited us to go into Joe's Pizza for supper with him and his wife! Dave told him I wasn't feeling well and was asleep. Still, we have already met some mighty friendly people here.

15 February 2006/Wednesday/sailing

The question of the day again today was "Should we leave for Trinidad today?". In the morning, the rain squalls were blowing through regularly, now they were here, now they were gone. Our dilemma today is we need to arrive in Trinidad by Friday if we don't want to pay weekend overtime charges. We had to go to Trinidad tonight or tomorrow night at the latest to avoid overtime charges, or...we have to wait to leave Grenada until next Monday. We don't want to check out here on the weekend and pay overtime charges to Grenada either.
I wasn't feeling much better today, but I realize we need to go, and it is only an overnight sail. Famous last words. We decided to go into Budget Marine to buy the British flag, then order pizza at De Big Fish for lunch. After tying out dinghy up outside De Big Fish, I asked to order a pizza. The girl said, "What time is it?" I told her it was 1142. She said they didn't make pizza until 1200. I said I would go to Budget Marine, then return at 1200. She said there wouldn't be any pizza at 1200. I had to ask why when no information was forthcoming. She told me the pizza oven wasn't working. I wanted to ask if the oven wasn't working or she wasn't working, but decided this was a no win proposition. It didn't matter. There was not going to be pizza for our lunch today.
Back at the boat, I fixed lunch for Dave and David. I didn't feel like eating. My jaw was sore and starting to swell. I was taking the anti-biotics and hoping they would hurry up and make the swelling go down. After lunch, Dave and David took the motor off the dinghy, stowed the dinghy on the davits, checked to be sure everything on deck (fuel jugs, kayak, wind surfers) was tied down securely, etc. We checked the weather sites on the internet and all of them agreed that there was a chance of showers in Grenada and Trinidad, but the winds would go down to 10-15 knots overnight. Sounded good. Dave went over to Customs and Immigration at Prickly Bay Marina and checked out. We decided to go for it tonight.
We were talking about how everyone was telling us all the marinas were full in Chagauramas and how we wished we would have pursued information about the anchorage and marinas sooner. An Australian man was telling us this morning how he accidentally hit a boat there when the tides changed and had to pay for their haul-out and repair. We were sorry we hadn't done more research about possibilities for moorings or marinas. Talking about Carnival activities, we realized we could end up coming and going from the boat at anchor in the dinghy at all times of day and night. We are not fond of riding in the dinghy after dark. Even carrying lights, it is hard for other boats to spot a moving dinghy. We got out the Trinidad cruising guide and made a list of all the marinas in Chagauramas mentioned in the text. We wrote down the phone numbers and David started calling on the computer phone line. The first lady we talked to actually laughed when we asked about a slip. She nicely said, "No way, it is Carnival." The second place we called has moorings and doesn't take reservations. The third place we called we had read about on FREE RADICAL's web site, Coral Cove Marina. Just this morning, one of the cats at their dock (they have 40 slips) told them they would be hauled and put in storage 22 February. We made a reservation for this slip starting 22 February. We are all very happy about this arrangement and Dave is amazed. He wished us well in our endeavor, but he can't believe we actually found a slip for a catamaran during the month of Carnival. I would certainly advise other cruisers not to wait so late to try to make slip reservations. We have not been in a marina since Turkey, so this will be a nice treat.
We left the bay at 1600 right after a big squall went through followed by brilliant blue sky. That blue sky lasted for about an hour until the next white-out squall came through. We ended up having squalls about every-other-hour all night long with winds in the squalls gusting to 30-35 knots. The rest of the time the sky overhead was clear and the winds were blowing at least 20 knots steadily. Good thing we have been through much worse and we kept telling ourselves "It is only an overnight sail". It is still not fun.

14 February 2006/Tuesday/Prickly Bay, Grenada

We thought we would leave for Trinidad in the afternoon today. It is roughly 85 miles from Prickly Bay, Grenada to Chagauramas Bay, Trinidad. You are supposed to arrive off the northwest point of Trinidad after 0800 (when Customs and Immigration opens) or they chage overtime...we have heard this from several people who have experienced paying overtime charges. We wanted to know how anyone would know when you reach that point, but we were assured a Coast Guard boat is sent out to check for boats sometimes. Anyway, we will leave Grenada in the late afternoon to arrive in Trinidad the next morning. So, we were thinking of leaving today...until the rain squalls started coming through and it was pouring rain off and on, but mostly "on". Also, I really wasn't feeling good today, so I voted against leaving.
I did manage to make biscuits and gravy for Valentine's Day lunch. That is a real treat for us, since we have not bought sausage for a long time and I don't make gravy and biscuits often. We decided at lunch time we definitely would not leave today. After lunch, I laid down so I wouldn't move my head and make it hurt worse. Dave and David took the kayak and dinghy over to the surf and Dave shot some photos of David riding the surf in the kayak. He got some really good action shots of the splashing water.
In the evening, Dave and David went over to visit with CARPE DIEM, Denis and Marie The. I wasn't feeling well enough for visiting. They live on an island off Brittany. They came from the Canary Islands to Grenada in a 35-foot boat. They are going to Trinidad for Carnival, too, then will put their boat up on the hard while they return to their French island to work for six months. Nice people...and they like American brownies!

13 February 2006/Monday/Prickly Bay, Grenada

We spent most of the morning on the boat using the wireless internet connection that our antenna managed to capture for a few minutes, then it was gone, then it was back...we had to be very patient. The rain squalls coming through kept the boats moving to and fro, so the wireless antenna was having a hard time "catching the wave". To solve the uni-directional antenna problem, we have asked Sarah to bring an omni-directional antenna we heard about from another cruiser with her when she comes to visit David at the end of February. Right now, many places frequented by cruisers are installing wireless internet. Within the next year, it will be available everywhere. Right now, having wireless is the latest way to compete for the cruiser's (and travelers in general) internet dollar. It is big business.
After lunch, Dave and I went to shore. We stopped in the chandlery called Budget Marine at Spice Island Boat Yard. It is a small, but well-stocked chandlery. It has been so long since we have seen some of that hardware, Dave had to inspect every single thing in the store. We found a piece a small piece of hardware he wanted for the kayak and I found a British flag. Our flags really take a beating when we fly them day and night through all these rain squalls. Since we are Cayman Islands/British registry, we always need to have a undamaged British flag on board. When we went to check out, we were told we had to pay the price on the object, PLUS 38% Grenada tax unless we could produce our entry-into-Grenada papers that prove we are a "yacht in transit". We didn't have our boat papers with us, so we decided to come back and buy the flag when we had the boat papers with us.
We left that boat yard and took the dinghy across to the other side of the bay to check out the Prickly Bay Marina. This marina is very small and basic, but they are building condos on the site right now that are going for 1.5-2 million $US. We have noticed a real effort in the islands to attract the "upper level tourist" (I read that in a brochure...and I knew it wasn't me!). Somebody, somewhere must have money to buy these condos. Right now, Grenada Customs and Immigration is located at this marina in a very basic wooden building. There is an outdoor bar, a small chandlery, and a small mini-mart where I bought postcards and stamps. The lady at the check-out showed me the basket where you put outgoing mail. Small, basic, and friendly. I can't imagine someone paying 2 million US$ for a condo and wanting such a place right outside their front door.
Dave and I decided to take a maxi-taxi (minibus) from the roundabout to the Grand Anse area we went to the other day. We got out where we got out before, but turned right instead of left this time. Dave wanted to go by the ATM at the bank and I wanted to check out the Grand Anse Food Fair Supermarket. We weren't grocery shopping, but just looking and buying some bread. I know we are going to leave for Trinidad any day now, so I am trying to keep fresh bread on hand for the trip. We also found a Diet Dr. Pepper, so that was a treat.
Back at the boat, I laid down because my jaw was really hurting when I walked around. The pain level is much lower when I don't move. I started taking anti-biotics today...the same ones I took in Greece, so I hope they help me as much now as they did then. David took some brownies over to CARPE DIEM (the French boat) to thank them for the mahi-mahi they shared with us. They invited us over tomorrow evening.

12 February 2006/Sunday/Prickly Bay, Grenada

It rained off and on all night last night. I have been asking Dave to get a PVC fitting to put in the middle of a plastic tarp to rig up a small rain catcher. There is so much "free" fresh water falling from the sky, I reckon we should try to catch some of it for our five 20-liter jugs we carry in the cockpit. We don't drink the water, but use it for filling the sun showers, "wash" water for hand-washing clothes when we don't have access to a laundromat, or we use the water to give the cockpit a fresh water rinse.
I woke up feeling rather lethargic today and my jaw was hurting...just like it did in Greece when I had a blocked parotid gland in my lower jaw. The pain is very intense if I move around, but not so bad if I sit or lay perfectly still. Dave says I should wait 24 hours and see how it goes before I start taking medicine. Mostly, I laid in the bunk reading and not moving most of the day.
David wanted Dave to take pictures of him riding the kayak in the small surf at the opening to this bay, so that is how they spent the afternoon. Several of the people off boats anchored in the bay have surf boards and they go out to the breaking surf and "ride the small waves". David said he was the only one out there with a kayak. He was also getting the most rides and the longest rides on the waves. Dave had his hands full trying to maneuver the dinghy into good photo position and actually take photos. My jaw was hurting too much for me to be out riding around in the dinghy, so I was no help. In the end, Dave got some good action shots of David riding the waves.
Everyone keeps saying, "It is supposed to be dry season". Somebody, somewhere doesn't seem to know that, because the rain squalls are coming through regularly. They don't last too long, but they pack a punch while they are here.

11 February 2006/Saturday/Prickly Bay, Grenada

This seems to be a fairly quiet anchorage. There are at least 40 boats in here, but the large bay has plenty of room for everyone. Prickly Bay Marina is located on the east side of the bay. Customs and Immigration are located there, so that is where we will go to check out of Grenada. The northwest part of the bay is where Spice Island Boat Yard is located. This is a haul-out facility where boats are stored and where you can do boat work. Their lift is large enough to haul catamarans, so that is always good information to tuck away.
Dave and I took the dinghy over to the boat yard area after we ate mahi-mahi for lunch today. There is a restaurant on the water that makes good pizza (we hear). That is where we tied up the dinghy. We won't be ordering pizza until we use up some of the meat and fish we have in the refrigerator. That is a good problem to have...too much meat and fish.
We walked around the boat yard to have a look and discovered there are washing machines and dryers available. There is a Budget Marine chandlery on site, too, but it wasn't open because it was Saturday afternoon. We walked out of the gate and up the small road to the big road, about a five-minute walk. There, we caught a minivan "bus" over to Spiceland Mall. This small mall has a good grocery store and a good hardware store. We bought a few groceries, but not much, because we had to carry everything back from the bus stop to the dinghy. Dave thought the hardware store was very good, but we didn't need to buy anything there today. We walked from the mall out to the main road and easily caught a minivan bus going back to where we started. We found out the minivans drive a route called "number 1" and the stop where we got on is the "end of the line". That is easy to remember.
While we were in the Spiceland Mall, we walked by the small food court. One sign at the second restaurant stall caught my eye. "Jayro/Donna Kebab for sale after 3:00 today". Jayro? Donna Kebab? We figured out these were new and different spellings for words we know as "gyro" and "donar kebab". A gyro is a Greek sandwich made of thinly sliced lamb wrapped in flatbread. A donar kebab is a Turkish sandwich. Thinly sliced chicken, beef, or lamb plus sliced fresh vegetables are wrapped in flatbread. Now, we know about the Caribbean version of these sandwiches...jayro and donna kebab.
Back at the boat I read the newspapers I bought at the grocery store. I bought two Grenada newspapers. One is very serious and talks a lot about local politics. It was interesting to read about big money projects here on Grenada that are being funded by China and Japan. The other newspaper seems to offer shorter articles about a wide variety of topics. Both papers come out once each week. I also bought a Trinidad/Tobago newspaper. Everything in that paper is somehow related to the upcoming carnival, even if it is an advertisement...it is a "Carnival sale". They seem to have a lot of reports of people being killed...in Trinidad and all over the world. At least it seemed like a "lot of reports" to me. Drugs and the underworld control of drugs seems to be a major problem, probably because Trinidad is so close to South America. There is a British Navy ship moored here in Grenada right now. The newspaper said they made a big drug bust in the past week or so. They confiscated over three tons of cocaine from a cargo ship near Grenada. One of the first suspicious things the cargo ship did was leave port one color with one name, then out on the ocean, they painted the ship another color and changed the name on the stern. I won't be buying many more of these newspapers, but it is interesting to try and understand what is important to these people and find out what local events are happening.

10 February 2006/Friday/Prickly Bay, Grenada

Yes, we were impressed with how handy everything is here in St. Georges...It is really handy!This morning Dave saw footprints made by dirty feet on our starboard scoop at the stern of the boat. Someone boarded our boat in the night and climbed onto the scoop, then stood on the two stainless steel rails located in the scoop. They climbed over the lifelines and stood at the back of the cockpit where they could easily look at the dinghy which was hanging on the davits, up, out of the water. We reckon they came in a dinghy because if they had been in the water, their feet would have gotten clean. Our engine was attached to the dinghy and the gas container was in the dinghy, but both were locked with a chain to the dinghy. We did not have any loose gear in the cockpit. The salon doors were locked. The hatches were locked. Nothing was taken. Still, the idea that someone had come on board did not make us happy.
We spoke to the people anchored next to us on sv/CLOUD NINE and told them we had been boarded. They told us that made three nights in a row of problems. Tuesday night someone reported being boarded, but nothing taken. Wednesday night, one boat left their companionway open and someone came in the night, went down into the boat, and stole money out of a billfold.
After hearing all of this, we decided to get our business taken care of in St. Georges and move around to Prickly Bay at the south end of Grenada. We gathered the laundry and took it into the yacht club. I stayed with the washing machine while Dave and David walked around the lagoon to a stationary store to see if they could find a new computer mouse. The one we have been using didn't work. We took the clean laundry back to the boat to hang it out later in the sunshine to dry. Meanwhile, we headed across the Lagoon and into the commercial part of the port of St. Georges, called the Carenage. This is a picturesque bay lined with shops and filled with local wooden fishing boats and small freighters that move between the islands. There is a stainless steel U-shaped bar mounted in cement near a convenient step located at the edge of the bay. Dinghies can be locked to the stainless steel bar and the step makes it easy to get in and out of the dinghy. There is a well-stocked grocery store called "Food Fair" near-by. I went into Food Fair to have a look around. I found products from the States that I haven't seen in a long time and the prices weren't too bad. Dave and David stopped by the fire house and talked to the firemen. They took photos of the specially-outfitted red Land Rovers the fire department uses as mobile pumpers. They have long hoses that go into the sea to pump salt water when and where it is needed. We bought Breyer's Mint Chocolate Chip Ice Cream and went straight back to the boat to enjoy our treat before it melted.
After lunch, I hung the laundry out to dry while Dave and David went to the Island Water World chandlery located across the street from the Lagoon. The laundry dried quickly, because the washing machine spun the water out so well. Dave and David came back from the chandlery with fishing gear...a new "shark slayer" to replace the one the marlin took in the Cape Verde Islands. They also came back with an 8-foot-long plastic kayak that was made in North Carolina. It holds one person who gets wet while kayaking, because the plastic has eight holes in it for self-baling. We all had a go at paddling around and it was easy to maneuver. We will enjoy using that in warm water.
At 1500, we took up the anchor at St. Georges and moved seven miles south to the bottom of Grenada. We put down the anchor in Prickly Bay at 1630. The people we know on sv/KITTYWAKE saw us arrive and came over to say hey. As we were sitting in the cockpit talking, the people on the newly arrived French boat next to us called over and asked us if we wanted some mahi-mahi. They had just arrived from the Canary Islands and they caught a large mahi-mahi on the way in. They shared their fish with us and KITTYWAKE. When it rains, it pours. Having been to the grocery store, we have hamburger, sausages (I want to make biscuits and gravy), left-over lobster from Carriacou, and now, mahi-mahi in the refrigerator. We are going to be doing some fancy eating for a few days.
We will be staying in Prickly Bay for a few days before we sign out of Grenada and do an over-night sail down to Trinidad sometime next week.

9 February 2006/Thursday/The Lagoon, St. Georges, Grenada

We took up the anchor at Tyrell Bay on the east end of Carriacou Island at 0755. We sailed south to Grenada. It is about 16 miles from the south end of Carriacou to the north end of Grenada. There are no good anchorages between these two islands, because there is an underwater volcano. The volcano is presently 602 meters underwater, but occasionally erupts and "grows" up toward the water surface. It grew 75 meters higher between 1962-2002. The volcano has erupted 12 times between 1939-2001. The last eruption was 4 December 2001. Eventually, this will probably be a new island. This volcano has been named "Kick em' Jenny", If you sailed over the volcano when it was erupting, you would certainly get a big "kick"! The Grenada government has declared a 1.5-kilometer exclusion zone around the volcano when it is quiet, plus there is a second 5-kilometer exclusion zone when the volcano is active. We were careful to remain outside the 5-kilometer exclusion zone.
One of the small islands we passed as we headed south is named Isle de Ronde or Rhonde Island. I have read the history of this small, inhospitable island, but can't seem to remember where I read it. I will tell you about this island when I find the information.
We arrived at St. Georges, Grenada, at 1335. As you approach St. Georges, there are two bays. We anchored in the one to the right called "The Lagoon" with 20 other sailboats. The Grenada Yacht Club is a small clubhouse and small dock in one corner of the bay. Lagoon Road, a main access road into the center of St. Georges, goes around the Lagoon. Several stores are located across the street from the Lagoon and they have put out dinghy docks, so their cruising customers can literally tie up almost at their front doors.
David and I took the dinghy and went over to the dinghy dock across the road from Foodland. This is a medium-size grocery store filled with North American products we haven't seen in a long time. The prices are not bad compared to Mediterranean prices. There were many products imported from Trinidad on the shelves. Someone told us we could take the dinghy around to the other bay, called the "Carenage", and chain the dinghy to a stainless steel bar put in the sidewalk for that purpose. We followed those directions and easily found the place to chain up the dinghy. The Carenage is a working port of call for local boats and many of them were tied to the cement alongside the sidewalk we walked on. We walked around the edge of the Carenage, then followed Young Street up and over a high hill to the main part of town located near the cruise ship dock. There was construction going on everywhere, so many building were looking quite new or refurbished because they were. Grenada was hit by Hurricane Ivan in 2004 and Hurricane Emily in 2005. They are still repairing damage done by the hurricanes.
Back at the boat, everyone was hungry because we had sandwiches for lunch while we were sailing. We purchased the fixings for Mexican dinner when we went to the grocery store today, so we enjoyed our supper as the sun set over St. Georges, Grenada. The anchorage was quiet and we were impressed how handy everything was to get to from the boat.

8 February 2006/Wednesday/Tyrell Bay, Carriacou Island

The music was over by 2230 last night! Quiet and calm returned to Tyrell Bay!
First thing this morning, David and I went in to shore to get fresh bread and ice cubes from the shop called "After Ours". They have good ice, but don't sell bread. I had to go to the other grocery store for bread.
Simon, one of the local fishermen and vendors, came by asking if we would like any lobster. We told him we would buy a couple of small ones, but didn't want the huge ones. He came back with two small lobsters. We told him we only wanted the tails, so he cut the tails off and kept the rest. While this is happening at the stern of the boat, Dominique arrived at the bow of the boat and was looking at the damaged bow pulpit. He cannot get the exact size stainless steel tubing here that they used in France. He suggested that we contact Alliaura Marine (they bought out Privilege several years ago) in France and ask them how much it would cost to have a bow pulpit shipped from the factory to St. Martin (a French island that is duty free). We looked Alliaura up on the internet, got their phone number, and called them. We are now communicating with them by e-mail and they are going to give us an estimate of what it would cost to send a bow pulpit to St. Martin. We will be going to St. Martin on our way north. Dominique said he can do the welding that needs to be done for the ring that is attached to a plate at the end of the bow for attaching out parachute anchor when and if we need it. We are going to check into having the work done in Trinidad while we are there, too.
After our lobster lunch, we took the dinghy over to the yacht club. Dave dropped me off so I could take some books and exchange them at their book swap. Meanwhile, he took some photos out in the anchorage. After he picked me up, we went back to the boat and picked up David and the video camera. There is a huge mangrove area to the north of where we are anchored in the bay. This is supposed to be one of the best hurricane holes in the Caribbean. We took the dinghy back in the mangroves to have a look. There were several birds back in there plus two boats that obviously didn't make it out after Hurricane Ivan ripped through in 2004.
So far tonight, we haven't been bombarded with reggae music. We are thankful for the quiet.

7 February 2006/Tuesday/Tyrell Bay, Carriacou Island

We were struck as we came in here yesterday that this was an entirely different anchoring experience than we have been having lately. The boats in this bay seem to be all privately-owned cruising yachts, older boats, 32-42-foot range...boats like we remember seeing long ago when we were in the Caribbean. North of here we were seeing the shiny, sleek charter boats and bigger cruising boats with a "cast of many" on board. The boats in Tyrell Bay seem to be folks who are staying around here for awhile. There weren't so many boats anchored on the south side of the bay when we came in, so we went over there. When the music started roaring across the water from a local restaurant at 1930 last night and went until 0130 this morning, we thought we knew why there were fewer people on this side of the bay.
Today is Grenada Independence Day...a national holiday. The early morning (after 0130) was so quiet. I awoke to cows mooing and donkeys braying somewhere in the small village. What was that I said about this being a calm and quiet bay? The same restaurants on shore started playing reggae music at a blaring level around 1130 today and this went on until midnight. Happy Holiday! We like reggae, but we have had enough today to last for a long time.
The local dive shop on the shore does have wireless internet available. We paid for 24 hours of wireless interent, so the three of us have been taking turns using the computer. This is the first time we have used wireless interet while sitting aboard the boat.
This bay is well-protected, so much so, that we don't have as much wind as usual. I decided to go in to shore and see if any of the shops selling ice were open today. I found only one shop open that had ice. They opened their huge freezer and showed me the Pringles cans lined up on the bottom. The fill the cans with water and make cylinders of ice. Since they were so proud of their ice and they sell it for a reasonable price, I bought two cylinders and put them in the thermal bag I took shopping with me. Since we didn't know the source of the water, we were afraid to break up the ice and put it in drinks. Carriacou does not have fresh water on the island, so they catch rainwater in cisterns. That is probably where the water came from, but we couldn't be sure. We put cans of pop next to the ice in the bag and cooled them down that way.
Dave and I went for a dinghy ride over toward the Carriacou Yacht Club, located at the other side bay. It was closed today for the holiday, but we did see where Dominique has his workshop and talked to him about the repair work that needs to be done on our boat. Dominique is the man who does stainless steel work and he had been recommended to us for repairing our bow pulpit. He has taken a 50-foot long trimaran and built a workshop on top of the deck. The workshop boat is tied to a permanent mooring. If he is working on your boat, you bring your boat over and tie up to the workshop. He works in his shop, then fits the pieces to your boat right there. He said he will come look at our damaged bow pulpit tomorrow.

6 February 2006/Monday/Tyrell Bay, Carriacou Island

We started this day in Clifton, Union Island. Union Island is the most southerly island in the Grenadines...the group of small islands affiliated with Kingston, St. Vincent Island, as the capital. We all went into shore this morning. Dave went to Customs in town and Immigration at the airport to check out of St. Vincent and the Grenadines.
Meanwhile, David and I took Elvin and went to the grocery shops. We were specifically looking for Diet Coke, long life milk, and cereal. We went to three or four small "supermarkets" (that is what the signs say) and found the milk, cereal, and no Diet Coke. We found Diet Coke at the fourth shop we went in. The plastic bottles we bought (no cans available) were from the Coca Cola factory in Trinidad. On the way to the "supermarkets", we passed the delightfully decorated wooden kiosks in the town center where fruits and vegetables are sold. There are 7 or 8 wooden kiosks, brightly painted and decorated with cut wood or "gingerbread". The lady from "Kathy's Fruits and Vegetables" spotted me pulling Elvin along and yelled out, "Are you coming to buy fruits and vegetables today?" "I will stop on my way back," I found myself shouting back. "Don't you go to anyone else...promise?", Kathy yelled again. "Cross my heart, I will come see you on my way back!" I shouted.
David went to talk to the people at the Internet place while I went to buy some fruits and vegetables from Kathy. She was out in the middle of the small street when I came along. She said it was time to buy fruits and vegetables now and I agreed. She walked with me toward her kiosk. "How do you like my stand?" she asked. I told her I thought it was really delightful and I wanted to get a picture of it. She told me she was going to change the roof from dark green to bright yellow and wondered if I thought that would look good. Of course, I said it would look good. I bought what I wanted and as I was finishing, Dave came along with his camera. He took a picture of Kathy and me at her kiosk. She was pleased to have us take the picture. We bought bread at the bakery on our way to the dinghy.
Back at the boat, officially checked out and loaded with Diet Coke, we left Union Island at 1005. We thought the island was quite nice, but the anchorage made us a little nervous with all the coming and going of all the boats that were not holding well. It was good to move on. At 1130 we put the anchor down at Hillsborough, Carriacou Island. Carriacou belongs to Grenada. This is a new country, so we had to check in. Since it was around lunch time, we decided to eat lunch, then go into town. The cruising guide says the officials take a long lunch break. We made submarine sandwiches with the freshly baked bread from Union Island. We stuffed the bread with a variety of sliced fresh vegetables from Kathy's kiosk. Yummy!
After lunch, all of us went in the dinghy to the big town pier. Customs was located at the head of the pier, but the man said we had to go to the police station to the Immigration officer first. The police station was located across the street. We walked over to the closed office and waited by the sign that said the Immigration office would open over a half hour ago. As we stood there waiting for the office to open, several other people came to wait with us. These folks were checking out of Grenade, because they were going to ride a mail boat/ferry that goes up to the Grenadines. They were back-packing through the Caribbean. All of these folks were as old as me or older. I popped across the street to the local grocery store while the waiting continued. I didn't really need groceries after shopping at Union Island, but I always like to have a look at what is available everywhere we stop.
The Immigration official showed up, we got checked in, and went back to Customs. Another paper or two filled in and we were welcomed to Grenada via Carriacou. We decided to leave the anchorage at Hillsborough and move to the west end of the island to an anchorage called Tyrell Bay. Tyrell Bay is a more protected anchorage than Hillsborough. As we were leaving the anchorage at Hillsborough at 1220, we passed two local open wooden fishing boats with both gunnels fully lined with pelicans. We thought this was so comical that we took photos and video of the birds sitting there, then flying away as we came near. Funnier yet was the surfboard tied to a buoy that we passed. Standing in two perfect rows facing into the wind were 10-12 sea gulls. It looked like they were surfing! We took their picture, too.
We arrived in Tyrell Bay at 1450. This huge bay seemed so quiet and calm after the windy anchorages we have been in lately.

5 February 2006/Sunday/Clifton, Union Island

We left Saline Bay at Mayreau around 1010 this morning and we were putting the anchor down at Clifton, Union Island at 1045! This is fun cruising! As we were heading into Clifton, we met several boats heading north. One of them had "Lexington, Kentucky" written across the stern, but we could not read the name of the boat. The anchorage at Clifton is open to the wind, but protected from the sea swell by a huge curving reef. It is a bit disconcerting to be anchored so near a breaking reef. Having said that, the anchorage was full of boats and a lot of the charter boats were dragging. That made it more exciting. We had too much entertainment watching boats dragging and getting too close to other boats. It was "entertainment" when the dragging boat was "way over there". After they took up their anchor and started moving toward us, it wasn't so "entertaining". The dragging anchor dance carried on all day into the dark of evening.
David and I read in the cruising guide that the Anchor Inn, with its own dinghy dock on the shore, made wood fire pizzas. We decided to go check that out for lunch. We tied the dinghy to their dock and walked into the open air restaurant. Hardly anyone was around, but we were assured they would make pizza for us. While we waited for the pizza to be ready, David and I walked past the airport runway, then through the town. The runway is for small airplanes that bring tourists to Union and Palm Islands. The airplanes come in so low, you don't walk near the fence at the end of the runway when a plane is landing. There was one main street in town, so it didn't take long to have a look. A few shops were open and a few people were wandering around. We went back to pick up the pizza and took it out to the boat to eat for lunch.
In the afternoon, Dave and I took the dinghy into the same dinghy dock, then walked through the town. By now, every shop that had been open earlier was closed. We walked the length of town, saw nothing open and saw hardly any people. We decided to go back to the boat and come into town tomorrow morning before we move on.

4 February 2006/Saturday/Mayreau Island

We took up our anchor at the Tobago Cays at 0910 this morning and headed to Mayreau Island. The distance between these two places is so short, we could see Mayreau as we left the Cays. Fifty minutes of sailing brought us to Salt Whistle Bay at Mayreau Island. This is a pretty bay with a resort tucked in among the trees on a white sand beach. We thought there were two many boats packed in to too little space, so we decided to move on a couple of miles to Saline Bay. There were six cruising boats in Saline Bay along with one of the Club Med cruise ships anchored farther out in the bay. The guide book mentions that the day the cruise ship is in, the beach looks like Coney Island, but as soon as the ship leaves, the island's 200 people go back to living a quiet life up on Station Hill in the village above the beach.
As we anchored in Saline Bay, we could see the cruise ship passengers on the beach, shopping at the stalls selling t-shirts, pareaus, etc. The tenders were making trips back and forth carrying passengers back and forth from the ship to the beach. A local wooden boat stopped by EXIT ONLY and held up a huge lobster. He said the lobster costs $20 EC ($7.70 US)/lb. and the one he was holding up cost $150 EC ($58 US). We don't have a pan large enough to cook a lobster that big! A few minutes later, another local boat came by with medium-size lobster and we asked them if they had small lobsters. We bought two 1-pound lobsters and asked the man to give us the tail only. I looked up information in one of my cookbooks about cooking lobster. It said to boil the lobster in salt water for eight minutes per pound. We did this and the lobster was cooked perfectly. We ate it dipped in mild garlic butter and all agreed it was quite a nice treat. A big rain squall came through while we were eating lunch.
In the late afternoon, as the last of the cruise ship passengers left the shore to return to their ship, people started getting off the cruising boats and going into the cruise ship dock in their dinghies. The three of us went in, but Dave did not like the roughness of the dock. He was afraid our dinghy would get caught underneath the dock and might get damaged. He decided to drop David and me off, and he returned to the boat. David and I took the digital camera and headed up the steep concrete road from the beach to the village on the hill. We found ourselves walking slowly, but surely, up the steep hill with ladies carrying bags of t-shirts on their heads.
Mayreau Island is a privately owned island that measures less than 2 square miles. One family owns all of the island except 22 acres that are owned as a private resort and the village is owned by the government of St. Vincent and the Grenadines. The tidy village sits high on Station Hill overlooking the crescent beach of Saline Bay below. The island did not have electricity and telephones until the late 1990's. David and I found it ironic that we could not get a good picture of the boats in the bay below us because there were so many electrical lines and telephone lines running everywhere, they were always in the frame when we tried to take a picture. Vehicles are a recent addition to the island. There were a few small 4x4's and pick-up trucks. The vehicles seemed to be used to carry goods and people from the village down to meet the ferry that comes three times each week carrying supplies and passengers for the island. The ferry arrived while we were walking to the village.
We climbed higher and higher through the village, walking on the concrete strip that serves as a large sidewalk and narrow road. At the top of the hill, above the village, we came to the Catholic church. The church is made of tan hand-made bricks. The windows are colored in bright colored. The decorations around the windows and doors are painted maroon. Next to the church is a replica wattle and daub house built of sticks and mud on a wooden frame. This is a craft center built in the style of the houses in Mayreau fifty years ago. Today the houses are built of concrete. The church located on a grassy hilltop makes an excellent picture subject, but if you follow the sign that says "Tobago Cays" and points around to the side of the church, you are suddenly overlooking the aqua blue reef-strewn waters looking northeast toward the Tobago Cays and south to Union, Carriacou, Grenada, etc. We could look back and see where we were anchored last night. The sun was shining, the clouds had cleared away, and the view was awesome.
We got lots of good photos of the distant islands and the ocean. We also got close-up photos of the cistern system used on the island to collect water. The islanders have covered huge areas of the slanted hillside with cement or bricks. When it rains, the water runs down this surface and is collected in a trough at the bottom that directs the water into a large stone cistern. There is no fresh water on the island, so the locals are dependent on the cisterns for their water.
By nightfall, there were 18 boats anchored in Saline Bay for the night. The wind went down to 10-12 knots, so we had a very quiet evening. It was good to have the boat sitting so quietly once again.

3 February 2006/Friday/Tobago Cays

The wind continued to blow all night, a steady 18-22 knots, but all of the boats held position. There were only 20-25 boats in the anchorage tonight...half of the number of boats in here when we arrived. There was no drama until many of the boats started taking up their anchors and moving out of the anchorage between 0830 and 1000. We heard a loud flapping noise around 0930 and rushed out to the cockpit. There was WIND SONG II, a chartered 40' monohull with a Grenadine captain and crew screaming through the anchorage from their spot at the front of the pack. This is the boat I mentioned yesterday that went by us to the front of the anchorage, sailing at 7-8 knots with two sails up, moving between us and the 36' DuFour monohull chartered by a German couple. We had moved away from the DuFour because they anchored too close to us. WIND SONG II was too close to us and the DuFour yesterday, and this morning, when they tried to sail out of the anchorage, they hit the DuFour. The bow pulpit on the DuFor was damaged and the lifelines were destroyed. The hull seemed to be alright as far as we could see. WIND SONG II's crew pushed off the DuFour and they kept right on going out of the anchorage, presumably back to Union Island. One of the local crew members from another crewed charter boat came over to the DuFour and gave them a mobile phone. They called someone. We feel sure the locals all know each other, so we are hoping the good Samaritan with the mobile phone helped the folks who got hit call the company that sponsors WIND SONG II. Then, they would have to call Kiriacoulis Yachts (flying French flag), the company they chartered from, and tell them the bad news.
We all went in to the small island of Baradel, the cay we are anchored by, this morning. Dave and David took the video and digital cameras with the big tripod and did some photography. The east end of the small island is flat and has has several palm trees growing on a small white sand beach. The west side of the cay is a large hill is rocky and covered with brush and cactus. There is a path leading to the top of the hill and they view of the surrounding aqua waters with reefs breaking all around is spectacular. You can easily see Canouan Island, Mayreau Island, Union Island, Carriacou Island, and several small islets in the distance. Dave and David saw a huge bright green iguana on the path. He slowly moved away from then and hid in the brush, blending in with the green color of the bushes and trees. A smaller green iguana was not so shy, and they have several nice pictures of this one.
I stayed down on the beach, waded in the warm water and watched for sea turtles. The turtles are such good swimmers, they don't seem to be bothered by the snorkelers in the water. If a snorkeler gets too close, the swish of a fin sends the turtle quickly to a safer distance.
We went back to the boat to have lunch. After lunch David jumped in the water and did a quick bottom scrub. The grass starts growing quickly in the warm waters of the Caribbean. The angel wing barnacles seem to like cruising from island to island attached to our sterns. While David was scrubbing, Dave and I went snorkeling off the boat. We found several sea turtles grazing on the short grass right in front of our boat. We just floated above them, watching them eat. We think these are green turtles. We also saw nine squids and a flounder.
The Tobago Cays are one of our all-time favorite stops. We need to keep moving south right now, but will stop here again when we are heading north.

2 February 2006/Thursday/Tobago Cays

We had a gentle roll going on all night and this morning the wind was blowing a steady 15-20 knots. We decided to move up into the shallower aqua-colored water from the deeper, darker blue water where we anchored at first. Several of the boats anchored here last night took up their anchors and headed out this morning. In the distance, we could see sailboats headed this way from Mayreau and Canouan. We moved up and got our anchor down just as a couple of charter boats came into the anchorage. One of these boats, a 36-foot DuFour monohull with German charterers on board, anchored quite close to us. They went snorkelling and we moved our boat farther away from them.
David went snorkelling right off the boat in front of our bow. There is white sand all around us with short grass growing up ahead of us. He saw sea turtles swimming around him. We can sit on the boat and watch sea turtles swimming around in front of us. Judging by the size of their shells, we think most of these turtles are about 4-6 years old.
We ate lunch in the cockpit watching all the boats coming and going. One charter monohull came whizzing into the anchorage and went between us and the 36-foot charter boat under sail. We rushed out into the cockpit and the local captain turned and lifted his arms as to say "What's the problem, mon?" We cannot figure out all this rushing around with sails up in crowded anchorages. Practically all of the charterers put their full mainsail up while they are at anchor, then take up the anchor and the boat takes off like it is possessed.
Even though it was windy, David went up the mast with the video camera and the digital camera to take photos from a different angle...to get a different perspective on things. He got some great shots of the boat in this gorgeous aqua water. David had a safety harness on. Dave was manning the winch, standing on deck. He would send the cameras up in bags and bring them down. I got in the water and snorkeled around the boat while they were doing their photography project. I saw two sea turtles swimming along with me. I am sure there were many more turtles moving steadily in the opposite direction as I came toward them. The water was a nice temperature, but the visibility wasn't great due to the wind stirring things up.

1 February 2006/Wednesday/Tobago Cays

We left Canouan Island at 0855 this morning. The wind has gone down to around 14-18 knots and the seas are much smaller this morning. We headed south toward Mayreau Island, then turned east to miss the rocks and reefs strewn around this area. We were headed for the small uninhabited islands called the Tobago Cays. These four islands, Petit Rameau, Petit Bateau, Baradel, and Jamesby are protected by Horseshoe Reef. The water and reef are an unbelievable mix of blues and greens...clear shallow water lapping white sand beaches. The Tobago Cays are officially a national park belonging to St. Vincent and the Grenadines. Yachts are allowed to anchor in clear sand only...not in coral. The Tobago Cays are advertised as the "best of the best"
I know I said the islands were uninhabited, and they are. On the other hand, we certainly are not alone out here. There are over 50 yachts that stayed here for the night tonight. At least half of that number are charter boats. There must have been more than a dozen large boats that came in carrying day-trippers out of Union Island. These folks leave before dark. Add to these numbers the local vendor boats zooming around from yacht to yacht selling t-shirts, woven Rasta hats, freshly caught lobsters, fruit and vegetables, bread, ice, etc. The locals seem to come from Union Island and Mayreau Island in the morning and leave before dark. Their wooden boats have big 75-horse Johnson outboard engines to carry them back and forth across the sea.
As we approached the Cays, we made a big circle that included all the anchoring areas to take digital and video shots. We anchored away from the big group anchored between Baradel and Petit Bateau. Our anchor was holding well and we liked where we were anchored behind the reef until the tide turned in the afternoon. The current and tide made us sit beam-on to the seas, so it was not comfortable. We decided to move over with "the group" and moved to the left side of the group of boats. We heard, "Hello, EXIT ONLY" and there was BLUE IGUANA, a 40-foot monohull from England with Judy, Andy, and Jack aboard. We met each other in Bequia after hearing each other on the radio net crossing the Atlantic.
David and Dave set up the wind surfer in the afternoon and David went wind surfing. He asked BLUE IGUANA if any of them wanted to have a go. They all came over in their dinghy for a visit while they took turns trying to wind surf. Their nephew, Luke, was with them. He is twenty and is spending a month with them. He said this was his first trip out of England, first time on an airplane, first time on a boat, first time snorkeling, etc. He was having a ball. We told him he was sure starting at the top of the list of good places to go on a boat! They told us there are sea turtles all around here that we will see when we go snorkeling. We love seeing the sea turtles. They have such big odds against them when they are born, that we cheer for the ones we see and wish them well.
The anchorage became a little rolly in the evening. Andy told us there seems to be two times each day when it gets rolly in here...early morning and evening. Otherwise, it is pretty quiet in here. We will stay a few days just because it is so pretty and we like it so much.