1. There's no beating around the bush: the stakes are unmistakably higher with kids on board. I've learned to appreciate the speed at which things can go wrong on a boat. Safety is about experience, judgment, and understanding causality (if I do A, B and C might happen, then D cuts off a finger). Being a live aboard parent is a balancing act of constant vigilance and letting the kids learn for themselves.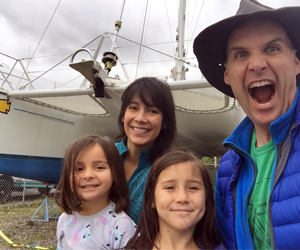 2. On our last voyage (from Australia to Spain), Sarah and I had separate cabins. Separate cabins = boundless amounts of storage for personal items. From 2004-2006 I slept alongside a full-size acoustic guitar, two steel pans from Trinidad, a blowdart gun from Bali, Indonesian ornamental masks, and most of the Harry Potter collection in hardback.
Now Sarah and I share one cabin. So far it looks like I won't be storing an acoustic guitar on our bunk if I intend on sleeping in it as well.
3. In the process of spending seven months refitting the boat with Dad, I learned how to fix, reinstall, upgrade, and jury rig systems. I learned how to budget time and money towards a problem, when to cut corners, and when to pay for excellence. Hint: Most of the time its best to just do it yourself.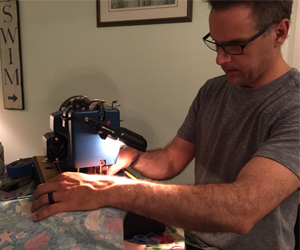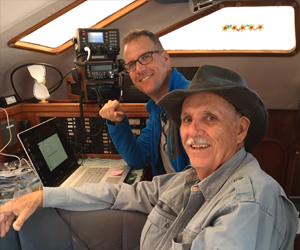 4. As a result of #3, I spend a lot of time asking my children to stop doing things because if they break it, I'm going to have to add another thing to the Fix It List. So, for the love of all that's good in this world, please stop opening and closing the cockpit table…the List is long enough.
5. The work is never done, but I'm not complaining. I enjoy the satisfaction of solving a problem with a (hopefully) intelligent solution. Cruising is troubleshooting.
6. There's nothing left to prove. This may not make sense, but I'll try to explain: My Dad dreamed about a sailing circumnavigation before I was born. His dream became my mom's. Over time their dream became mine and my sister's. It took 11 years, but in 2006 we accomplished that goal.
Things are different now. Neither Dad nor I have anything to prove to ourselves or anyone else (I'm pretty sure Mom never did). Some part of that is likely a natural consequence of getting older, but it's also thanks to checking a goal off the list.
We don't know where we will end up this season, but that's ok. Our goal is Australia, though New Zealand keeps poking its head into the conversation. Dad is fond of saying "Every voyage must have a purpose." The purpose of this one is to invest in our family and have an amazing adventure.
7. We are documenting the voyage publicly, although I wrestle with how much to share. I love storytelling but also value privacy, especially when it comes to my family. As long as it's a fun thing that unites the crew, enriches the voyage, and makes the world a better place, we'll give it a go. Given how many cruising Youtube channels are out there now, I'm curious if every anchorage is going to be full of Gopros and drones.
8. Sarah and Mom are homeschooling the kids. We are blessed with the benefit of Mom's 25 years spent as a teacher. Zoe is flirting with multiplication and division now. Joss is putting sentences together. Sarah drinks a lot of coffee.
9. I'm writing a book. The process is more daunting than I expected, largely because there are so many other things to spend time on at the moment. I've come to admire anyone who finishes any sort of document, no matter the length. If you completed as much as a post-it today, you have my respect.
10. As a teenager, life on the ocean was part of how I defined "normal". My thirties whirled by in a landlocked blur and brought new appreciation for an examined life. Sarah and I realized that if we weren't proactive, another decade would pass without us noticing.
I turn 40 this year. My parents are in their 70s. Zoe and Joss are barreling towards double digits as quickly as they learn to beg for a cellphone. I'm excited to challenge the girls' idea of normal and watch them become boat girls through and through.