It's been a little more than a week since the "big fall of 2019". Captain Dave has been moved to the acute care and rehab unit of Lawnwood hospital. He has been doing really well. Physical and Occupational therapy has had him up and moving around. They have been very encouraging with their own unique style of boot camp — 3 hours in the morning and 3 hours in the afternoon. The important thing has been building up his balance, right lower extremity strength and upper body strength so that he will be able to use a walker without risk of falling over the next 6-8 weeks. He has already been able to feel a marked difference in just the few days that he has been there.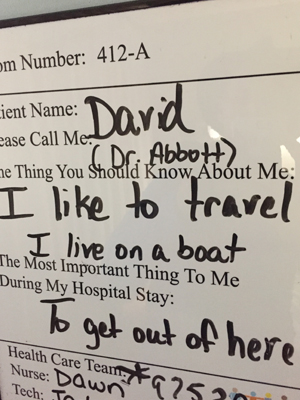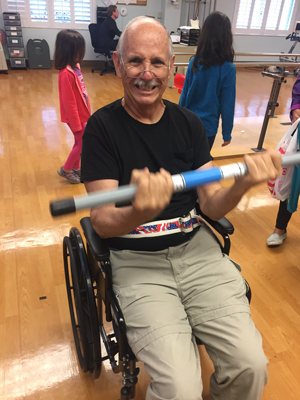 In his efforts to improve the healing process, Captain Dave has been upping his protein and calcium intake … ice cream with every meal, pot roast for dinner, and of course let's not forget pizza : ) We are pretty sure this is making a difference, if not with his hip then definitely with his waistline. We've gone to visit him at the rehab facility every day. All the staff have been great. He has been in good spirits with a stated goal on his patient info board to "get back on my boat!" The girls have enjoyed visiting "Baba" over at Lawnwood, making him cards and personalized books to read. We even planned a pizza party of sorts. Friday night is movie night in our family. We usually have a pizza, make some popcorn and watch a movie together. We weren't about to break with tradition even with Captain Dave being over at the rehab facility. So we grabbed a pizza at our favorite local spot and spend the evening together watching a movie.
After 10 days at Lawnwood Rehab facility, Captain Dave was ready to be moved to a step down unit. Had this happened in Phoenix, where Dave and Donna live, he certainly would have already been discharged to home. Thankfully, the caseworker and medical staff have been very understanding. He's in no condition to be flying back to Phoenix. He certainly can't be back on the boat (which would require climbing on and off our floating home). They think we can get at least another 2-4 weeks at a different facility. They worked to find him a space at another local facility. So on Saturday, Captain Dave was moved to the Abbie Jean Russell Nursing Facility. He is still receiving physical therapy daily and has a wheelchair accessible bathroom. We hope that they will be able to keep him there for at least another 4 weeks, at which point he may be able to start doing a little weight bearing. This has been an answer to prayer. We will certainly take what we can get. And if the insurance company doesn't believe that he continues to need this level of care and discharges him, we may have to find him a hotel room for a few weeks. But whatever happens, it's gonna work out. Gotta just keep taking things a day at a time.