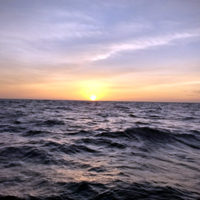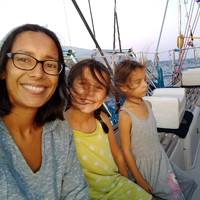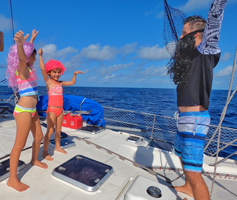 Galapagos was one of the places that I was truly looking forward to seeing. Magical islands full of wild and wonderful creatures, steeped in significant history, and not easily visited. We arrived after a quick 6 day passage from Panama. We had favorable winds and current. Exit Only's speed soared to 8-9 knots which is practically unheard of. Thankfully, it was a smooth down wind run. About two-thirds of the way to the Galapagos, we marked another cruising milestone … crossing the Equator. All crew members of Exit Only, except for the girls had crossed the Equator already. We all stood around the chart plotter watching the latitude reach 0 degrees! We had planned a special shellback ceremony for the girls while in Panama. We had special treats (rootbeer soda and a crunchy bar), wigs and costumes and certificates for them. Even King Neptune paid us a visit. We were able to stop the boat, as it was a calm day with little current and wind. We bobbed gently on flat seas. David and the girls performed a hilarious ceremony, complete with oath to King Neptune, to commemorate becoming shellbacks. We sealed the deal by jumping into the warm blue, blue ocean altogether! The girls might have had a little hesitation at the thought of jumping into an open ocean, but they both overcame their fears and plunged bravely into the deep. Once swimming in the lovely clear water, it was pure delight! Check out our video of this nautifcal adventure! VIDEO LINK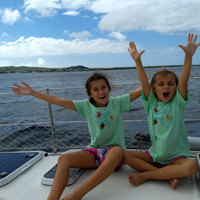 We planned on a 4-8 week stay in the Galapagos islands. In preparation, we had contacted a local agent, Yacht Gala, to pave the way for our visit. The agent sent us a long to do list in preparation for our stay. The Galapagos is very protective of its delicate ecosystem and world heritage status. Cruisers must have a thoroughly clean boat hull (so as not to import toxic species of marine life). The waste system must be well organized on board the vessel (trash must be labeled and separated). And certain imported nuts, seeds, fruits, vegetables, meats, and cheeses are not allowed into the islands. So we beached Exit Only in the Las Perlas islands and gave the hull an amazing scrub. We gave the girls the job of making all our signs for waste bin organization. And we reviewed our pantry supplies again, just hours prior to arrival in San Cristobal. It was only then that we realized that we still had "banned oranges" on board. We quickly munched our citrusy contraband and disposed the evidence. We were Galapagos ready!
We arrived at San Cristobal Island to get checked in to Ecuador. Once anchored in the pretty bay off Puerto Moreno Bazquierzo, we contacted the agent who scheduled all the officials to inspect the boat. First up was the diver who inspected our hull. He arrived in a water taxi all suited up and holding a waterproof Go Pro video camera. If the bottom wasn't clean enough, it would mean having to leave and go 40 miles off shore and scrub the bottom again. We breathed a sigh of relief when he came up out of the water and proclaimed that we were "limpio" — CLEAN! Next up was customs, immigration, health inspection, parks inspection, and security. We had more than 10 officials crowded on the boat! Thankfully everything seemed to be in order and they all shuffled off the boat about an hour later. We were official!
There was lots to do and see in the Galapagos. We ended up visiting 2 major islands — San Cristobal and Santa Cruz. Because ourfamily is on a budget, we tried to find things to do which were free or relatively inexpensive. Thankfully, we found plenty to do and see for free while in the Galapagos. I've compiled a list of some of our favorite things that we saw while in this amazing place.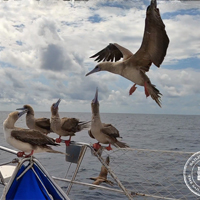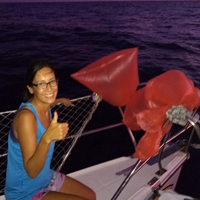 WILDLIFE — Booby Birds — You hear stories about all the amazing animals in the Galapagos. All you have to do is walk out your front door and there they are! So many of these animals seem very comfortable with humans. It's as if they know that they are protected and that we mean them no harm. As we neared the waters around the Galapagos islands, we started to see more and more animals. The first animals were Booby birds who decided to make Exit Only their floating life raft. About 2-3 days out from the islands, booby birds would descend on the boat to make their roost on the bows. Now at first, when there was only one bird we thought "how cute and wonderful." David was able to get within 12 inches of some of the birds to get pictures. The birds showed absolutely no fear. But then that one bird, invited all his friends. They would squawk at each other and fight over perches on the lifelines. And the stench of the droppings was just unbelievable! So we decided to chase off the birds and tie plastic bags all over the life lines. The bags scared off the birds as the plastic flapped in the wind. But we sure must have looked like a crazy boat with about 15 red plastic trash bags hanging off the lifelines.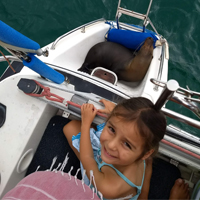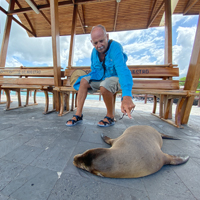 Sea Lions — The moment you step onto the docks in San Cristobal you are surrounded by sea lions. These playful creatures swim gracefully in the water, have large expressive brown eyes, and bark at each other like friendly dogs. One of their favorite pastimes seemed to be finding someplace sunny to sleep. We often would hear snuffling under and around the sugar scoops of Exit Only as a inquisitive sea lion would be looking for a place to curl up and sleep. We had to chase off a slumbering sea lion on the sugar scoops, more than once! Their other favorite place to hang out seemed to be on the downtown waterfront walkways and beaches. The sea lions would lazily lounge across the path of incoming tourists and locals … you would just have to walk around them. Once while we were talking with some friends down by the docks, a small "friendly" sea lion decided to approach Zoe and Joss. He had decided that he wanted to be sleeping where the girls were sitting. He scooted closer and closer, sniffing the air around the girls. Zoe and Joss watched him a little apprehensively as he approached and finally decided that he had gotten close enough. As they moved out of his way, the little sea lion plunked down under the table/bench where they had been sitting as if he wanted to join into our conversation.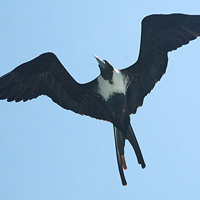 Great Frigate Birds — called "scissor birds" in Spanish because of their forked tails, circle majestically riding the thermals that come off the ocean and the rocky coastline of the Galapagos. Zoe and I completed an animal report on these amazing creatures. They have a wingspan of close to 7 feet and can fly for hundreds of miles. They will not land on seawater. We made a hike up to Tijeratas Hill on San Cristobal. This was a lovely but hot 2 mile hike to a hill that overlooked cliffs dropping into the Pacific Ocean. There was a well marked trail from the beach which then rounded a point with a large statue of Charles Darwin. Another trail headed down to the water and a favorite snorkel area. And finally a paved trail with over 200 steps up to the top of Frigate Bird Hill. Magnificent views over the Bay of Puerto Moreno Basquierzo. The birds would glide on the updrafts just overhead. Another favorite hang out for the Frigate Birds was at a freshwater caldera which was found on the top of El Junco. El Junco is the extinct volcano on San Cristobal island. We visited the volcano and climbed to the top. The caldera is one of the only sources of fresh water on the island. The birds like to come and clean their wings from all the salt water. Or maybe they just enjoy the view, high above the island where one can see verdant forests and azure blue waters in all directions.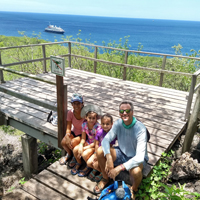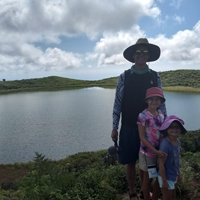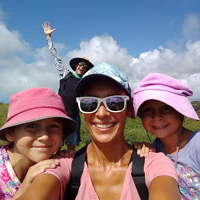 Giant Tortoises — We visited the amazing giant tortoises of the Galapagos on San Cristobal Island. These gentle giants were close to extinction 50 years ago. Aggressive breeding and protection policies have helped save these amazing animals. We visited the Galapaguerra Giant Tortoise preserve up in the highlands of the island. Amazingly, the preserve was free and open to the public. The largest turtles at the preserve were 70-80 years old. We were able to walk through the grounds and see several large tortoises who were at least 200-300 lbs. The tortoises were free to roam anywhere in the preserve. They liked to congregate together around small pools of water. The tortoises would let out a braying hiss if someone would get in their favorite spot. In breeding pens, many smaller tortoises would adorably climb on top of one another. Zoe had read in a book about the Galapagos that Darwin had ridden on the giant tortoises many years ago. She was a little disappointed to find out that tortoise rides were no longer available.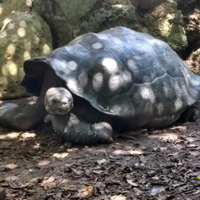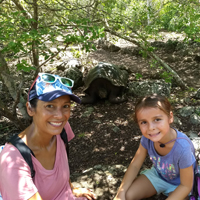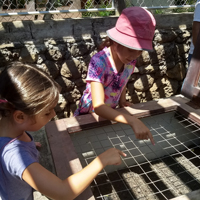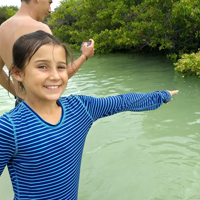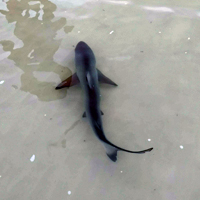 Sharks — we discovered the sharks on Santa Cruz island at Tortuga Bay. This placid bay is a favorite spot of both locals and tourists. It is surrounded by mangroves which is the perfect place for a nursery. Many water animals, use mangroves as a safe place for their young to grow. While wading in the clear water, you would occasionally see a twelve to twenty inch black tip baby shark swim by. Surprisingly, they did not seem to be intimated at all by the swimmers or children splashing in the water. Every time a small share showed up in the water, it was almost immediately surrounded by tourists who wanted to get a picture. We also discovered sharks hanging about the anchorage in Santa Cruz. The baby sharks seemed to enjoy hanging about Exit Only. We would try to have a dip in the water every day during our Galapagos COVID lock down. We quickly discovered that the baby sharks seemed very curious about the jumping and splashing. They must have thought that there was an easy meal waiting for them. Within minutes of getting in the water, we would be surrounded by 5-6 baby sharks. The girls would then shriek and quickly climb out of the water. Every so often, usually in the evening, we would see a 5 foot black tip shark swimming through the anchorage. Even though we know that black tip reef sharks tend to be non aggressive, it always felt a like disconcerting to be swimming with them around the boat. Thankfully, the baby sharks moved on after the first 3 weeks of the lockdown. I am not sure what changed, but it made swimming around the boat easier.
BEACHES — San Cristobal and Santa Cruz