730 AM – get out of bed and wake up mommy and daddy
800 AM – have my favorite breakfast, eggs and toast
830-1030 AM – start school with my daily sentence and spelling review; after that mommy and I work on my weekly Bible verse and story. I really like math. Today I had a math quiz on multiplication and got 100%!! I am reading a story about Cowgirl Kate and her horse, Cocoa. Cocoa is funny. I am learning about American symbols. I have learned about the American flag, the Statue of Liberty, the Bald Eagle, and the Liberty Bell. The Liberty Bell cracked when it was first rung! I am making a fact book of all the American symbols.
1030 AM – snack time
1100 AM – this is usually when we run errands; sometimes we go to the park; sometimes we will have field trips.
1200 PM – lunchtime … today we tried out a fun local restaurant called Mrs. Mac's Filing Station. It was fun because we had our food in paper cars!
200 PM – visit the boat and see how things are coming along. Today I helped take off the barnacles on the hull of Exit Only.
300 PM – time to hit the beach or the pool if the weather is good.
600 PM – dinner time
700 PM – it's movie night! We like to eat popcorn and watch a movie together.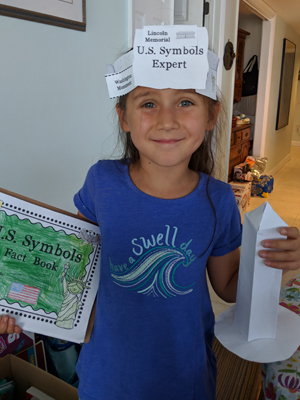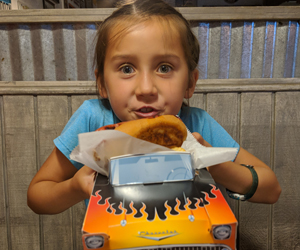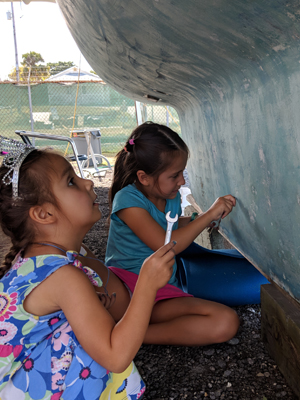 ---
March 25, 2011 a beautiful baby girl was born! So hard to believe that she is turning 7 years old this year! How time is flying by! How thankful I am to have this time together as a family! We are blessed to have this wonderful girl in our lives! Her helpful heart is apparent to all! She fills our days with her laughs and boundless energy. Can't wait for Zoe to experience all this next year has to offer as we cruise as a family!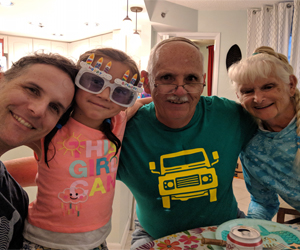 Some Questions for the birthday girl ...
1.Nicknames: Zo, Z, Zoebug
2.Favorite color: Green
3.Favorite book: The Magic Treehouse
4.Favorite TV show: Masha and the Bear
5.Favorite movie: Moana
6.Favorite food: Pizza and ice cream
7.Favorite outdoor activity: Jumping in the swimming pool.
8.What do you want to be when you grow up? A scientist.
9.What did you do on your birthday? We had a yummy ice cream cake. Then we went to the Zoo. The mast came and I got to watch it being put it.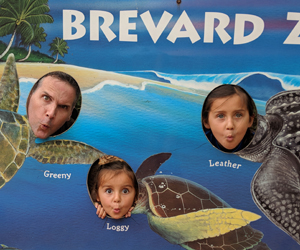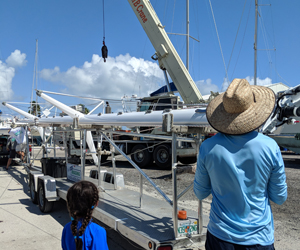 ---
I am Zoe Abbott. I am 6 years old. I love to learn and try new things. I love to play and swim. I have never been sailing before. I can't wait to live on a boat with my family.
I am Joss Abbott. I am 3 years old. I love to laugh and play with my big sister. I am curious about living on a boat. I will have to share a cabin with my sister but I think that it will be fun.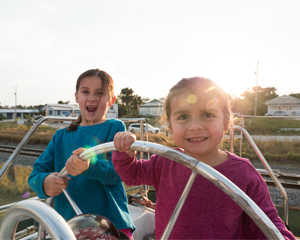 Living with kids on board will be a whole new experience. There has been so much to consider ... safety, schooling, sanity! I think that most of all we are looking forward to spending time with our kids and sharing our passion for sailing and traveling. The big over hanging question at this point is how will they handle sailing? They have never experienced any ocean cruising and have had limited sailing on a small lake back home. Exploring new places and making new friends ... no problem. But bouncing around on the ocean? I think my secret fear is that they will be horribly sick and hate the whole experience! Mostly we keep our focus on the positives. I believe that if they can see how much their family enjoys and values this experience, if they can feel that they are a part of something bigger and have a role; their transition to the cruising lifestyle will be much easier.
---
Zoe: I am looking forward to living on the boat because you never know what is going to happen or where we will go. I think that we will eat sandwiches on the boat. I know that Mommy and Gaga will cook good food and that I will help. I look forward to my jobs on the boat. Daddy says that I can help clean. I want to help Daddy clean the hull. For fun on the boat, I will play in the water and go new places. I would like to catch my own fish, but I am not sure if I will eat it (I keep telling Mommy that I only like salmon). I want to see coconuts growing in the trees and meet a kangaro. I've never done school on a boat. I am not sure what that will be like. I know that I will learn a lot.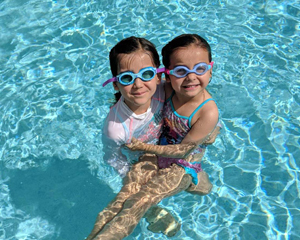 Joss: I will wear parayos and swimsuits on the boat. I want to see Mommy catch a Mahi Mahi fish. I will have sweeping as my boat job. I want to learn how to kayak. I am not sure what we eat on the boat. I want to eat chicken nuggets. I think that I will have lots of fun on the boat.