Pizza is a passagemaker must on Exit Only. One of our favorite pizzas was discovered in Figi. Two of the local ladies were generous enough to share their recipe with us. They developed this recipe for yachties who were missing homemade pizza. The great thing about this easy pizza sauce recipe is that it does not require any cooking.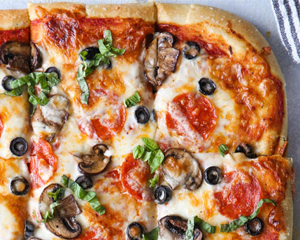 Savu Savu Pizza Sauce by Dima (makes approx 4 cups)
410 grams/15 oz canned tomato
320 gram/120 oz tomato paste
3 TBS vinegar
1 TBS sugar
3 TBS Italian seasoning
1 TBS chopped garlic
Mix all ingredients together. Ready for use. Store in fridge.
Savu Savu Pizza Dough by Dima (makes approx 2 pizza, 400F/200C)
1-1/2 TBS rapid rise yeast
1/2 tsp sugar
1-1/2 Cup water
Mix together and proof yeast.
3/4 tsp salt
2 TBS oil
3 cups flour
Mix dry ingredients and add to wet. Knead 5 min. Oil and rest dough for 10 min. Cover with damp cloth. Shape pizza crust on your baking sheet. Bake crust for 5 min and then take back out of oven. Add sauce and toppings. Bake for another 5-10 min.
Another easy and tasty favorite. A good way to use up left over spaghetti. One can also use the Savu Savu pizza sauce.
Spaghetti Pie (Serves 6-8, Oven 350F/180C)
1/2 lb cooked spaghetti
2 TBS olive oil
2 eggs
1/3 cup grated Parmesan cheese
1 cup greek style yoghurt
1 cup spaghetti sauce
1-2 cups diced favorite mixed veggies (ie onion, zucchini, tomato ...)
1/2 cup shredded mozzarella
Mix spaghetti, oil and eggs together. Place in 10 inch, greased baking dish. Lightly spread yoghurt over spaghetti, followed by sauce. Top mixed veggies.
Bake 25 min. Take out of oven and sprinkle mozzarella on top. Then bake for another 5-10 min. Serve warm or cold.
No Fail Banana Bread (Oven:350F/180C)
3 mashed ripe bananas
1/2 cup white sugar
1/2 cup brown sugar
1 tsp vanilla
1/3 cup plain yoghurt or sour cream (optional)
1/4 cup (1/2 stick) melted butter
2 eggs
1 tsp baking soda
1/2 tsp salt
1/2 tsp cinnamon
1-1/2 cup flour
1/2 cup walnuts/raisins (optional)
Mix bananas, sugar, vanilla, eggs, butter, and sour cream together. Mix dry ingredients together. Add dry ingredients to wet ingredients and mix well. Pour into greased and floured bread or muffin pan. Bake loaf for approx 60 min or until golden. Bake muffins approx 20 min or until golden.