Today we were over by George Town and ready to shop by 0845/8:45 a.m. This was our last trip to Exuma Market to see what that supply boat we saw come in yesterday was carrying. The main thing we were looking for was fresh fruits and vegetables. We were able to get apples, oranges, tangerines, bananas, potatoes, onions, zucchini, and carrots. Most of the packaged produce came from the States, Canada, or Mexico. Some of the loose produce, sold by the pound, was not labeled. When we got anchored again back at Stocking Island, we washed the potatoes in bleach-water because they came from the ground. The other produce will be washed as we use it. Of course, much of it will be peeled before we eat it. We wrap each tomato, zucchini and and onion individually in newspaper. That seems to extend their use-by date. Yes, we did buy ice cream one more time for a treat. It is going to be awhile before we have the chance to buy it again!
After lunch, Dave dug out a small piece of wood we were carrying with us. We had talked about making a ladder for our dinghy with two wooden steps and rope, but nothing had been done. The piece of wood was long enough to cut into two pieces and make them into two steps by drilling holes at each end. In no time, Dave was sawing and drilling and cutting a length of rope. I will include a photo of the finished ladder later when it is tied to the dinghy and we are using it.
Dito, Z, and J went snorkeling with the crews from two other boats in the afternoon. They took the rope ladder with them and the girls said the ladder worked. When I have gone to a snorkel site with the crew, I have been staying in the dinghy while they snorkeled because I was not sure I could get back in the dinghy. Getting into a dinghy from the water is never easy or graceful, but I was afraid I literally could not get back in. I had visions of being towed back to the boat! Now you know why I am so happy to see the ladder. I think I will be able to get in the dinghy after snorkeling!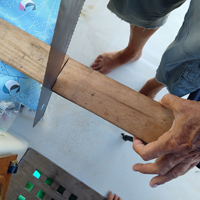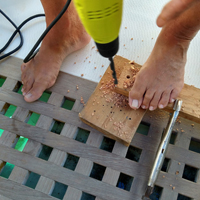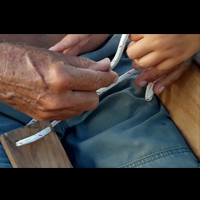 The rest of the day was taken with us getting the boat ready for an all-day-sail tomorrow. The other boat has decided to delay leaving until Sunday, but we are leaving tomorrow morning. We hope they catch up with us at Conception Island. Dave and I were just saying how much smoother this day of preparation went than a similar day one month ago. We feel like everyone is more "in the groove". We know what needs to be done...and we do it.