Journal 1: Aussie Adventures 1
Journal 2: Aussie Adventures 2
Journal 3: Indonesian Escapades
Journal 4: Singapore & Malaysia
Journal 5: Langkawi, Malaysia
Journal 6: Thailand Trekking 1
Journal 7: Thailand Trekking 2
Journal 8: Indian Ocean, Maldives, & Oman
Journal 9: Oman & Yemen
Journal 10: Pirates, Eritrea, & Sudan
Journal 11: Egyptian Adventures 1
Journal 12: Egyptian Adventures 2
Journal 13: Egypt to Israel
Journal 14: Cyprus Crossings
Journal 15: Turkish Tales 1
Journal 16: Turkish Tales 2
Journal 17: Greek Odyssey
Journal 18: Italy & Spain
Journal 19: Why Go Cruising?
Journal 20: Airplanes are Faster
Journal 21: Barbados

TURKISH TALES 2

July 13-23, 2005 -- We have been cruising the Turquoise Coast of Turkey for the past 2 weeks and it has been fabulous! Exit Only has been all polished and painted up, and now looks like a million bucks! Our first stop was Kekova Roads which is known as awesome cruising grounds -- lots of little bays with anchorages in turquoise blue water. The coast is dotted with too many ruins to count. The rocky hillsides are covered with wild olive trees. In the air are the scents of oregano and thyme. And every afternoon when you are hot and sticky and sweaty, you can jump into the refreshing water to cool off. You could tuck yourself away in here for weeks at a time to enjoy the beautiful coastline.

However, if solitude is what you are looking for, it is going to be hard to find at the peak of tourist season. All over the Turkish coast there are large sailboats called "gulets" which pack in unbelievably pale northern European tourists for week long excursions. There is no escape from these ships that come plowing through anchorages looking like the pirate ships of yesteryear. Within minutes, the peaceful anchorage is filled with 8 or 10 gulets squeezing in right next to you. Suddenly, there is techno music blaring across your perfect little bay, people are splashing and screaming in the water, the tourist oriented speed boats zip by selling Turkish pancakes, ice cream, trinkets … Soon the water is crisscrossed by banana boats, jet skiers, and water skiers! Will it never cease!! Thankfully, most of these gulets only stay for a few hours during the day and then return to the marinas from whence they came. On a few occasions though we had music accompanied by exuberant singers into the wee hours of the morning … "fat-bottom girls you make the rocking world go 'round!"

One of the very cool stops at Kekova Roads is the Crusader castle of Kalekoy. The castle sits perched on the top of a rocky hill. Surrounding the castle is a picturesque village (which caters to tourists now days) -- whitewashed houses covered with bougainvillea and primroses. The water surrounding the castle looks like it came from a swimming pool. On each side of the island are ruins from Lycian times and box like tombs that are over 2000 years old. They say that a massive earthquake leveled the ancient town that was here. Today, you can see the ruins of this ancient city lying underneath the water. As you come into the anchorage, all the shop and restaurant owners start to whistle and shout … "come to our dock," "come have a meal" … They were looking a tad bit rejected as we headed out to anchor in deeper water. We headed in to the island to check out the castle with our Kiwi friends from Duetto. It was a good hike up the hillside. Some of the local ladies became our impromptu guides -- "this olive tree is more than 1000 years old," "here is a well" … One of the older ladies pointed our the base of an ancient statue by standing stretched out like a mime! Hmm, not exactly pure historical fact, but rather entertaining.

Further down the hill we discovered our first Lycian ruins. This ancient civilization ruled the coast over 2200 years ago and left scattered ruins all over Turkey. What stands out are their tombs! These tombs are huge! They look like, hmm, like Happy Meal boxes! The tombs are made out of thick slabs of stone with elaborate carvings. Occasionally, you can even spot some ancient Greek writing on the side. Most of the tombs have been cracked open or toppled over. Seems like the grave robbers must have gotten to them. Either that or an earthquake could account for their destruction. In other places, the tombs are carved right into the cliff-face, not unlike what we saw at the city of Petra. David and I took a little hike up the side of steep cliff and discovered that these rock-wall tombs are actually like mausoleums with multiple vaults for family members.

The coast has been dotted with small towns. Most of the towns have been pretty tourist oriented. We made a stop in the small town of Kas which prides itself on being the "outdoor sport capital" of Turkey. As we came into the harbor, there were paragliders soaring on thermals high above the town. The town itself used to be Greek. In the aftermath of WW1, the Greek population was literally moved from the mainland to the island of Kastellorizon just 3 km off-shore. Small white-washed houses line cobblestone streets draped in flowers. The carpet (kilim) sellers are out in force and there seem to be tourists everywhere. But somehow or another this small town has retained its charm. As David and I explored Kas, we discovered an off-the-road Hellenistic Amphitheatre. It sat overlooking the Med and could seat 4000 people! Even though we were far outside of town, the tourist touts were lying in wait for us … There is no escape!

From Kas, we set off for another anchorage just outside the town of Kalkan. It was a beautiful sail up the coast with impressive cliffs plunging into the sea. We came into our anchorage looking forward to taking a dip in the water. However, we were not alone! There was a huge mega yacht called Cedar Sea 2 anchored in the middle of the small bay. It must have been 200 feet long with at least 4 or 5 decks, equipped with jet skis and a huge dingy. It was like looking at a miniature version of a Carnival Cruise ship. As we watched in awe, the mega yacht sent out a expedition party to set up a lunch al fresco on the small beach. The uniformed crew set up tables and chairs, a huge sun-shade tent, and a hammock. The next party to arrive were the chef and his assistant with a couple of coolers and loads of food. Finally, a middle-aged man and his wife came to the beach with their muscular bodyguards! Who could this mystery couple be? The lady started to swim in the water as her bodyguard looked on. The man decided to take a nap in his hammock before lunch was served. What a crazy alternative universe to live in! While we ate our lunch on Exit Only, we would use the binoculars to check out the activity on the beach. We finally decided to go in ourselves and I had the chance to talk with one of the crew. He told me that they had 22 crew members on the boat. The mega yacht would cruise the Med for the summer months and then head down to the Maldives and Polynesia for the winter. And no, sorry, he couldn't tell me who these special guests were! Top secret … I think not. Just wait to till I get to Google Cedar Sea 2!

After 2 days at Kalkan, we headed for the natural lagoon of Olu Deniz. The beach was so crowded with sun bathers that we decided to move on to Gemlar Adasi where there was a Byzantine castle to check out. For the first time since out arrival in the Med, we tried out our hand at Med-mooring. This means that you put out an anchor and then tie off to shore from the other end of the boat. The ruins went right into the water, so we were right over what used to be someone's home. It was another sweltering day; absolutely perfect for swimming. No sooner had we jumped in the water when a huge tourist boat dropped anchor right beside us. For the next 2 hours, we were captive spectators as lily white tourists jumped into the water, hopped on banana boats and jet skis, … It was quite a sight! Thankfully, they were only around for the afternoon.

We had 2 options to see the Byzantine ruins of Gemlar Adasi: one, we head down to the entrance where some locals pocket our money or two, we hike up the hillside ourselves. We decided to hike up the side of the hill which was dotted with ruins -- arches, doorways, and walls. Our aim was to reach the covered passageway at the top of the hill. According to local legend, an albino princess lived at this castle and had a covered walkway built to keep out of the sun. The passageway was quite impressive with much of the roof still intact. We hiked from one end of the island to the other, discovering ancient churches, ovens, and baths. The views were spectacular -- azure waters crashing against the Turkish mountains that plunge into the sea.

Fethiye was our next stop. This was another little tourist town and a haven for yachts of all kinds. The further we go west, the steeper the prices become. Suddenly signs for Gucci and Chanel are appearing. We are definitely meeting up with a different crowd of tourists. David and I set off to explore the town for the afternoon and made our way up to the many Lycian rock wall tombs that Fethiye is famous for. One of the tombs was sitting right in the middle of a neighborhood street! There must have been 20 tombs stacked on top of one another. Some were quite impressive with columns and capitals obviously influenced by the Greek architecture of the period.

Now we are at the cruising grounds of Gocek and heading towards Marmaris. I don't think that I have seen so many sailboats since we left Thailand. There are people everywhere who are chartering sailing yachts, motor yachts, mega yachts … you name it, they have it. It is a beautiful cruising ground with many small bays and anchorages lined with pine trees. With so many people chartering yachts you really have to keep a good lookout for those people who obviously know very little about yachting. Anchoring is a mystery. The wind is never taken into account. The more people you can fit into a 35 foot yacht the better! It can make for an entertaining afternoon!

Up ahead there is still Marmaris and the well preserved Roman city of Ephesus to see. Don't think that we will have the time to visit Istanbul, so it looks like I will have to come back to Turkey at some point!

Happy Anniversary! -- I am proud to say that I have been sailing for 1 year now on Exit Only. In one action packed year, I have seen the Great Barrier Reef of Australia, hiked through the jungles of Indonesia to see wild orangutans, braved the cosmopolitan streets of Singapore, traveled across Malaysia by train, survived the tsunami in Thailand, crossed the Indian Ocean, … whew, found the perfect island paradise in the Maldives, explored the desert sands of Oman, cruised the souqs of Yemen, caught Dengue Fever in Eritrea, enjoyed a crowded bus ride in Sudan, visited the ancient wonders of Egypt, floated in the Dead Sea in Israel, wandered through the amazing ruins of Petra in Jordan, discovered western prices in Cyprus, hiked Mt. Olympus in Turkey, and now cruised the coast of Turkey! What a chocked-full year! Hard to believe that I have experienced and learned so much. Writing about it now brings back wonderful memories of my adventures around the world. My hope is that my international adventures might inspire you to discover more of the amazing world that we live in.

July 28 - August 5, 2005 -- From the crowded bays of Gocek and Fethiye we headed for the Dalyan River. We had heard stories from yachtie friends that there were wonderful ruins and Lycian rock wall tombs to see. The only way to get to the ruins was by tour boat which would take you up the scenic Dalyan river. When we arrived at the anchorage a tour boat immediately sought us out to propose a tour. The shocker was the price -- $50 per person!! (and that didn't even include lunch) Thanks to Dave's negotiating, we were able to get a shortened tour for less than half the original price.

The next morning we hopped on the boat with our friends from Nora-J and Duetto. We motored around the rocky coastline and were lucky enough to see a large sea turtle gliding along the surface. The entrance to the Dalyan river is guarded by a large marsh lined by tall and gently swaying reeds. There are so many different passages through the reeds that signs have been put up to direct traffic! The river cuts through a fertile valley and leads up to the ruins of Cuanos, our first stop.

Cuanos was a city established in the 3rd century BC. It was built by the Carians, only to be conquered by the Lycians, the Persians, the Greeks and finally the Romans. There quite a few ruins to see -- a large amphitheatre, a Roman bath, the columns for the temple of Apollo, and much more. The story at all of these ruins is so similar. A story of conquest and domination by a whole sequence of empires.

From Cuanos we continued to head up the river to see the famed Lycian tombs. We were sorely disappointed. Although the tombs looked fantastic, clustered together and precariously perched high on the cliff, we were not able to get close up or climb around. The tombs were carved out like Greek temples with multiple columns and statues. But after seeing Petra, it's hard for anything else to measure up.

Next stop Marmaris, the cruising capital of Turkey. We pulled into the largest marina that I have ever been in. There must be close to 800 yachts in here. Anything and everything you could want for a yacht can be found here. The town is packed with tourists from all over Europe. Following in their wake are the enthusiastic carpet sellers, sleek gulets, pulsing discotheques, and harried tour guides. In the tourist markets you can buy "genuine fakes" of Gucci and Louis Vuitton. Somewhere in the melee, there is actually quite a pretty old town with cobblestone streets draped in bougainvillea, white washed homes, and a pristine Crusader castle. We are planning to do a little land travel while in Marmaris. First the ancient Roman city of Ephesus and then the natural wonder of Pamukkale.

It was an early morning start to Ephesus -- 615 AM! So it was a sleepy crew from Exit Only that boarded a mini-van driven by Mario Andretti. The sleepiness only lasted for the first minute of the ride. Our driver zoomed around turns at breakneck speed flinging us back and forth across the seats! It was with grateful hearts that we arrived in one piece at the large bus we would be taking for the tour. 3 hours later we arrived at the ancient city of Ephesus. This city was an important city to the Romans -- the capital of Asia Minor and a hub for trading. The Apostle Paul spent 3 years ministering in this city with a population of over 250,000. Supposedly, the Apostle John and Mary the mother of Christ even came to live here. Our tour guide was a laid back Turk who told us that we could call him Jesus because of this long dark hair and beard. We had a quick run through the ruins -- paved streets, sewage systems, amphitheatres, temples, houses, libraries, bath houses, and latrines … This city had it all! Half of Ephesus is probably still under a couple feet of earth. Everywhere you looked there seemed to be something sticking up out of the ground. This could be an archeologists dream or nightmare, depending on how you look at it.

The most impressive building at Ephesus was the library of Celsus which was built in the 1st century AD. It was two stories tall with ornate façade decorated with statues representing wisdom, knowledge, virtue, and destiny. Next on my list would be the Great Theatre. This amphitheatre sat over 24,000 people!! Thousands of years ago people came to enjoy the Greek tragedies of Sophocles, cheer muscled gladiators as they battled each other to the death, and watch wild animals tear each other to pieces. The ruins are so intact that they continue to have performances here today -- Sting, Yanni … etc. The latrines were a definite highlight of the tour. Supposedly, these public facilities were open 24/7 with musicians playing in the background to make your time their more enjoyable!

After Ephesus, we headed up into the mountains to see the "House of Mary". In the 19th century, there was a blind catholic nun who had visions of a house tucked up in the hills around Ephesus. According to the nun, this was Mary the mother of Christ lived. So a French couple set out to discover the house and after a few years of searching they came upon the foundations of a house which exactly matched the nun's description. The foundations dated back to the 1st century AD and so the house was proclaimed as the veritable House of Mary. In the 1960's, the pope visited the small reconstructed house and declared it a holy place. Now there is a whole tourist industry based around the House of Mary. The house itself has been converted into a small chapel. Many Catholic tour groups come to have services here. Near the house is a small spring that is reputed to have healing powers. People form long lines to drink the water or carry it away in bottles. Next to the spring is a long "prayer board" where the faithful take scraps of paper with a prayer request attached and tie it to the wall. It reminded me a little of the Wailing Wall in Jerusalem and the scraps of paper people cram into the cracks.

After a full day of touring, we had a 3 hour drive into the Turkish countryside. We made the obligatory stop at a ceramics warehouse. The Turks are known for their beautiful ceramics and tiles. Everything is hand painted with intricate and colorful designs. It's a good thing that my wallet was empty!! We were heading for Pamukkale to visit thermal springs. You can see the springs from miles away because over time the mineral laden water has formed large deposits in the form of white terraced waterfalls. The springs have been used a health resort for thousands of years. The waters are reputed to help rheumatism, stomach problems, and skin ailments. The Romans built a city just above the springs called Hierapolis -- the oldest health spa ever!!

Well, we called it a night at a charming little pension just below the falls. For "Turkish night" we were treated to an evening of belly dancing. The funny thing is, belly dancing is an Egyptian tradition, not Turkish. But we'll let that slide. The evening got more entertaining when David was pulled from behind his video camera along with a couple other guys for a lesson in belly dancing. Let's just say that things got even funnier when David refused to belly dance and started to do the Macarena instead!! He even had the belly dancing instructor laughing!

The next morning we headed for the thermal springs. To get to the springs we had to drive through an ancient Necropolis -- city of the Dead. With Hierapolis being a health center, there were many ill people who died. The Roman tombs were huge square boxes decorated with columns, statues, and carvings. On some of the tombs, you could still make out the Latin writing. Beyond on the Necropolis lay the actually city of Hierapolis with an amphitheatre, church, temple of Apollo, paved streets, and complicated plumbing system for the thermal waters. Hierapolis was a very integrated city with pagans, Christians, and Jews. People continued to live at this city up until 1334 when there was a huge earthquake and they finally called it a day.

The springs of Pamukkale were spectacular. The minerals in the water have formed large terraces and pools of aqua water. The terraces were lined with stalactites that lead down to the next level. The town of Pamukkale uses the thermal springs as a source of energy and heat in the wintertime. To help conserve the springs and the terraces, the water is redirected every day to a different section of the terraces. After taking off our shoes, we walked all over the springs. There were pools of warm water and cold water to soak your feet in. Tourists were running around everywhere in bathing suits. If you wanted to pay another $15, you could actually go swimming in the Roman pool that was originally used for religious ceremonies.

When our 3 hours were up at Pamukkale, we jumped back on the bus for the ride to Marmaris. We made another obligatory shopping stop at a Turkish carpet factory. Here we were given the hard sell -- why YOU NEED a Turkish carpet!! We were taken through the creation process which was really quite interesting. We watched while the carpets were woven on a loom, knot by knot. A single carpet can take years to make (the average is about 2 ½ years). Some carpets are made of silk, other wool or cotton. Each carpet has a unique design -- flowers, animals, scenery, patterns … In the show room, they had the whole group sit down while carpets were flung down from one end of the room to the other, completely covering the floor! There were some stunning carpets, almost too nice to have on your floor. David and I made it out unscathed, but there were a few close calls.

Finally, it was back to Marmaris and Exit Only after another successful adventure. We should be here for a few more days and then we will be off to the Greek Islands.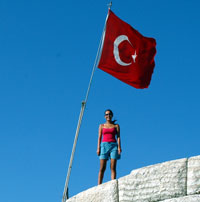 So long Turkey!!
I am so glad that I came!!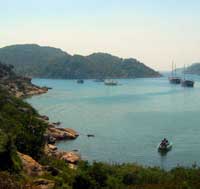 Kekova Roads Cruising Grounds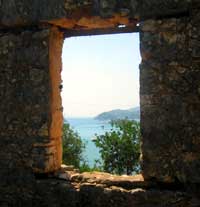 They must have built this house for the view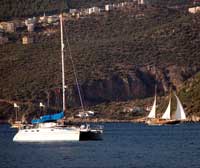 Amazing sight of gulet under sail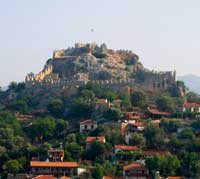 Crusader castle at Kalekoy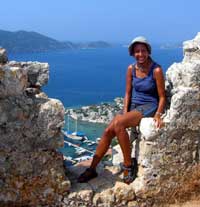 Scenic view from top of castle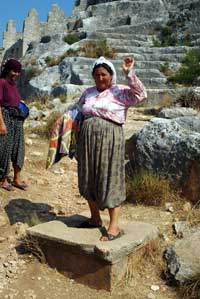 Our impromptu guide, Fatima,
points out what used to be a statue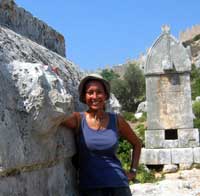 Lycian Tombs circa 4th century BC
Hmm, reminds me of Happy Meals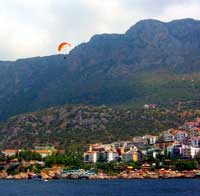 Picturesque city of Kas
Adventure capital of Turkey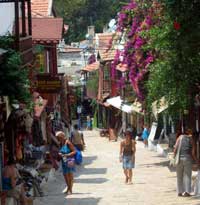 Cobblestone streets of Kas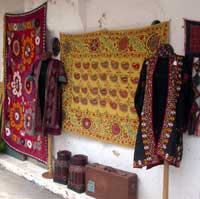 Delicate Turkish embroidery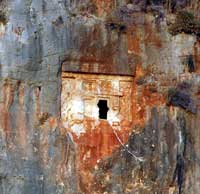 Lycian Rock Wall Tomb
David and I had an adventurous climb up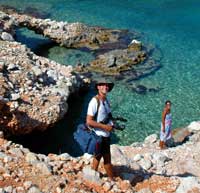 Clear water at Kalkan anchorage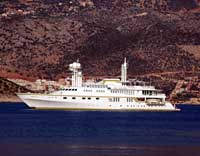 Cedar Sea 2 -- All she lacks is a helicopter pad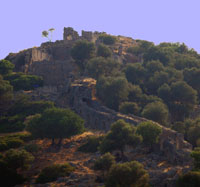 Byzantine castle & covered walkway
of Gemlar Adasi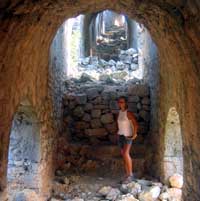 Legend has it that an albino princess
had this covered walkway built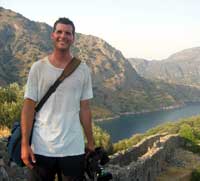 David takes a break from being cameraman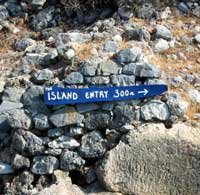 Our island entrance was 20 feet behind
Exit Only, a hike up the hill, & $5 less expensive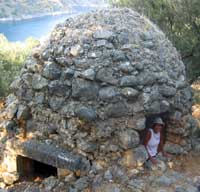 Help, I've been abducted by a horde of bees!
Actually, this is a medieval oven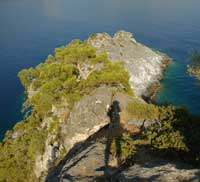 Does the coastline get any wilder than this!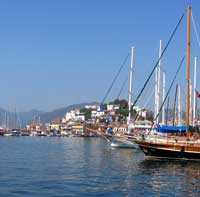 Gulet capital of Turkey -- Marmaris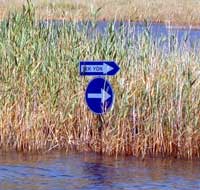 Even sailors need directions sometimes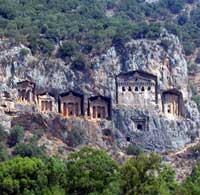 Dalyan River Lycian Tombs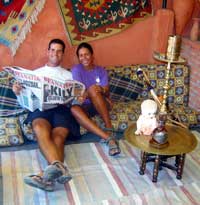 Relaxing at a Dalyan Cafe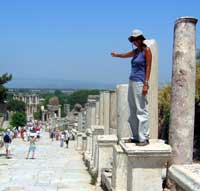 Welcome to Ephesus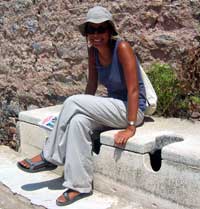 High class marble latrines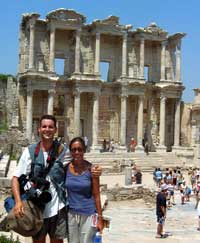 Celsus Library of Ephesus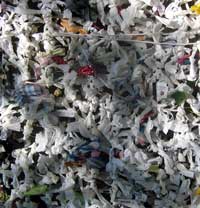 Prayers left at the House of Mary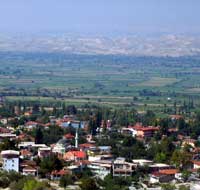 Beautiful and fertile Turkish countryside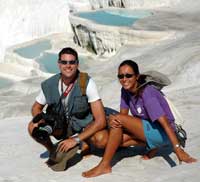 Wetting our toes in the thermal springs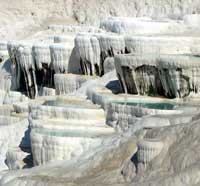 Crystalline terraces formed by minerals in the water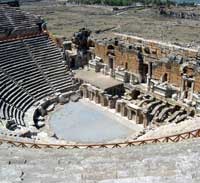 Well preserved amphitheatre at
health spa city of Hierapolis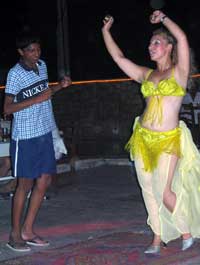 Getting belly dancing lessons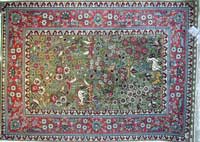 Amazing silk Turkish carpet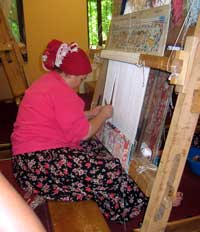 Carpets are made by hand over a period of
eighteen months