Journal 1: Aussie Adventures 1
Journal 2: Aussie Adventures 2
Journal 3: Indonesian Escapades
Journal 4: Singapore & Malaysia
Journal 5: Langkawi, Malaysia
Journal 6: Thailand Trekking 1
Journal 7: Thailand Trekking 2
Journal 8: Indian Ocean, Maldives, & Oman
Journal 9: Oman & Yemen
Journal 10: Pirates, Eritrea, & Sudan
Journal 11: Egyptian Adventures 1
Journal 12: Egyptian Adventures 2
Journal 13: Egypt to Israel
Journal 14: Cyprus Crossings
Journal 15: Turkish Tales 1
Journal 16: Turkish Tales 2
Journal 17: Greek Odyssey
Journal 18: Italy & Spain
Journal 19: Why Go Cruising?
Journal 20: Airplanes are Faster
Journal 21: Barbados

SINGAPORE & MALAYSIA

October 19-27, 2004 --
We have a spent a lovely week here in Singapore recuperating from our sail from Indonesia. This is a 1st class city to be sure! Being here for more than one week has really given us the chance to explore Singapore thoroughly. We are based out of a great marina, Raffles, on the far western corner of the city. From here, it is an easy skip and hop into the heart of the city via the public transportation system. Singapore has an extensive transportation system with buses, elevated trains, and the subway.

Instead of buying individual tickets for travel, you buy an electronic card (like a credit card with a magnetic strip) and then pre-pay for all your travel. Once you get on the subway or bus, you just swipe the card as you get on and off and the appropriate fare is deducted. Pretty cool! All around us are large apartment buildings with 20-30 floors. The population density here is very high with about 6 million people living in an area the size of Lexington. Somehow, they manage to keep the area looking really clean. Must be all the rules they have here: no chewing gum, no eating on public transport, … no having fun! And the fines are crazy!! They still use corporal punishment (caning) here!
Our first day in Singapore, we had to head downtown with our friends from Sea Tjalm to check-in with the port authorities. With a little luck and the use of Dave's watch/compass, we navigated our way through the skyscrapers down to the harbor front. It was there that we got our first taste of the local cuisine -- chung pops, kind of like an empanada filled with curried vegetables or meat. It was quite good. From there, we started to explore the city. We wandered through Chinatown which has a interesting mix of colonial architecture and newer buildings. The Brits have been here over 100 years and have definitely left their mark. We happened to walk right through an outdoor market selling everything from CD's to clothing. Tailors are everywhere and they would yell out as David when we passed, "You need a shirt, sir? Pants? Suit?" After being yelled at 5 or 6 times you start to wonder about someone's fashion sense! Just as we started checking things out a monsoon downpour began. Vendors rushed out with plastic to cover their wares. We ran from tent to tent trying to get out of the rain. Thankfully, the rain did not last too long. From Chinatown, David and I walked through the city and discovered Orchard Road. This area of town is very much the Champs Elysees of Paris or 34th street in NYC. The road is lined with huge shopping centers for at least 1 kilometer! And all these shopping centers are packed with people. All the big names are here: Gucci, YSL, Prada, Hilfiger … etc. I think that I am liking this town more and more! One place we discovered was a bakery called Bread Talk. David subsequently fell in love with all their little delicacies. Strange that SE Asia would have bakeries dotting the city, but we find them everywhere.
Day 2 -- David and I set off for the major electronic mall in town. From what we have heard, Singapore is a good place to stock up on electronics because

the selection is good and the prices are affordable. What we discovered as well is that you can bargain with the vendors. The Sim Lim center is an tech geek's dream! There were at least 6 floors packed with electronic stores. They had everything from audio, video, cameras, computers, mobile phones, and accessories. We traveled up and down the escalators checking out the different stores. All the vendors try to entice you into their stores for just one little look. In reality, the prices aren't that much different from the US. We might wait till we get to Malaysia where there is a better exchange rate to buy anything. Sim Lim is right next to the colorful Little India section of Singapore. As you walk the narrow streets, scents of curry waft through the air and the swish of saris can be heard. For some strange reason, Little India is the place where all of the internet cafés seem to be. We found a good little café tucked away right in the middle of Little India. Inside you are surrounded by people from all over the world. Strange words and sounds go flying through the air as people would call home -- India, Nepal, China, Pakistan … etc. I feel like I am on a different planet. After that, we walked all over downtown Singapore which is quite developed and yet it retains some of its colonial charms with old hotels, riverside parks and cafes.
Day 3 -- Today we all headed for the Singapore Zoo. From what we have been told, this zoo is top notch. And we were not disappointed. There was an amazing selection and display of animals. David made friends with the pygmy hippos. This tiny hippo would swim back and forth in the tank constantly. I really enjoyed the beautiful white tigers and polar bears. They had the artic animals in an air conditioned enclosure. The zoo had a great show with monkeys, snakes, birds, and elephants for the kids. There must have been 2 or 3 pre-school classes visiting the zoo when we were there. All the little kids were so cute dressed in their matching uniforms and absolutely mesmerized by the animals. One of the interesting things at this zoo was that the animals were not enclosed by bars or fences. They were largely enclosed by a moat of water or inconspicuous electric wires. It really gave the sense (not always pleasant) of being very near the animals. Some of the baboons really looked like they could jump the gap.
Day 3 -- David has discovered that one of his favorite teachers from junior high in Saudi Arabia from the American School is now based in Singapore. With a few telephone calls we discovered the location of the American School in Singapore and set out for a little reunion. Finding the place was a little harder. It seemed like we walked forever trying to find the school. When we finally arrived, there were armed guards at the entry way. Guess they feel that the terrorist threat here is quite high. Somehow, we managed to walk right through them without being stopped. Once inside we found David's old teacher and gave him the shock of his life. The man almost fell over from surprise and then insisted that we go down and surprise his wife as well. They had a great reunion. Their son was a really close friend of David's and we discovered that he was in Singapore working. Right then and there, they invited us to their home where they would be having a reunion of a few of the old teachers from the American School in Saudi Arabia. This news thrilled Donna because she taught at the American School for over 15 years.
Day 4 -- I got my hair cut today. My assumption was that being someplace modern like Singapore the cut would be good. Let's just say that it was not what I was expecting. The hair fashions here in Singapore are very modernistic -- jagged edges, strange angles, lots of layers. I went in thinking I was just going to get a trim and came out looking like a whole other person. I now have some semblance of bangs that are constantly flopping over my eyes and my hair is now a good deal shorter. Guess that I am just going to have to get used to it. Thankfully, hair grows out. David laughed out loud when he saw the cut. I'll just have you guys form your own opinion. Strangely enough, I think that this cut is growing on me. But I must look like every other Asian girl here in Singapore.
Day 5 -- Today we got together with David's friend Travis. He has been living in Singapore with his family and working for CNBC. He gave us a real insider's tour of Singapore. We went to the Haw Par Park, a Chinese mythology theme park. It was built about 80 years ago and tells old Chinese stories and Confucian parables through colorful statues and figurines. It was absolutely unique and tacky and kitschy. One of the most interesting parts was the 10 levels of hell. The Chinese believe that you pay for all the bad things you do before being reincarnated. Certain crimes have horrible punishments -- boiling in oil, limbs sawed off, eyes gauged out, … and other various forms of torture. All this was housed in a dark cave and had very graphic displays. But once you have been fully punished, you are allowed to drink some tea that erases all memory of your tortures. You then are reincarnated and go on to live your next life. One of the disturbing things was seeing parents bring their small children into a place like this. Thankfully, the rest of the park was not as dark. Our other discovery for the day was IKEA. I had no idea that IKEA was in SE Asia. I almost whooped for joy when I saw it. If you know me, it is one of my favorite stores for all sorts of knick-knacks and home furnishings. We ambled around looking at displays and then indulged in some delicious Swedish meatballs.
Day 6 -- David and I scoped out the Singapore church scene this morning. There are many large churches here in Singapore. Most of them seem to have largely Chinese congregations. I have one friend here in Singapore that gave us directions to his church. They had 3 different services, in 3 different languages, on 3 different floors going at the very same time!! It was a very nice church with a an international congregation much like what I grew up with. Even the speaker was international -- a Kenyan Bishop who was in town for a visit. It was definitely one of the most fired up and energetic services that I have ever been to. The big event for the day was meeting up with the Abbott's Saudi friends for dinner. There were about 10 people from the American School that Donna knew. We all had a great time hanging out, catching up, and eating wonderful Middle Eastern food -- hummus, tabouli, pita bread … etc. There are American Schools all over the world for ex-pats and their families. The one here in Singapore was huge, with over 3000 students. It's a great way to see the world. Some of teachers I met have lived just about everywhere you could imagine: Saudi, Egypt, Russia, Malaysia, Taiwan, England, Nepal … etc. Every few years they move some place new.
Day 7 -- Today Donna and I hit Carrefour which is the French version of Wal-Mart. We were stocking up for the next leg of the trip. They had a wonderful selection of food from all over the world. We were even able to find American products like Bisquick, Crisco, Betty Crocker … etc. We filled up 2 shopping carts with all our foodstuffs. According to our sources, Carrefour had free delivery anywhere on the island of Singapore. When we got to the delivery office, with our heavy laden shopping carts there was a line of carts waiting to be delivered. We discovered that all our groceries could not be delivered till the following day! We pondered for a moment and then decided to take a taxi back to the Marina. The driver must have thought that we were some crazy Western women with all our bags of groceries. It was a huge hassle, but we got everything back in time to find out that travel plans had changed in our absence. Our friends on Sea Tjalm had decided that it would be a good time to explore Malaysia while the boats could be safely docked in Singapore. After talking it over, we decided that we too would venture into Malaysia at the end of the week by train. So much for all that fresh food that we bought. That even we had dinner with our Singapore friends. They took us out for some delicious Indian food in Holland village. We tried a little bit of everything and came away stuffed.
Day 8 -- David and I met up with my friend Desmond. He is a Singaporean who went to my parents church in Berlin, Germany. We met at a great little Chinese noodle restaurant. I had the chance to start working on my chopstick techniques. They made the noodles right there in the restaurant. The chef would throw a lump of dough into the air, stretching and twisting it until strands began to form. The process would be repeated again and again until noodles were formed. Pretty amazing. The food just seemed to flow onto the table. We had a wonderful time talking and learning more about Singapore. We talked about everything from politics to religion, life and love. Afterwards, Desmond and his friend Hanee insisted that we check out the places where all the real Chinese people eat. They took us to a 24 eatery that was right on the edge of the red-light district for some good Chinese desserts -- soy bean curd pudding with peanut, a deep fried elephant-ear-like pastry, and carrot cake that had an egg on top of it. After all this good food, David and I were about to explode. Hanee graciously drove us back to the Marina and we got the chance to see Singapore at night. The city was lit up like a Christmas tree. One of the most innovative designs was the Art & Entertainment Center. It sits right on the waterfront and has been nicknamed "The Durian" for its strange shape. A durian is a local fruit about the size of a small watermelon. It has thick and leathery skin which is covered by small spikes. When we got back to the Marina all we could do was fall into bed and look forward to another exciting day where we would head towards Malaysia.
October 28-November 1, 2004 -- This evening we got on the night train to Malaysia. After talking with our friends on Sea Tjalm, we decided that it would be a good idea to explore Malaysia now while we could leave the boats in a safe place. We decided on taking different routes to explore the country. Singapore is right at the southernmost tip of Malaysia. So traveling inland was quite easy. The sleeper cabin must have had at least 20 bunks for travelers. It filled up quickly. We settled in for the night and 12 hours later we were in northern Malaysia to visit the town of Kota Baharu. We went from 1st world country to 3rd world country in a matter of hours. What we had forgotten was that Malaysia is a strongly Muslim country. They have their weekends on Thursday and Friday. When we arrived in Kota Baharu all the tourist sites (museums, arts & crafts fair) were closed. Thankfully, we met up with a very helpful and friendly taxi driver who took us to all the little known places. We visited the downtown market. All the local people were there selling their vegetables, fruits, fresh fish and meat … The smell was unlike anything to pass through my nose! And then all of a sudden, the rain started coming down in sheets!! It poured for a good 30 minutes before letting up. After the market, we went some local Buddhist temples that housed some of the largest Buddha's of SE Asia. It was quite amazing to see these statues of Buddha stretching out for 50 yards. First we saw the "Lying Buddha" and then the "Sitting Buddha". There were few tourists at these places. But some local people would come to pray and burn incense. The temples were ornate and colorful. Some had statues of Buddhist monks who were highly revered. A few of these statues had small pieces of gold lame that had been rubbed on to the surface. One of the coolest temples was laid out like a boat made from huge dragons. It's amazing how those with relatively so little can build something so ornate. After all the temples, it was back to the train station.

Amazingly huge Lying Buddha in Kota Baharu
It was another night train for us to get to Kuala Lampur, Malaysia's largest city. On the way there, we saw miles of dense jungle stretching out. Arriving in KL was completely different. It was almost like being back in Singapore, except that everything was less well organized. Our first mission was to find a hotel so that we could all take showers. After 2 days in the tropics without a shower, you kind of start to smell. Public transport was so difficult to decipher that it took us a good 30 minutes before we could even find the right train to be on. We found a centrally located hotel and cleaned up for our next adventure. Our next stop was the famous Batu caves that were right on the edge of KL. As we walked out the door and towards the subway, we literally ran into our friends from Sea Tjalm. They had been a completely different area of Malaysia visiting a relative and had come to KL for the day. And somehow in a city of over 1 million people, we managed to run into them! We decided to head off for the caves together.
The Batu caves are known for having a huge pilgrimage that millions of Hindus attend each year. The Batu caves are considered a holy site by the Hindus of southern India. The pilgrimage quickly becomes an orgy of sort where you can have various piercing done to your cheeks and ears. To even get to the caves was a pilgrimage for us!! We had poor directions and even the locals were not much help. We finally found the right bus to take. The bus was so full with locals and tourists that we must have looked like sardines in a tin. Somehow or another, whenever the bus would stop more people would manage to get off. The tourist books had indicated that the trip would only take 30 minutes. In reality, it took us over 1 ½ hours!! When we finally arrived at the Batu caves we were hot and sweaty and cranky! What awaited us were 272 steps leading up to the caves.! Yikes! It took a little doing, but we made it all the way up. Inside, the cave was wonderfully cool. All you had to watch out for were the monkeys, stray cats, and birds flying about. The cave itself was probably as big as a football stadium. The ceiling was at least 100 feet above us with occasional openings that let in light. Stalactites and stalagmites were everywhere. Tucked into corners of the cave were statues of various Hindu gods. I wonder how in the world a million people could throng into this place and what exactly made this place sacred.
Well, after our cave excursion, it was back to KL. The area where we were staying was much like Times Square in NYC. It was surrounded by shopping malls, neon lights, and lanes of traffic. We checked out some of the malls to see what prices were like. They had a nice selection of everything from electronics to clothing. KL is a 1st world city surrounded by a country that is trying desperately to catch up. The following day we headed for the Petronas Towers, home of the World Bank. The are the tallest twin towers in the world since the destruction of the World Trade Center in NYC. You might recognize these amazing skyscrapers from the movie Entrapment with Catherine Zeta-Jones and Sean Connery. They look like huge lightning rods. Even though we arrived at the towers early in the morning, there was already a long line to get up to the viewing deck. Thankfully, the wait was not too long. The elevator ride to the viewing deck lasted 41 seconds. The skyline and views were magnificent. The viewing deck sits at 146 meters above the ground. People looked like ants. As I talked with our tour guide, I discovered that they actually filmed the majority of the tower scenes from the movie Entrapment right here. The guide had even met the stars!
After visiting the towers, we headed for Masjid Jamek (historical mosque), Chinatown, and the National Museum of Malaysia. The mosque was built in 1907 by a British architect. It was covered with Greek Orthodox-like domes and arches and looked like an oasis in this glass and steel desert. The Abbott's noted how much of the architecture in KL was very influenced by the Arabic world and Islam. Our next stop in Chinatown was completely different. The market was in full swing with Louis Vitton rip-offs, fake Ray Bans, fruit and veggies. Vendors would beckon with promises of low prices. But what it all comes down to is your bargaining skills. David is a natural! He has no problem walking away from a vendor if the price is not right. I am a softy and almost feel quilted into buying something after spending a certain amount of time on bargaining. He got some nice sunglasses for $4! Not bad at all. The National Museum was very interesting and showed just how diverse Malaysia is. There are many different people groups who live here. It showed Malaysian history, arts & crafts, dress, culture, and animals. They also had some very cool exhibitions covering maritime archeology and how gold was a part of Malaysian culture. Malaysia occupies a unique geographical space that has been used by traders for hundreds of years. It is the transit place between eastern and western Asia and continues to be.
The following morning, we left for Singapore. We upgraded to 1st class which was nice. They even showed movies. However, the choice of movies left something to be desired for: old Jean Claude Van Damme flick called "Nowhere to Run" where all the fighting scenes had been edited out and an Aussie TV movie "My Husband, My Killer." We may not have had luck in the movie department, but some of the scenery was beautiful. We passed farms with rows of neatly planted palm trees for coconut, dates, and oil. We passed dense green jungle where the undergrowth grew right up to the train track. Who knows, if you put you hand out the window, perhaps you could snag a monkey or a snake! After a good 10 hours of swaying in the train, we arrived back in Singapore. It felt good to be back.
November 2, 2004 -- Well, we are back in Singapore for the next few days and preparing to take off again. Our next destination is Penang and Langakawi which are islands on the northern coast of Malaysia. We decided to make a last minute visit to Sentosa Island today which is at the tip of Singapore. It has been made into a little getaway haven for all us city folk. In order to get there you either have to cross the bay by bridge, cable car, or ferry. We decided to cross the bay by cable car hundreds of feet up in the air. The view was spectacular! You could see the skyline of all downtown Singapore, the harbor filled with cargo ships, and the busy Singapore Straits filled with maritime traffic. Once on the island, we took the monorail around for a tour. Resorts have been set up with man-made beaches, spas, hotels, and restaurants. It looked like a pretty nice place to hang out.
So all in all, Singapore was a very nice destination! A fabulous modern city with every amenity you could possibly think of. It will be a little sad to be leaving, but we will be hitting some island paradises as we head further north. More adventures to follow.

November 5, 2004 -- To finish off our stay at Raffles, we all decided to try our hand at bowling. The bowling lanes were absolutely packed with screaming teenagers and blaring dance music. It has been a few years since I have picked up a bowling ball. For Dave and Donna, it has been more like 20 or 30 years!! We must have been a sight as we made gutter ball after gutter ball and cheered for every pin that we knocked over. I don't think that any of us scored over 100 that evening. But our low scores certainly had nothing to do with the excitement for the evening. Dave had forgotten that they waxed the bowling lane and at one point over-stepped the line. All of a sudden, his feet were flying into the air and he came down with a resounding thump! We all jumped up and ran over only to discover that he had a small laceration on his head and was feeling a bit woozy. After 4 months of medical hibernation, Sarah the PA-C was ready to jump into action. Armed with the First Aid kit, I did a quick assessment and pronounced the patient fit and able to continue bowling. So we applied some 4x4's to Dave's bald spot and he was ready to go once again. (Hmm, I wonder if I could earn any CME' …?) It did give all of us a bit of scare. I think that the marina manager was more worried that we might sue for keeping the bowling lanes too slick. He was on the spot not 5 minutes after Dave fell. The funny thing about the entire situation was that Dave bowled his one and only strike with that fateful fall! I imagine that we will not be bowling for quite some time now!
November 8-10, 2004 -- We made a pit stop in Port Dickson as we sailed up the Malaysian coast. There was a really nice marina there and we were able to check in with Malaysian Immigration and Customs. From here, we headed up to Port Klang which is competing with Singapore for the shipping industry. What a sight it was to be dodging huge cargo ships again. But there was not only ships to dodge, but also thunder and lightning. This part of the world has the most amazing thunderstorms. It seems like every afternoon the clouds build up slowly and then for about an hour or two the sky is filled with brilliant flashes of light. This is a cruisers nightmare!! If one of these bolts of lightning were to hit the boat, thousands of dollars in electronic gear could be toast. Our friends on Sea Tjalm had a nasty encounter with a bolt of lightning that took out their radios, radar, computers, and refrigeration! Thankfully, we have had no problems as such (knock on wood)!
Just out of Port Klang we had heard of a fishing village that was built entirely on stilts. Apparently it is quite the tourist destination and so we decided to check it out. We all jumped in our dinghies and headed out. At the first village we visited they were adding more pylons to the edge of the village by drilling them into the muddy water. There were houses perched on the stilts. Some of the houses were no more than tin shacks, but others could be quite elaborate. You can be sure that there was a satellite dish on almost every single home. Once we actually got up to the village we were quite the attraction. We soon discovered that we had gotten off at the wrong fishing village. They hardly ever saw tourists where we were. It was really us who were the tourist attraction! Nevertheless, we decided to take a turn around the village. A large portion of the Malaysian population is actually Chinese. In this particular village, at least 90% of the people were all Chinese. Now I know a few Chinese words, "hello" and "thank you", to be exact. I put them to good use and got a couple of smiles out of some adorable kids. Every home that we passed had its own little temple where offerings and prayers would be made. But my goodness was the smell horrible in this little village. It was a combination of the fish, mud, sewage, garbage, and who knows what else. Well, we decided to head down to the second village. It was much the same with its own little market and temples and homes. But as more of a tourist destination, there were a few little hotels and fishing chalets. Now what a great place for a honeymoon!
November 11-12, 2004 -- We sailed out of the stilt village and on to the island of Pangkor. Malaysia touts Pangkor as one of its top getaway destinations. What we found was largely a backpackers retreat. We had an overnight sail to beautiful little Coral Bay. There were a few other sailboats anchored out. The water was a lovely murky emerald green set against white sand. We were pretty wiped out from our sail when we first arrived, but David and I set out to do a little exploring. We took in the dinghy in and found little shops had been set up to sell t-shirts and other souvenirs. There seemed to be lots of tourists from Europe and Australia. We did a little hiking into the greenery only to be viciously attacked by killer mosquitoes. I think I made it out with 16 bites to my name!
On the way back to the dinghy I spotted what looked like someone getting in and out of the dinghy. Now as a yachtie/cruiser, security is always a concern. There are stories of locals stealing things off boats, such as prop motors, bicycles, food … etc. I pointed what I saw to David and we picked up the pace. As we got closer to dinghy we saw that it was in fact a small monkey who was rummaging about in the dinghy. We ran up and "scared him away". The monkey backed off a few feet, but then ran back into the water. Now our record with monkeys during this trip has not been so great. If you recall, in Bali, a monkey grabbed one of Donna's hairpins and ate it. In Kumai when we visited the Orangutans, a crazy Japanese photographer antagonized the dominant male into chasing us all. So let's just say that I was on my guard against wild monkeys!! As I got in the boat, I grabbed one of the oars to make myself look bigger. I guess I have read that in some National Geographic article, or something. Well, apparently size does not intimidate small monkeys. The monkey just hopped back into the water and started swimming straight for the dinghy. So what did I do … I started waving the oar around, of course. All my efforts to scare the monkey were in vain. David waved his hat and I waved the oar. So there we are with this little monkey approaching the boat and I decided that maybe some noise would scare it off. So I start whacking the oar on the surface of the water and the side of the dinghy. This is where David says that I "attacked the monkey." I was only trying to scare the monkey and in the process ended up bopping the top of David's hand. He has since forgiven me, but I don't believe that I will be living this story down for quite some time. I am sure that you can read his version of events in his journal page. Thankfully, small and who knows, possibly rapid monkey decided that the crazy girl with the oar was a little too much for him and he scampered up the beach.
In all, we spent 2 days at Pangkor Island. And of course, we had to test out that lovely looking water. The further north we head, the warmer the water seems to be getting. Swimming in the ocean has be so relaxing! On our second day there, we jumped into a pink taxi for a tour of the island with our friends from Sea Tjalm. Pangkor actually has quite a lengthy history. The Dutch East India Company attempted to build a base on the island twice but were pushed back by the locals. You can still see where they carved their logo into a large rock and the remains of the Dutch fort that have been reconstructed. There were a few neat temples on the island, both Buddhist and Hindu. At the time of our arrival, they were celebrating the Hindu holiday of Deepvali (Festival of Lights). Every night the Indian Malaysians would have large celebrations with lots of food and firecrackers. On the way back to Coral Bay, we passed by a local boat yard and we got the driver to stop. It was amazing to see a large fishing boat coming together and all by hand. They were probably the very same boats that we have come to dread while doing our overnight sails.
We met up with some of the other yachties who were anchored at Coral Bay. There was one boat in Coral Bay called Barnstorm that the Abbotts had seen years ago in New Zealand. The owner had actually made the boat longer by sawing off the back of his boat and then adding an extra 5 feet by splicing in new slats of wood. He showed us pictures from start to finish and gave us a little tour of the boat. Pretty cool! Now he and his wife are sailing up the coast of Malaysia and Thailand and from there, who knows!
November 12-15, 2004 -- We headed out from Pangkor Island that same evening for a quite overnight sail to the island of Penang. We had a quiet passage and then sailed into the harbor right under the very long Bridge of Penang. It was very impressive to see this cable and concrete structure running across the channel for a good 2-4 km. Our aim was to find the local yacht club, but we soon discovered that it was no longer in existence. That meant having to anchor out in the channel amid all the other fishing and cargo boats. We anchored at what is called the Junk Anchorage. Maybe because you are right next to the junk yard. Well, not 10 minutes after putting down our anchor when a small Chinese man in a bum boat approached asking if we would need a ride into town from Exit Only. So we set up a plan to go and explore a little of Penang. David, myself, and our friends from Sea Tjalm jumped aboard a small bum boat and headed in to town. We were dropped off at the Chew Jetty which was surrounded by a small village of stilt homes. Apparently, this small village was established in the mid-19th century by the Chew family and now all of their descendants live there. We checked out the center of town and the mall which was packed with people. We were happy to discover that there was a Starbucks and Pizza Hut and took a couple of pizzas back to the boat for dinner.
The next day, we all set out for a tour of the city. But first we had to get a bum boat out to Exit Only. We yelled and waved our arms about to no avail. Finally, Dave pulled out a conch shell that had been made into a horn. After a few good bellows, we finally got the attention of a bum boat driver who zipped right over. Penang had been a British holding for many years before being returned to Malaysia. Evidence of this British heritage is everywhere. Many of the old buildings are very rundown, but in their place many modern skyscrapers are being built. Our first stop was the first mosque built on the island by the Indian servants in the 1800's. Our second stop was the very old Hainen Chinese temple built in 1865. Outside huge fuchsia sticks of incense (as large as my arm) burning and filling the air with acrid smoke. Inside the temple was dark and hazy with many people kneeling before altars and praying. On one wall people would attach the name of their family members on small slips of people for luck, health, and happiness in the next year. At another altar, women would come and pray specifically for pregnancy.
From there we headed to Fort Cornwallis which was established by Captain Light in 1786. One story we heard was that Captain Light fired silver dollars from the cannons of his ship into the jungles to encourage his laborers to hack into the undergrowth and establish a settlement. There wasn't too much at the Fort apart from cannons overlooking the channel, a small and dark chapel, and barracks.
Our fourth stop was at a Batik factory. Batik is an art form which has been perfected in Southeast Asia. Wax is melted and then painted onto cloth (cotton & silk) in elaborate designs. Once the wax has dried the designs are painted with vibrant colors. We had the chance to see many pieces being made: tablecloths, scarves, and shirts. The factory even had its own little shop so we went a little wild. David bought me a beautiful silk scarf with colorful flowers.
Our next stop were 2 Buddhist temples. One temple had been built by Thai people and the other by Burmese. There was an amazing difference in artistic style and design. Much of the Thai design was in bright colors and gold lame. The Burmese temple was decorated largely with intricate wood carvings. Each temple had a all where people had been cremated and buried. In the Thai temple, photos of people long gone were right next to their burial urns. In the Burmese temple, nameplates were affixed to small statuettes of Buddha. The Thai temple had a large reclining Buddha and the Burmese temple had a large standing Buddha with arms outstretched.
From there we headed out to the Botanical gardens via the Colonial District. We passed many of the old, large, and stately homes that were once inhabited by the British. Now many of these old home are derelict and some are being replaced with more modern structures. The Botanical gardens were lovely, complete with monkeys and palm trees.
One of things you can see all over Penang are the trishaws. David and I hopped on a trishaw for our ride back to the boat. The driver was a thin and toothless Chinese gentleman. He really had his trishaw rigged out with a radio, umbrella, and flowers. As we went through town his radio would be blaring songs like Country Roads and I Just Called to Say I Love You. We would look back at him and see his big toothless smile and he would say "Happy!" He took us on a mini-tour of Penang, past the morning market, through Chinatown and Little India. Everywhere we went people would smile and wave at us. We must have been a sight, the 2 of us crammed into a small trishaw with a little Chinese man huffing and puffing and pedaling away. Or it could have been the fact that David had the video camera with him and was recording the event for all posterity. Who knows.
And so finished our stay at Penang. We had a great time there and I would not mind going back. Our next destination is Langkawi. This is a grouping of 104 islands right on the border between Thailand and Malaysia. We should be here for at least 2 weeks while we wait for boat parts. It should be a fun place to visit with loads of beaches, places to snorkel and hike and explore. If you would like to contact us there, here our address at the local marina: S/V EXIT ONLY (Yacht in Transit) C/O Royal Langkawi Yacht Club; Jalan Dato Syed Omar; 07000 Kuah, Langkawi; Kedah; MALAYSIA.
November 16-20, 2004 -- After a quick overnight passage from Penang we arrived safely in Langkawi. It reminds me a little of the WhitSunday Islands in Australia. The water is a lovely greenish gray color from the limestone hills. There are load of other yachties here in Langkawi. From what I hear, some people spend years cruising up and down the coast of Thailand and Malaysia because it has some beautiful cruising destinations and it is relatively cheap. Just as you come into the main bay next to the town of Kuah, you can see a large statue of an eagle perched over the water. Langkawi actually means strong eagle. And it is easy to see why the locals named the island so; there are eagles flying around everywhere!
David and I have gone into town for a bit of exploring. Even though this is quite the tourist destination, there is not much to speak of here. Supposedly everything here is duty free. I think that we have found that to actually mean more expensive. We found a lovely little beach on the other side of the island. It was dotted with little chalets for vacationers. Asides from exploring though our main mission has been laundry. The marina we have been staying at is pretty nice. It has a pool and a great little restaurant. There are signs all over saying look out for the wildlife. We have manage to see monkeys and lizards and sea otters. The marina does not have laundry facilities, so for the past 2 days David and I have been washing everything by hand -- bedding, underwear … you name it, we have washed it. Thank goodness for the next few days we will not have pruny hands. We are going to be heading out for a little tour of island. So catch ya later!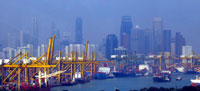 Singapore & Harborfront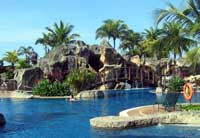 Pool Paradise at Raffles Marina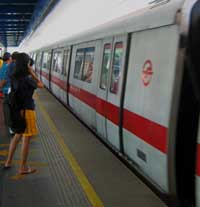 All aboard! (MRT-mass rapid transit)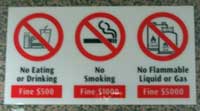 Singapore, a fine city!
Fine for smoking, fine for chewing ...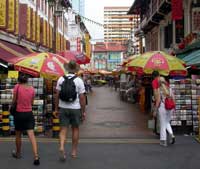 Running for cover in Chinatown!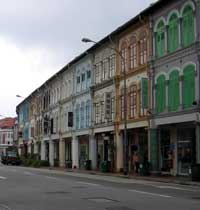 Colonial era buildings in
downton Singapore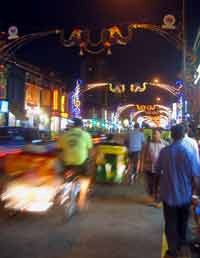 Bustling Little India



Mesmerized preschoolers at the Zoo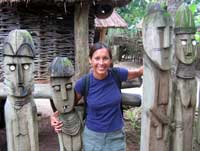 Making friends at the Zoo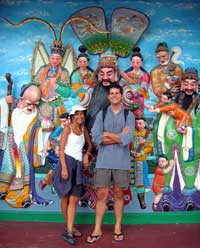 Confucian storytelling at
the Haw Pan Park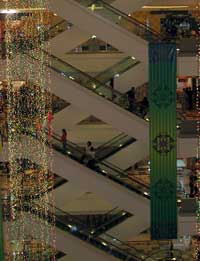 Singapore motto: Shop till you drop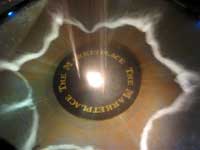 Sophisticated Fountain
(Rushed in & out like ocean waves)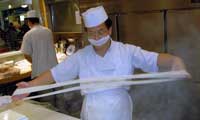 The Noodlemaker
Pasta la vista, baby!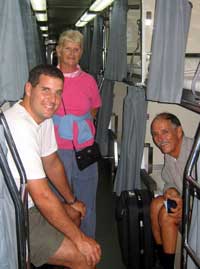 Sleeper Train to Malaysia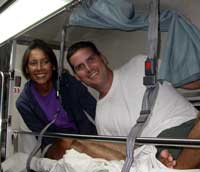 Bunking out Malaysian style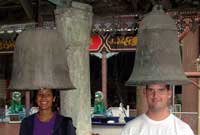 Cutting edge Buddhist fashion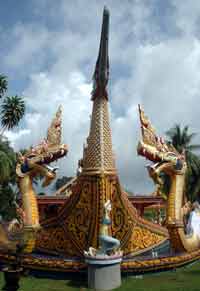 Buddhist Temple & Dragon Boat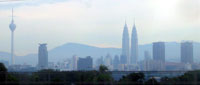 Kuala Lampur Skyline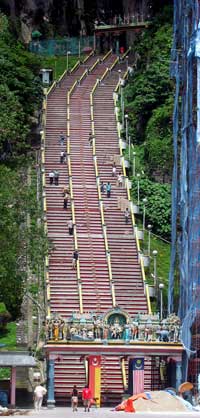 Batu Caves: 272 steps & counting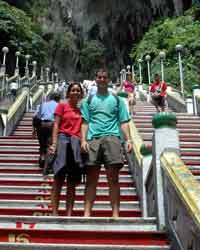 Taking a well deserved break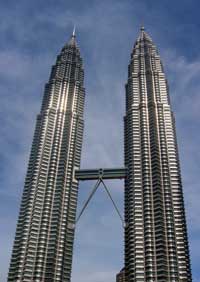 Petronas Towers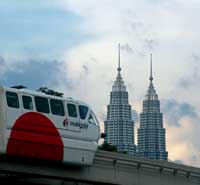 KL Monorail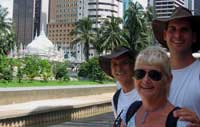 Jamek Mosque & Abbotts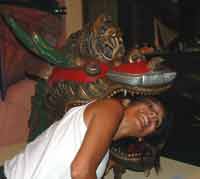 Testing my courage at the National Museum in KL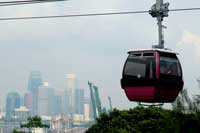 Riding the cable car to Sentosa Island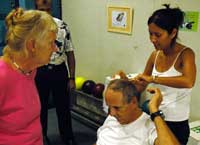 Sarah PA-C to the rescue



Chinese Stilt Village at Pulau Ketam (Crab Island)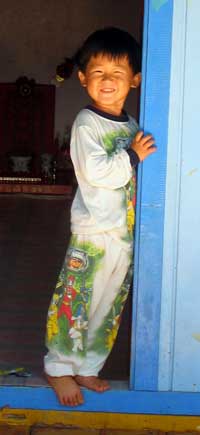 This kid lit up when I said "Nee how"
(Chinese for hello)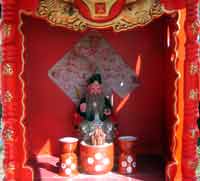 Home temples the size of a mailbax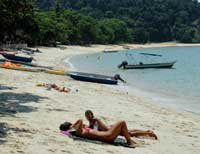 Pangkor Beach



Cozying up with Sea Tjalm on our
tour of Pangkor Island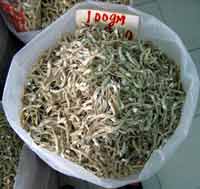 Dry Fish -- A Chinese staple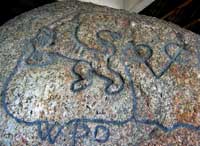 Emblem of Dutch East India Company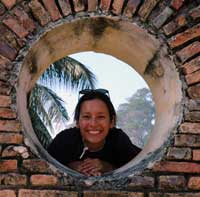 Checking out the Dutch Fort on our
Pangkor Island Tour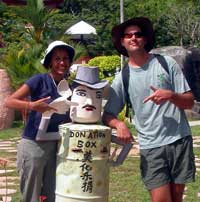 Donating to our local Chinese Temple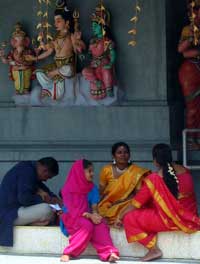 Decked out for Deepvali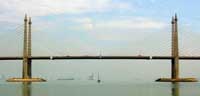 Entering Penang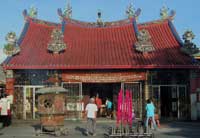 Temple of the Goddess of Mercy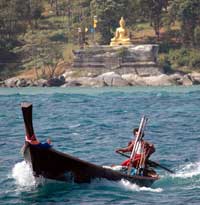 Gold lame Buddha
at the Thai Temple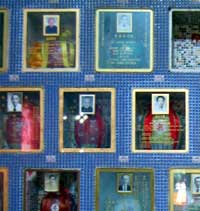 Wall of cremation containers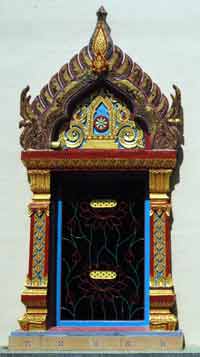 Beautiful carved door at Thai Temple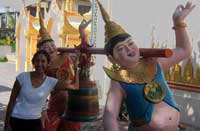 Dancing at the Burmese Temple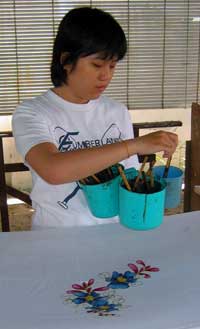 The Art Form of Batik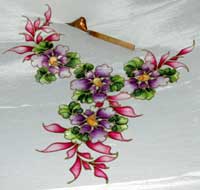 Beautiful hand-crafted batik on silk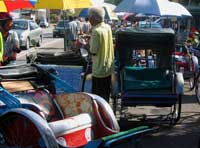 Trishaw Rally in Downtown Penang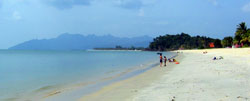 Idyllic Cenang Beach