Journal 1: Aussie Adventures 1
Journal 2: Aussie Adventures 2
Journal 3: Indonesian Escapades
Journal 4: Singapore & Malaysia
Journal 5: Langkawi, Malaysia
Journal 6: Thailand Trekking 1
Journal 7: Thailand Trekking 2
Journal 8: Indian Ocean, Maldives, & Oman
Journal 9: Oman & Yemen
Journal 10: Pirates, Eritrea, & Sudan
Journal 11: Egyptian Adventures 1
Journal 12: Egyptian Adventures 2
Journal 13: Egypt to Israel
Journal 14: Cyprus Crossings
Journal 15: Turkish Tales 1
Journal 16: Turkish Tales 2
Journal 17: Greek Odyssey
Journal 18: Italy & Spain
Journal 19: Why Go Cruising?
Journal 20: Airplanes are Faster
Journal 21: Barbados
WHY GO CRUISING?

I can hardly believe that already one year has passed since the start of my incredible voyage on Exit Only. I have sailed from Australia all the way through the Mediterranean. So many amazing memories. So many things learned. And I have been so happy to share them with you. I started out as a land-lubber, but I have to say that the cruising lifestyle can really grow on a person. I still may get sea-sick from time to time, but sailing around the world definitely has met all my adventurous expectations and then some.
So why go cruising?
For so many different reasons …
- Learning how to tie knots … down the hole, around the trunk, and up again. You never know when you might need to use a bowline.
- Not setting foot on land for 2 weeks … and then the thrill of feeling sand between your toes.
- The delicious smell of homemade pizza and bread when you are out in the middle of an ocean.
- Learning to appreciate water … jumping in fresh clear water, warm sun showers, and cool rain.
- Meeting fascinating people along the way -- sailors, bus drivers, shepherds, tour guides …
- Learning how to kick back and relax
- Reading more books than I have in year
- Learning to live in close quarters … somehow or another David and I managed to survive without any major relationship blunders! I think this whole marriage thing is going work out!
- Visiting a section of the world that you would never go on a plane, a train, or an automobile
I feel like I could talk about so many more things. Here are a few memories worth sharing.
Top Moments Around the Globe
Australia
What impressed me the most was the sense of wide openness and wildness. I can hear it calling to me now! Sydney, Melbourne, Tasmania ... High on my list was Lizard Island set out in the Great Barrier Reef with beautiful water and coral. My first tropical island. From here, Captain Cook was able to visualize a safe passage through the reef. The hike up to Cook's Look is where we met our sailing friends aboard Sea Tjalm. We traveled with them for the next 4 months. Just goes to show that you never know where you might make a friend. And of course not to be forgotten, my own crocodile experience at the zoo. I may have only been holding a small and captive croc, but they tell me this is the first step in becoming a certified croc hunter.
Indonesia
Bali must have had one of the most colorful and creative cultures that I have ever met. Definitely one of my favorite stops which I highly recommend. The tropics mixed with Hindu religion, a beautiful island, and an ancient history. The town may have been packed with moped families, touts and tourists, but the countryside was gorgeous -- rice patties, temples, palm trees, palaces, and volcanoes. From Bali, we headed to isolated Kumai on the island of Borneo. Here we had a true national geographic experience by hopping on a river boat to visit the wild orangutans. We watched in awe as these beautiful animals launched themselves through the forest canopy. And then we watched in panic as a large male orangutan swung down towards one of our yachtie friends who had dared to get too close.
Singapore
We went from 3rd world to 1st world when we arrived at the city state of Singapore. We had only planned on staying for a week, but that quickly turned into 3 weeks once we discovered all that we could see. Being in a metropolitan mecca was a huge change -- subways, shopping malls, and prices to match. Singapore is a wonderful mixture of British, Chinese, Indian, and Malay influence. The fusion is well worth a visit. Just remember not to bring a durian with you on the MRT!
Malaysia
From Singapore, we hopped on a train to visit Malaysia. This is another country on the verge of breaking out -- economically, religiously, politically, and population. What a change from Singapore. Although a very modern country, much of it is still rural and quite poor. With a Muslim majority and government, the country has stayed relatively conservative. But just wait till you get to Kaula Lampur with its skyscrapers, street side noodle bars, and edgy fashion. It almost felt like being back in Singapore. Langkawi was a relaxing sailing destination with many beaches and coves to visit. One of our favorite stops for fish and chips at the Royal Yacht Club.
Thailand
Thailand was one of the friendliest countries that I have visited. We sailed up the picturesque coast to Phi Phi Island and Phuket. Beautiful water, delicious food, and friendly people put Thailand high on my list of places to visit again. And let's not forget to mention the cheap prices! David and I had the chance to adventure out on our own to booming Bangkok and charming Chiang Mai. We have loads of wonderful memories -- Christmas cookies, dinner with yachties, visiting orphaned elephants, devouring pad Thai noodles, catching up with old friends … And then of course, there was the tsunami. A horrible catastrophe for the people of Southeast Asia. No one truly came away from this experience untouched. We were lucky to have been out on the water when the wave came roaring in.
Indian Ocean
From Thailand we made the long passage across the Indian Ocean to the Maldives -- almost 2 weeks without seeing land. We dodged debris from the tsunami -- coolers, chairs, and huge logs. Showers off the stern of the boat became a daily pleasure. This is when I discovered fun of high frequency radio nets. Every day a group of sailboats would gather over the radio and note their progress. We developed a whole new group of friends with Neva, Keysond, Balmacara, Duetto, and Zephyrus.
Maldives
I do believe that the Maldives are one of the most perfect island paradises you could find. After 10 days of sailing from Thailand, it was heaven to sink my toes into the soft white sand. There were at least 20 cruising yachts that transited through Uligan. We enjoyed fishing, snorkeling, island hopping, visiting the locals, and relaxing under the sun.
Oman
From the Maldives it was another long passage up to the Arabian sands of Oman. I had a wonderful introduction to middle-eastern culture which is so familiar to the Abbotts. Harsh rock deserts and mountains, wandering camels and Bedouins, lively cities and souqs, delicious dips and shwarmas. We had a great time exploring the country by car, even if we didn't do any off-roading.
Yemen
We never meant to stop in Yemen. But what a pleasant surprise. A war torn country for so many years that buildings were riddled with bullet and mortar holes. The locals still walk around with guns slung over their shoulders and knives in their belts. What was amazing I just how friendly people were here. Maybe it had something to do with the gat, a mildly sedating and hallucinogenic plant that the locals chew. We nearly started a friendly riot one day when David pulled out the video camera to film. All of sudden people were shouting that we must be from Al-Jezeera! The only low point of this entire adventure was the news that friends had been attacked by pirates in the Gulf of Oman. It truly is like the wild west out here!!
Eritrea
Next up was the Bab El Mandeb, a narrow passage into the Red Sea where the wind gusts up to 40 MPH. We had a wild ride through the Bab with our friends on Duetto and Balmacara. It got so rough, that we decided to pull over for a new days. And for the first time, I sighted Africa!! We sailed up the coast to the port town of Massawa. Another war-torn country with most buildings fall over and people living in abject poverty. So many people want to get out of Eritrea that immigration comes on the boat to search for stowaways!! We did a short road trip up into the highlands. We went from desert like conditions, to green hills topped with villages and churches. The Italians have left their legacy here, including delicious pizza in the capital city of Asmara.
Sudan
We left Eritrea and began our cruise up the coast of Sudan. Dotted with beautiful islands and coral reefs, the Red Sea is a wonderful place for diving. This was unfortunately about the time that both Donna and I came down with Dengue Fever. We were down and out for over 1 week. But somehow I made it out there to explore Difnein Island where we discovered huge osprey nests and also a minefield!! Back to the mainland, we explored the old city of Suakin. People here live very simple lives, and yet they really lack for nothing.
Egypt
We had a thrilling time in Egypt. Based out of a lovely marina, we did a 10 day tour of Egypt. So many amazing things to see. A Nile river cruise took us to historic Luxor, the eerie Valley of the Kings, lush Aswan, mind blowing Abu Simbel and numerous temples, towns, and markets in between. Then it was on to Cairo with its 20 million inhabitants. A huge city, much of it poverty stricken with slum like dwellings. But what history between the Egyptians empires, Greeks, Romans, Arabs, and Turks. We visited the enormous pyramids and the crowded national museum. Even though I had the chance to see so much, I know that there is more to discover in this amazing country. Finally, we headed up to the Suez Canal. We had a smooth transit despite having a slimy canal pilot who tried to finagle money and other "gifts" out of us. Then it was on into the Med!
Israel
Another unexpected stop. Israel was a pleasure, except for the Navy that kept us from sailing in until they could confirm our identities. We had a whirlwind tour through Israel visiting many ancient sites of religious and historical significance. It was amazing to see the places that had in some way influenced and inspired Christ. Some of favorite stops were the Jordan River where David and I joined a church group to be baptized. Mitzpah Ramon was a fantastic natural phenomenon that reminded me of the Grand Canyon. We traveled from north to south, east to west. And still there was more to see!
Jordan
We popped out of Israel for an overnight trip to Jordan. Our visit to Petra and Wadi Rum sit very near the top of the list of all the things I have seen on this trip. We hopped in a taxi at the border and drove 4 hours into the mountains to see the famed city which had been lost for centuries. Absolutely mind blowing to see temples, tombs, amphitheatres, and churches carved into the richly colored cliff faces. Wadi Rum is a beautiful desert with dunes, dried up river beds, Bedouin villages, and camels. f you ever go to the middle east, visit Jordan!!
Cyprus
A pit stop on our way to Turkey, Cyprus was a relaxing stop. We enjoyed the summer festivals with local music, dancing, and sweet sugar concoctions. Cyprus had some wonderful Greek and Roman ruins. And let's not forget the charming mountain villages surrounded by fragrant orchards of oranges, peaches, lemons, apricots, and grapes.
Turkey
Ah, Turkey!! We spent a fabulous month in this beautiful country. Exit Only got hauled out and received a new paint job. Whew, hard and hot work. I enjoyed so many different things here. David and I did a little adventure on the side up to Mt Olympus with its eternal flames and tree house hotels. There were beautiful anchorages, sailing, and castles to enjoy at Kekova Roads. The ruins of Roman Ephesus were magnificent and gave me better insight into what life must have been like in those times. The Turkish countryside was picturesque and the people were very friendly. I may not have come away with a carpet, but who knows what might happen on my next trip there.
Greece
We made our entry into the European Union in Greece. Another wonderful country for sailing adventures with many small islands. We met up with the meltemi winds which tied us down for a few days. But it did not keep us from exploring volcanoes, castles, and winding streets. And then there was crowded Athens with the scaffold-covered Acropolis, whistling tourist police, and high prices. Greece may be the birthplace of western civilization, but it is also the birthplace of the gyro sandwich. I am now considering opening my own gyro chain of restaurants. Onward through the Corinth Canal and into the Ionian Sea. We caught up with friends in Ithaca and then headed for Italy.
Italy
We weren't exactly sure where we would be going in Italy. Everything depended on the weather. With favorable winds, we headed for Vulcano island. Between pizza, gelato, and hikes up the volcano which was spewing toxic fumes, we had a great time. The Italians for all their fashion sense, wild driving, and complicated history remain very easy going and laid back people. I look forward to the chance to visit Italy again. From Vulcano, we were going to head for Sardinia, but again the we took advantage of good weather to sail all the way to the Balearic Islands.
Spain
And so here we are in Spain. We have made it all the way across the Med!! Yahoo! They must have known that we were celebrating because we arrived just in time for the Festes de Gracias on the island of Menorca. A 3 day festival with dancing, music, and lots of spiked lemonade!! We spent a week enjoyed the charms of Mahon and then headed for the tourist overrun Mallorca.
Alas, this is when my journey ends and I return to the US. I hope that you have enjoyed the journey as much as I have, and continue to visit the website often to see what Exit Only and crew are up to.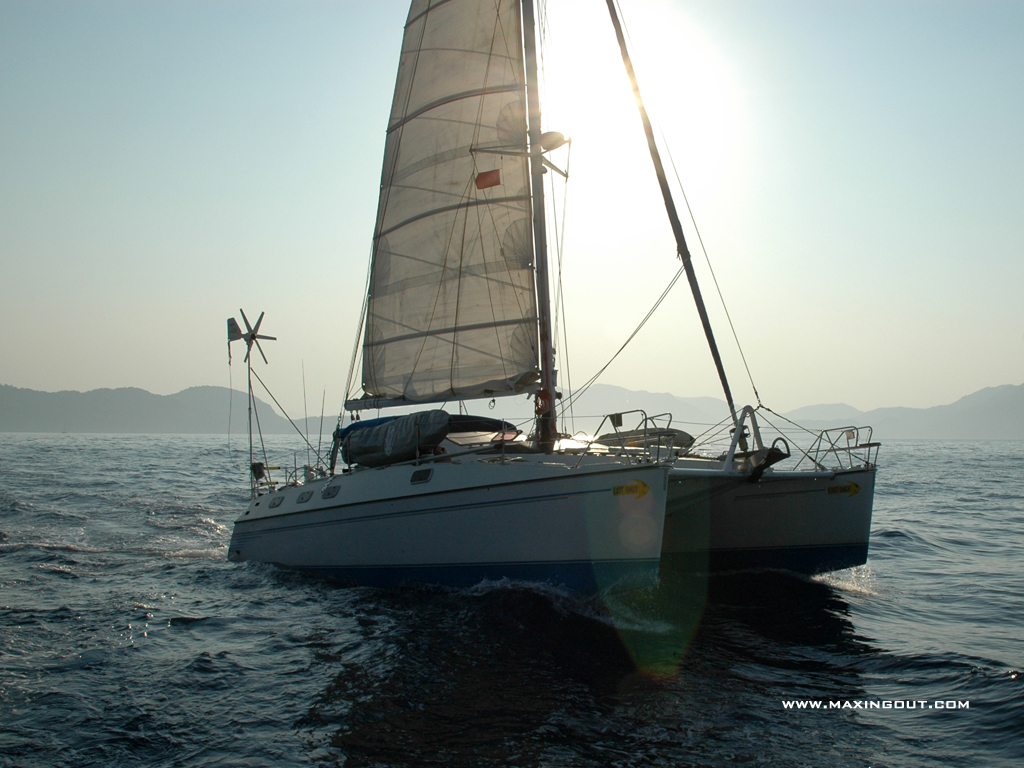 My home for the last year -- Exit Only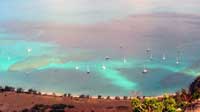 Great Barrier Reef here I come!!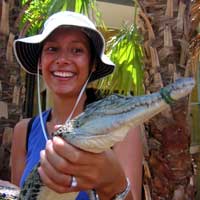 All part of my training to be crew
aboard Exit Only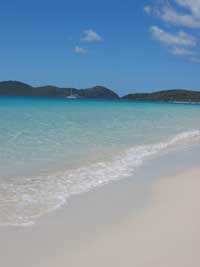 Who said that cruising didn't have it's perks?
Whitehaven Beach, Australia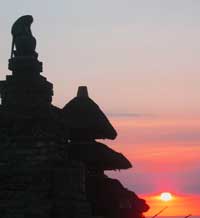 Blazing sunset at Ulu Watu Temple in
Bali, Indonesia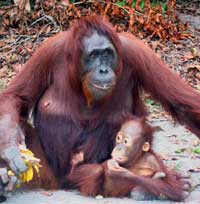 A National Geographic moment
Meeting Princess (Borneo)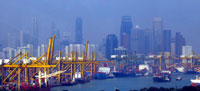 Singapore metropolis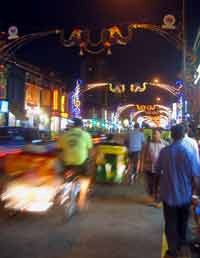 Lively Little India District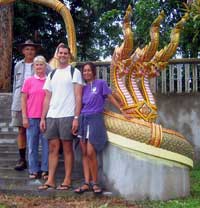 Exploring temples in Malaysia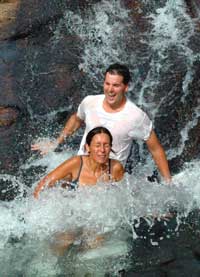 Cooling off in Langkawi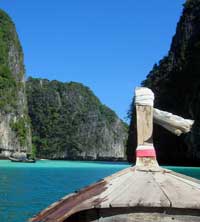 Peaceful cove at Phi Phi Island, Thailand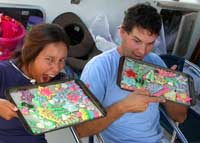 Christmas in Phuket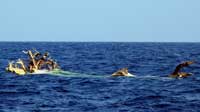 Indian Ocean debris post-tsunami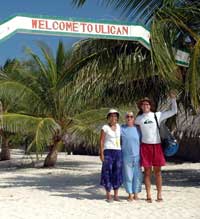 Welcome to the Maldives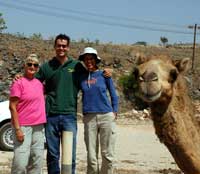 Making friends in Oman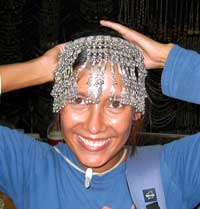 Trying on some Bedouin jewelry for size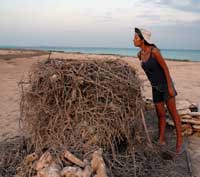 Checking out a very large osprey nest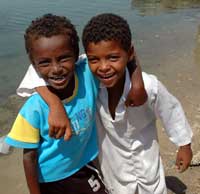 Happy Sudanese boys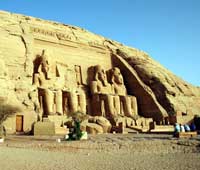 Amazing Abu Simbel, Egypt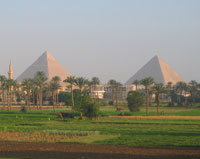 Egyptian Great Pyramids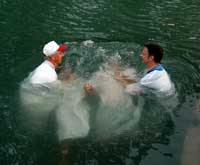 Taking the plunge in the Jordan River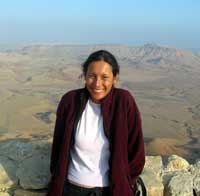 Awesome Mitzpah Ramon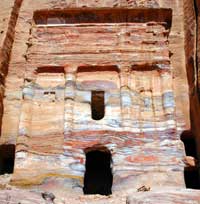 Red rose city of Petra, Jordan
Sell your car if you must, but go!!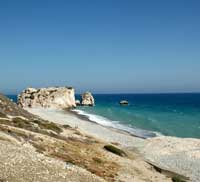 Cyprus Coastline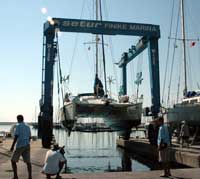 Hauling out Exit Only in Turkey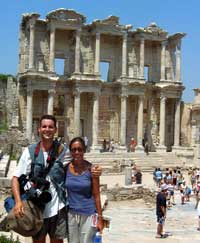 Roman city of Ephesus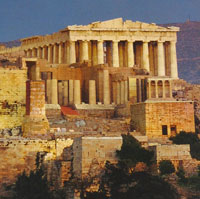 Acropolis sans scaffolding (Greece)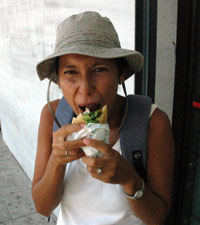 Gyro-time!!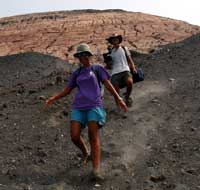 Moon walking down Vulcano (Italy)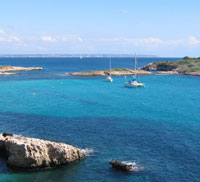 Mallorca Anchorage