Journal 1: Aussie Adventures 1
Journal 2: Aussie Adventures 2
Journal 3: Indonesian Escapades
Journal 4: Singapore & Malaysia
Journal 5: Langkawi, Malaysia
Journal 6: Thailand Trekking 1
Journal 7: Thailand Trekking 2
Journal 8: Indian Ocean, Maldives, & Oman
Journal 9: Oman & Yemen
Journal 10: Pirates, Eritrea, & Sudan
Journal 11: Egyptian Adventures 1
Journal 12: Egyptian Adventures 2
Journal 13: Egypt to Israel
Journal 14: Cyprus Crossings
Journal 15: Turkish Tales 1
Journal 16: Turkish Tales 2
Journal 17: Greek Odyssey
Journal 18: Italy & Spain
Journal 19: Why Go Cruising?
Journal 20: Airplanes are Faster
Journal 21: Barbados
AIRPLANES ARE FASTER

September 20-27, 2005 – There was complete darkness when we left this morning. Without the glimmering light of the moon, we would not have
been able to make our way to shore. And so we are off, Donna and I. I am heading for France and Donna is heading for the US. Donna must have been excited to get going this morning. She woke me up at 2:45 AM, a whole hour before we were supposed to get up. But here I am now, with crusted eyes, jumping into the dinghy. I have stuffed my suitcases full. I just hope that they are not too heavy. I am not exactly relishing the thought of lugging these bags through the airport. Then again, this is what fiancés are for!! It is amazing how much stuff I brought with me and never truly used. Now I
know, just give me a good pair of shorts and a t-shirt and I am ready to go.

So here we are dragging our bags up the hill to the main road. Hallelujah, the taxi came right away and we sped away to the airport. Another adventure
for me heading off to Strasbourg, France, where my parents are currently living. It is a bittersweet trip though. I am not looking forward to leaving
David behind. He and Dave will be heading for Gibraltar tomorrow. Once they get to Gibraltar, the crew will begin boat work in earnest. Our last few
moments together included attempting to sleep in airport chairs (always a challenge between the crowds and blaring PA systems), sharing a very
over-priced croissant (how is it all airport food is bland and over-priced), and wandering through the duty free shops (if the Toblerone chocolate
bar wasn't 2 feet long I might have bought it).

It was a quick hop from Mallorca to Basel, Switzerland. Looking out the window I could see our anchorage in Mallorca and Exit Only sleeping
peacefully under the stars. Before I knew it, we were flying over the Cote D'Azur and then the Alps. What a change from the Med! Coming into Basel, I could see dense forests of pine trees and oaks outlining neat fields of corn. As the plane gently landed on the runway passengers began to applaud the pilot! Now this is a first for me! Never in all my flying years have I ever had a pilot applauded. Were they thankful for the smooth flight, the choice of beverages, the fact that we had not crashed into the Alps ... what?! I later learned from my parents that this is apparently a German custom. Weird. But then again, maybe if we applauded out pilots more often we would have speedier flights.

The important thing to remember when landing in Basel is to walk out the right exit. The airport is based right on the borders of Germany, France,
and Switzerland. Walk to your left and you will be in Germany. Go out right and you will be in France. At least this is one thing that the European Union seems to have gotten right!

In Basel, I was welcomed into the loving arms of my mom and dad. Hard to believe that it has been over a year since I last saw them. They have just recently moved back to France and are working with an international church in Strasbourg.

We had a pleasant drive through the French countryside passing small farming villages and castles. Before I knew it, we had arrived in Strasbourg. The skyline was dominated by steeples, the wide boulevards lined with trees, and the sidewalks covered with cyclists (they even have their own lane).

Strasbourg is part of the department (state) of Alsace Lorraine. For centuries, it's control has been batted back and forth between Germany
and France. So the people here actually have their own dialect which is a mixture of French and German, Alsacienne. You can see the German
influences in much of the architecture here. Buildings with exposed beams and cheery
flower boxes. And then there is the French love for open squares and green spaces. Combine that with rivers and arched bridges spilling over with
flowers and it makes for a beautiful city.

At the center of Strasbourg is a large Gothic cathedral. From what I have heard, it was actually a Protestant church at one time, but now it is Catholic. I think that I am more impressed with this cathedral than the one in Mallorca. The cathedral in Palma was massive with lumbering buttresses and somber interior. The cathedral of Strasbourg seems to have much more detail to it and the interior has a
welcoming sense to it. Quiet music floats through the air while tourists wait for the ancient clock to strike noon. They even have a century's old and elaborate cuckoo clock in the nave which parades knights on horses, priests, and townsfolk at the strike of noon.

There are a few things one must always do while in France. On the top of my list is visiting the Boulangerie/Patisserie or Bakery/Pastry Shop. I
can already feel my sweet tooth acting up just thinking about it. France is known for its delicious bread and pastries. Éclairs, millefeuilles, tarts,
baguettes, pain de compagne, croissants, pain au chocolat …. YUM!

And then there are the outdoor markets. France has a large agricultural base. All the small farmers come to town and set up their stalls on the streets selling breads, fruits, vegetables, cheese, meats, wine, and arts and crafts. There is a plethora of smells, sights, and sounds to take in. The vendors try to outdo one another by yelling at the top of their lungs – "1 Euro a kilo", "Fresh eggs" … The French are quite proud of their gastronomic prowess and so they have inspectors who come to these markets to ensure that the produce from fruits to cheese is always top of the line. You can watch them strolling through the market, sampling food as they go along. So hey,
if this PA thing doesn't work out, I think I'll know what field of work to go into.

I had a wonderful week relaxing and visiting my parents. It ended all to soon. But there is another adventure waiting for me now – a 24 hour traveling day and searching for job!! I'll see you all soon back in the good ole US of A!

September 27-28, 2005 – It was another early morning start from the airport. Why can't flights leave at reasonable times in the morning, like 10 AM? Here I was again, dragging my bags around. This time I was laden down by French chocolate and coffee, two of my favorite things in the whole world, so I really shouldn't complain. 40 minutes later we had landed in Paris, the city of lights. It would have been great to visit some of my old haunts and friends in this wonderful city. But before I knew it, it was on to the next flight back to the US. A little shut eye, a few movies, a bland airline meal and I was back! It feels a little surreal being back in the America after all this time. But it has been wonderful to catch up with friends and family.

Thanks so much to everyone for following my adventures around the world. I hope that you have enjoyed it as much as I have. And continue to check up on the adventures of Exit Only as they sail from Gibraltar to Morocco, the Canary Islands, the Cape Verde Islands, and finally the Caribbean.....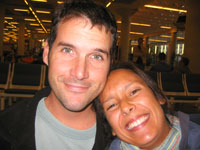 David wrote a song to see me off....
Take a listen: Sarah's Song.mp3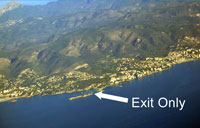 View of the Mallorca anchorage from the plane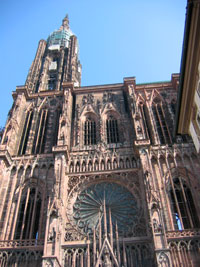 Strasbourg Cathedral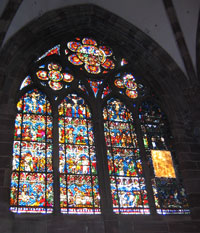 Stained Glass Window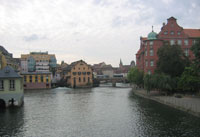 Canals of Strasbourg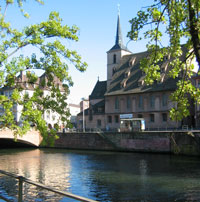 More canals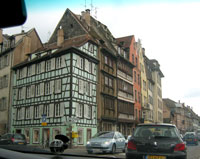 No cookie cutter houses here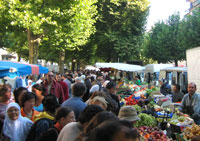 Produce market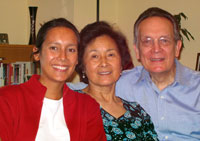 Chilling with Mom and Dad