What's in your medical kit … Given a lot of thought as to what to include in our medical kit for SV Exit Only especially since our recent medical incident. One needs to be prepared for different medical scenarios. Captain Dave is a recently retired ophthalmologist and I have 15 years experience working in the ER as a physician's assistant. We opted to put together our own medical kit given our background. However, there are several companies who have pre-made medical kits available for cruising.
With my background in ER, I already have the training to suture a wound, remove a foreign body, set a bone, put in a chest tube, start an IV, perform life support … etc. I have heard of several cruisers who have participated in Wilderness Medical Training or EMT training. I think that this is a fabulous idea and would highly recommend some basic medical training for anyone doing extensive cruising. I would also recommend 2 books: Marine Medicine by Dr Eric Weiss or Your Offshore Doctor by Dr Michael Beilan. With preparation and training, a scary situation can become more manageable.
There are a lot of different factors to consider when making up a travel medical kit. The main 2 things I felt that we needed to consider were: 1) How and where are you traveling? 2) what is your crew's medical history?
1. How and where are you traveling? So traveling on a boat has its own set medical considerations. Will there be off shore sailing and long passages? Will we be near a place with medical facilities? After Captain Dave's fall, we certainly are more aware of the possibility of physical trauma. Trips and falls, possible head injuries … all these things can happen on a boat. On the plus side, we like to say that while cruising, you are out of the "viral soup" and less likely to be exposed to things like the flu. However, you may be visiting developing countries or places where certain types of infectious illness are more common (i.e. insect borne or water borne diseases). Thankfully, with some common sense decisions you can largely avoid many tropical illness ( i.e. wear insect repellant, don't drink the tap water, only eat fruit that you can peel). So we are prepared on Exit Only for several different health scenarios — injuries, infections. We also prepared for travel overseas by getting vaccinated ahead of time — tetanus boosters, yellow fever, typhoid fever, hepatitis A, shingles vaccination, pneumococcal vaccination … We selected antibiotics to treat common infections, but also made sure to consider infectious which we might be exposed to overseas (i.e. traveler's diarrhea).
2. What is your crew's medical history? Our boat has 3 generations on board. Thankfully we are all very healthy. But if someone had a cardiac or diabetic history, it certainly would determine what would be included in a medical kit. With kids on board, we also needed to make sure that we have medications in pediatric forms for cough & cold, pain & fever, anti emetics, and antibiotics. We do have some medication allergies and food allergies, so we adjusted our medications accordingly. But certainly, if someone was doing what we are doing, it would be important to have their family physician review what medications would be needed for overseas travel and provide extended prescriptions for medications as needed.
So whats in our kit? I bought large EMT bag on Amazon and packed it full of medical goodies. I was surprised that I could find a fair amount of medical tools and supplies (such as quick clot) on Amazon. This medical kit is tailored specifically to our family and our level of medical training. It may be used as a reference guide, but I would encourage you to discuss your own medical kit with your personal physician. The bag is organized into compartments based on body system. Each compartment is well labeled and subdivided with ziplocks. That way, if I ever do get called to an emergency situation, it will be easy to find the tools that need.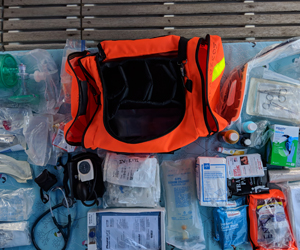 Tools: Blood pressure cuff, CPR face mask, bag-valve mask/ambu bag (for advanced life support) stethoscope, hard cervical collar (stabilize a neck injury), Foley catheter (treat urinary retention), pulse oximeter (monitor oxygen saturation), thermometer, trauma shears (cut through clothing)
Airway: bag valve mask and ambu-bag, chest tube tray (treat a pneumothorax), LMA laryngeal mask airway — supra-glottic airway to be used during respiratory arrest but does not require full intubation), intubation kit (used for treatment of respiratory arrest), nasopharyngeal airway (rubber tube to run from nostril to upper airway), oropharyngeal airway (plastic tube to insert into mouth and keep tongue from blocking the airway)
ENT (ears, nose, throat): alligator forceps (great to get something out of a nostril or ear), dental pic and mirror(examine dental injuries), dental wax (fill cracked tooth or missing filling), otoscope (check for ear infections), eye shield (protect an injured eye), nasal clamp (for nosebleeds), rhino rocket (pack a badly bleeding nose), eye wash, eye drops (anti histamine, antibiotics, and mydriatics)
Ortho/Trauma: hard cervical collar (stabilize a neck injury), ACE wraps (use for sprains/strains and compression), athletic tape, finger splints, knee brace, SAM splint (help to immobilize bad sprain or broken bone), arm sling, wrist splints (immobilize wrist injury), Quick clot (apply to heavily bleeding wounds to help control bleeding)
Wound Care:
- Skin prep: Alcohol prep pads, benzoin (helps steri-strips stick), betadine, hibiclens, isopropyl alcohol, lidocaine topical, saline solution
- Dressings/Tape: 4x4 sterile woven gauze pads, band-aids, curled (rolled gauze), non adhesive pads, nexcare waterproof tape, paper tape, steri-strips (great to help close superficial lacerations), tegrederm (film like dressing, good for skin tears and keeping wound watertight)
- Non-latex gloves
Wound repair: Dermabond (skin glue, good for CLEAN wounds), sterile suture tray, incision& drainage kit (to open and drain abscess), 11 blade scapel (for incision and drainage of abscess), skin stapler/remover (helpful for some larger wounds and scalp wounds), suture (various sizes), lidocaine injectable solution (used for suture repair), needles/syringes
Hydration: ORS rehydration powder, pedialyte, normal saline
IV Kits: IV start kits with catheters, connectors, IV tubing, bags of normal saline, saline flushes
As for medications, I had to consider both children and adults on board. We opted to get kid versions of certain meds. Not all medications would be advisable for children. Because our adult crew members are healthy with no significant medical problems such as heart disease, high blood pressure, diabetes, COPD, and renal disease; it made choosing our meds relatively easy. Please discuss with your personal physician what would be the best medications for your own medical kit.
Pain/fever reducers — Tylenol, ibuprofen, naproxen, aspirin
Gastrointestinal — acid reducers (Tums, maalox, Pepcid, Prilosec), anti diarrheals (pepto — also good for traveler's diarrhea, Imodium), anti-constipation (Colace, miralax, fleet's enema), anti-emetics (odansetron, phenergan, ginger candies, hope to get sturgeon overseas)
Genitourinary — AZO (phenopyridine, helps painful bladder spasm associated with UTI), yeast treatment
Respiratiory — decongestants, generic DayQuil/Nyquil, cough drops, Flonase nasal spray, albuterol inhaler
Oral/Dental — oral gel, dental wax
Eye/Ears — eye wash, anti histamine drops, antibiotic drops for ears and eyes (polysporin ophthalmic, gentamicin ophthalmic, cortisporin otic suspension), acetic acid (to help prevent external ear infections), cycloplegics (special RX eye drops which dilates the pupil)
Allergy — Zyrtec, Benadryl, Epi Pain (1 crew member with history of significant food allergy), Pepcid (histamine 2 blocker, often given during severe allergic reactions), topical Benadryl, topical steroids creams, oral steroids (prednisone and dexamethasone)
Antibiotics — at some point, someone will get an infection. We tailored our selection of antibiotics around various crew allergies and having a selection of kid appropriate meds. I do hope to potentially pick up some more antibiotics overseas. I am not sure at this point how readily available some medications will be. What we have is fairly basic and straight forward, but would cover ear/sinus infections, urinary tract infections, skin infections, gastrointestinal infections (i.e. traveler's diarrhea). We don't plan on going to any areas with known malaria, so I have not included any preventative meds. So I am pretty satisfied with our medication selection at this point.
Amoxicillin — good for ear, sinus, dental infections, URI, some pneumonia coverage
Azithromycin — good for community acquired pneumonia/bronchitis, travelers diarrhea (from enteropathetic e coli)
Bactrim (Sulfa-trimethoprim) — UTI, MRSA skin infection, sinus infection, some pneumonia coverage, some GI coverage
Ciprofloxacin — help treat UTI/prostate, gastroentestinal illness (diverticulitis), sinusitis, some bone and joint infections
Clindamycin — good for oral infections, some skin infections, covers strep and staph
Cortisporin Otic Suspension — help to treat external ear infection (swimmer's ear)
Doxycycline — good for pneumonia, MRSA, treats many tick borne illnesses, cholera, some malarial coverage but best in IV form
Fluconazole — treat a bad vulvovaginal yeast infection
Flagyl (Metronidazole) — treats anaerobic bacteria and some parasites which often are associated with gastroenteritis, vaginosis
Gentamycin — ophthalmic ointment, good for many eye infections particularly those associated with contact lens use
Keflex (Cephalexin) — UTI, sinus infection, some skin infections, bronchitis
Polysporin Opthalmic — may use for acute conjunctivitis
So this gives you a peak into what we have in our bag. I hope that we don't have to break into it, but at least we are well prepared. Again this medical kit has been tailored to our family and level of medical experience. If you decide to build your own kit, I would encourage you to discuss what to include with your personal physician.